Master
Media Component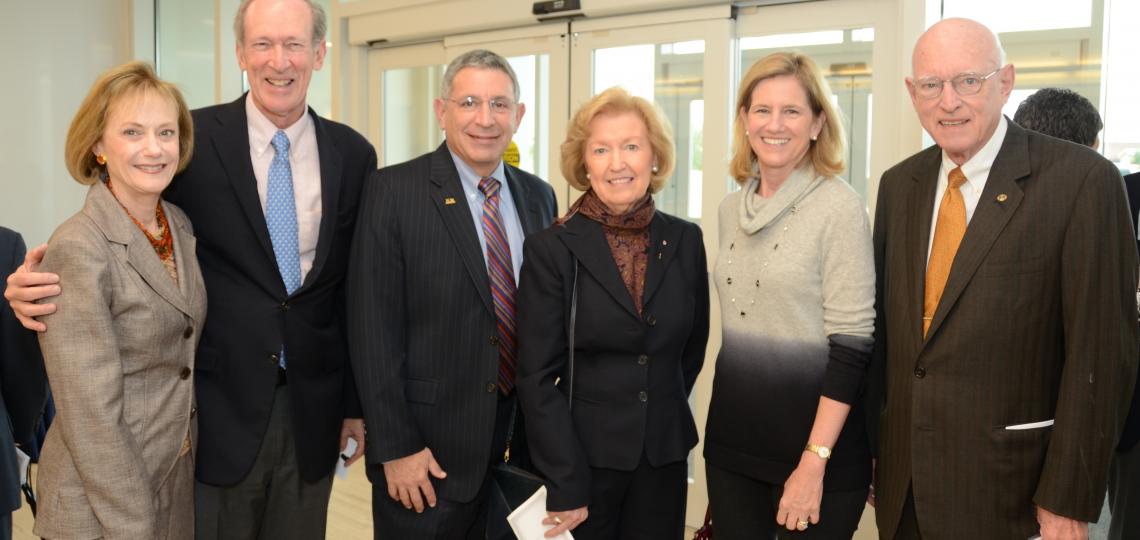 Heading
Marking 50 Years for the Jewish Institute
Content
From left, former Baylor Board Chair Marc Shapiro and wife Jeri, are pictured with Dr. Paul Klotman, Carol Butler, Dr. Mary Klotman and Dr. William T. Butler at an event marking the 50th anniversary of the Jewish Institute at Baylor College of Medicine.
Content
The Baylor College of Medicine Community is mourning the passing of William T. Butler, M.D., who died Sept. 22, 2017.
Media Component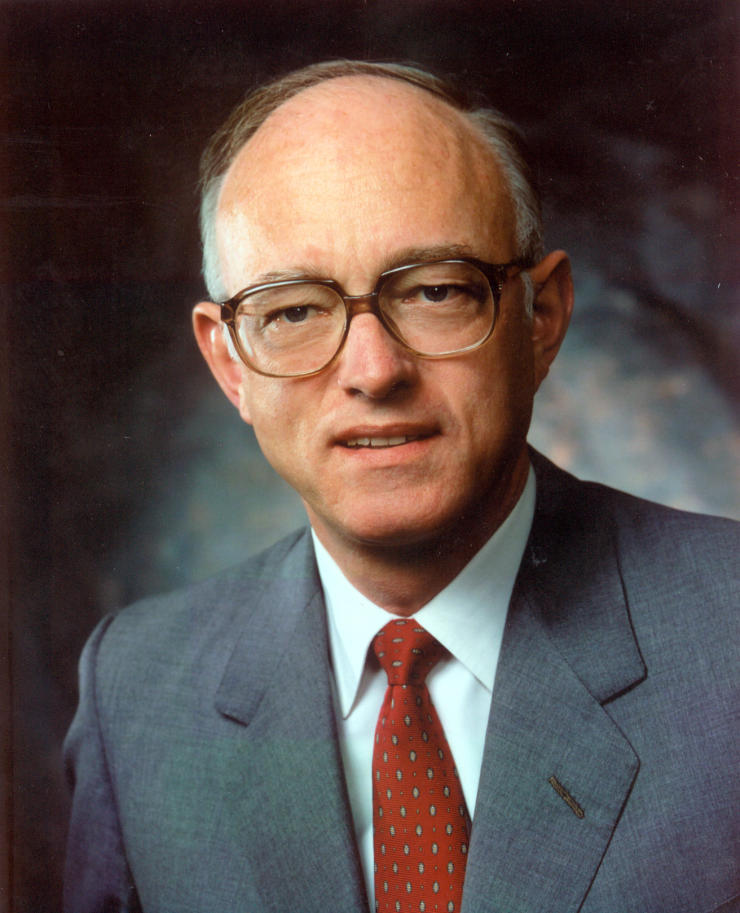 Content
William T. Butler, M.D., served as the second President of Baylor College of Medicine from 1979 to 1996, leading a period of substantial growth, especially to the College's research mission. He assumed leadership of the College for a second time, from 2008 to 2010, this time as Interim President, providing thoughtful and stable leadership during a time of transition at the College.
Dr. Butler joined the Baylor College of Medicine faculty in 1966. He established the immunology program and led the section in the Department of Microbiology and Immunology from 1966 to 1977. He authored more than 100 publications in the fields of immunology and infectious diseases, especially focusing on the effects of corticosteroids and other drugs on the immune system and on the mechanism of rejection of heart, lung and kidney transplants.
Content
While rising through the ranks from assistant professor to professor of Microbiology and Immunology and of Internal Medicine, Dr. Butler also embarked on his career path in administrative leadership, an area in which he had a natural affinity, taking to it "just like a duck to water," according to then board President Dan Arnold. This work began with his service on several important committees at the College, including the Admissions Committee, the Course and Curriculum Committee, Internship and Residencies Committee, and the Student Affairs Committee, among others.
In 1973, he was named Associate Dean, and he served as Dean of Admissions from 1974 to 1977. He was appointed Executive Vice President and Dean in 1977 before being named President and Chief Executive Officer in '79. Also in 1979, Dr. Butler completed the Advanced Management Program at Harvard Business School. He was considered skilled at working with the business world as well as moving through the environs of the stage Legislature and Congress.
Media Component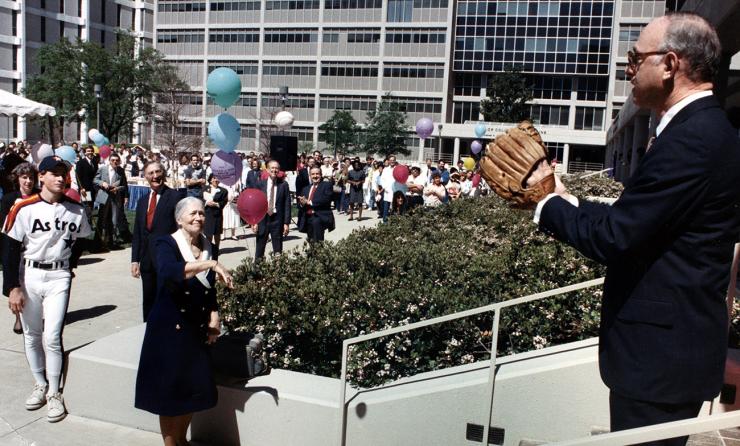 Content
The Butler presidency marked Baylor's greatest growth in research, education and patient care as well as in the expansion of the physical plant – the bricks and mortar of the College. Perhaps most significant was the growth in the programs, faculty, and physical space devoted to the basic sciences and research, including the establishment of the genetics program, which today is the top-ranked Department of Molecular and Human Genetics. The program was conceptualized in the 1980s by Baylor's leading molecular biologists and was made possible in part to the support of the institution, led by Dr. Butler.
In 1989, Baylor College of Medicine was awarded a $10 million, five-year grant to be one of six centers in the Human Genome Project, an international research effort to complete mapping and understanding of all the genes – the genome – of human beings. Also developed during Dr. Butler's tenure as president were the Institute for Religion, now known as the Center for Medical Ethics and Health Policy, the Children's Nutrition Research Center, and the Huffington Center on Aging.
He also oversaw program development in neuroscience, physiology and immunology as well as improved animal facilities, much of which was housed in the newly constructed East Campus, comprised of the Ben Taub Research Center, parking facilities and later the Vivian and Bob Smith Medical Research Building. The construction of the Alkek Building, home to the Graduate School of Biomedical Sciences, also started during his tenure.
As President, Dr. Butler also focused on communications and collegiality. He introduced a "From the President" column in the College's monthly newsletter, organized gatherings of faculty at his own home, implemented recognition for years of service by faculty and staff alike, and hosted an annual holiday luncheon. He also encouraged the creation of a green space during construction of the East Campus to promote a sense of institutional identity among faculty, students and staff.
Heading
Recognized for Leadership
Media Component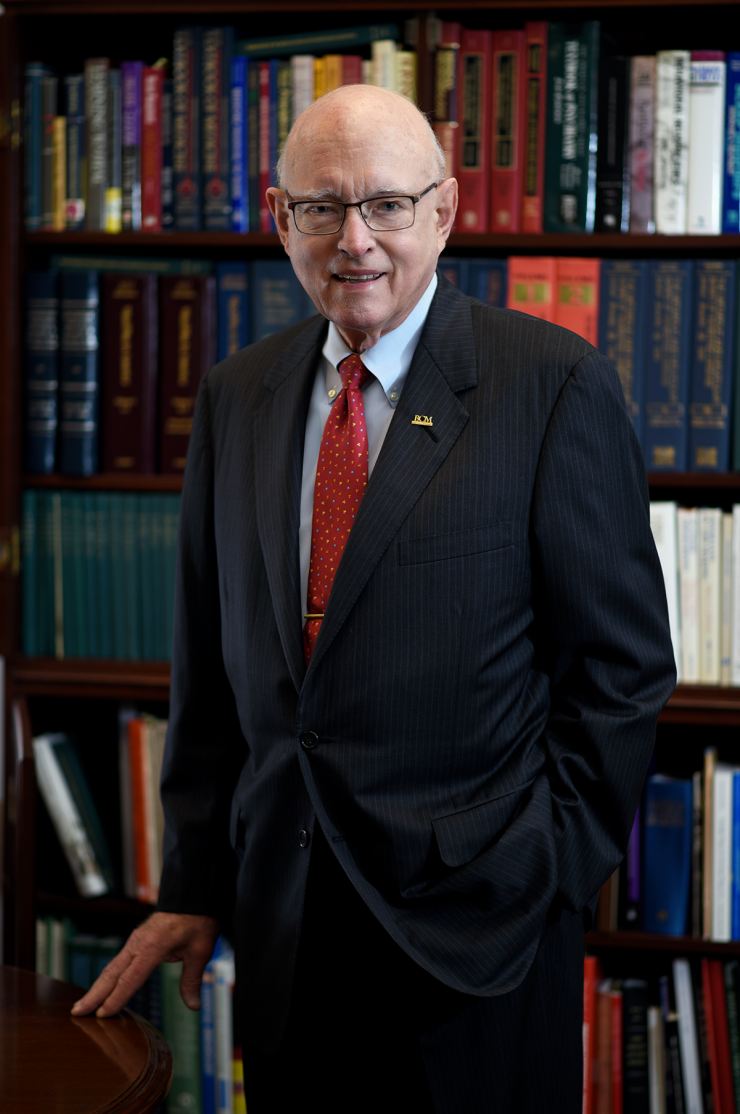 Content
In 1990, Dr. Butler was elected to the National Academy of Medicine of the National Academy of Sciences, and many other of the College's research and administrative leaders also were named to organizations that represent higher medical education and research, reflecting Baylor's leadership in these areas. He served as chair of a number of national organizations, including the Association of American Medical Colleges, the Council of Medical School Deans, and the Congressionally-charted Special Medical Advisory Group of the Department of Veterans Affairs.
In Texas, he served as chair of the Health Professions Education Advisory Committee of the Texas Higher Education Coordinating Board, and he also served on a number of civic and corporate boards, including the national Points of Lights Foundation, the United Way of the Texas Gulf Coast and the Greater Houston Partnership.
In 1996, Dr. Butler assumed the post of the Chancellor, and in 2005, he was named Chancellor Emeritus. Importantly, Dr. Butler also has served as the resident historian of Baylor College of Medicine, authoring a five-volume book set titled, "Arming for Battle against Disease through Education, Research and Patient Care at Baylor College of Medicine."
A native of Boston, Dr. Butler received his Bachelor's degree from Oberlin College in 1954 and earned his M.D. from Western Reserve University in 1958. After residency training in internal medicine at Massachusetts General Hospital in Boston, he completed a research fellowship in bacteriology and immunology at Harvard Medical School. He then served as chief clinical associate in the Laboratory of Clinical Investigation at the National Institute of Allergy and Infectious Diseases of the National Institutes of Health before joining the Baylor faculty.
Heading
Memorial Service for Dr. William T. Butler
Content
Watch the complete memorial service for Dr. William T. Butler, held at Baylor College of Medicine.
Content
William T. Butler, M.D., compiled a history of Baylor College of Medicine - Arming for Battle Against Disease.
Order Books Now!
Media Component
Credit
BCMweb
Content
Dr. William Butler, chancellor emeritus at Baylor, spoke about the history of the Roy and Lillie Cullen Building was dedicated as a Recorded Texas Historic Landmark on May 1, 2015.
Heading
Dr. Butler Tells Baylor's Story
Content
Dr. William Butler, M.D., Chancellor Emeritus at Baylor College of Medicine, gave a presentation on the history of Baylor College of Medicine.
Content
Donations in honor of Dr. Butler can be made to the William T. Butler, M.D. Endowed Scholarship at Baylor College of Medicine.
Make a Gift
Content
If you'd like to share a memory or express condolences to the family of William T. Butler, M.D., you can do so below.
Share