Master
Media Component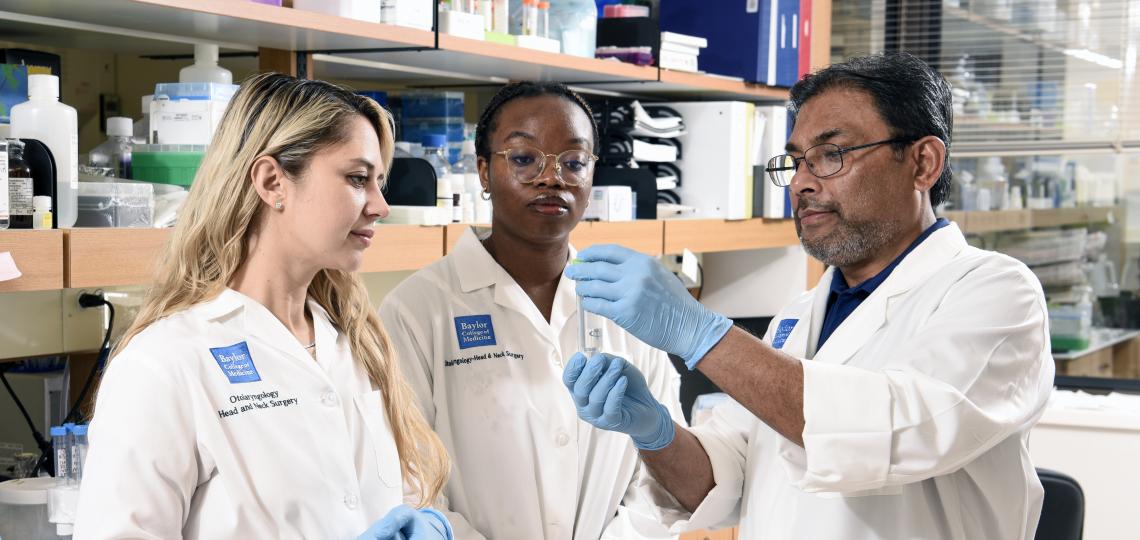 Content
The Bobby R. Alford Department of Otolaryngology – Head and Neck Surgery has a strong tradition of biomedical research in the areas of the special senses and other organ systems of the head and neck. Basic, clinical, and translational projects in these areas are ongoing, and support for these projects comes from a variety of sources, including competitive awards from the National Institutes of Health, Cancer Prevention and Research Institute of Texas and individual research foundations.
Explore Further
Content
Clinical trials are conducted to test whether a new drug, new prevention strategy, or new screening test is safe and effective in people. Learn more about clinical trials at Baylor.
Search for trials
Heading
Active Clinical Trials
Content
Therapeutic Clinical Trials 
NRG HN006: Randomized Phase II/III Trial Of Sentinel Lymph Node Biopsy Versus Elective Neck Dissection For Early-Stage Oral Cavity Cancer
This study is designed to test, head-to-head, two different strategies for addressing possible cervical lymph node metastasis from early stage (cT1-T2) oral cavity squamous cell carcinoma, namely elective neck dissection and sentinel lymph node biopsy. The study will measure whether the selection of one surgery or another impacts the quality of life and survival following treatment.
Status: The trial is open at the following Baylor College of Medicine affiliated hospitals: Baylor St. Luke's Medical Center, Michael E. DeBakey VA Medical Center
Meformin: Phase I/II Study OF Metformin in Combination With Cisplatin and Radiation in Head and Neck Squamous Cell Carcinoma
This study is designed to test whether metformin can improve the efficacy of cisplatin and radiation-based treatment for head and neck squamous cell carcinoma in a safe manner.
Status: The trial has been completed; final data publication is currently pending.
Non-interventional Protocols
Trinity Study: Throat and Other HPV-Related Cancers in Men: Identifying Them Early (TRINITY)
This trial studies the screening of human papillomavirus (HPV)-related oropharyngeal and anogenital cancers. Learning the relationship between HPV and cancer risk in men who test positive for HPV antibodies or circulating HPV DNA may help doctors to develop early methods of screening for certain types of cancer, and screening for HPV may help doctors to learn which patients may be at a higher risk for developing certain types of cancer.
Status: The trial is open at Baylor College of Medicine.
UDINE Study: Uncovering the long-term impact of oropharyngeal cancer and dysphagia on dietary quality and nutrition among Veteran cancer survivors
This study aims to quantify the impact of oropharyngeal cancer and oropharyngeal cancer treatment on dietary quality among Veterans and non-Veterans.  In addition, it seeks to correlate dietary quality with the extent of swallowing dysfunction common among oropharyngeal cancer patients and survivors.
Status: The trial is open and enrolling patients at the Michael E. DeBakey VA Medical Center and the University of Texas MD Anderson Cancer Center.