Master
Media Component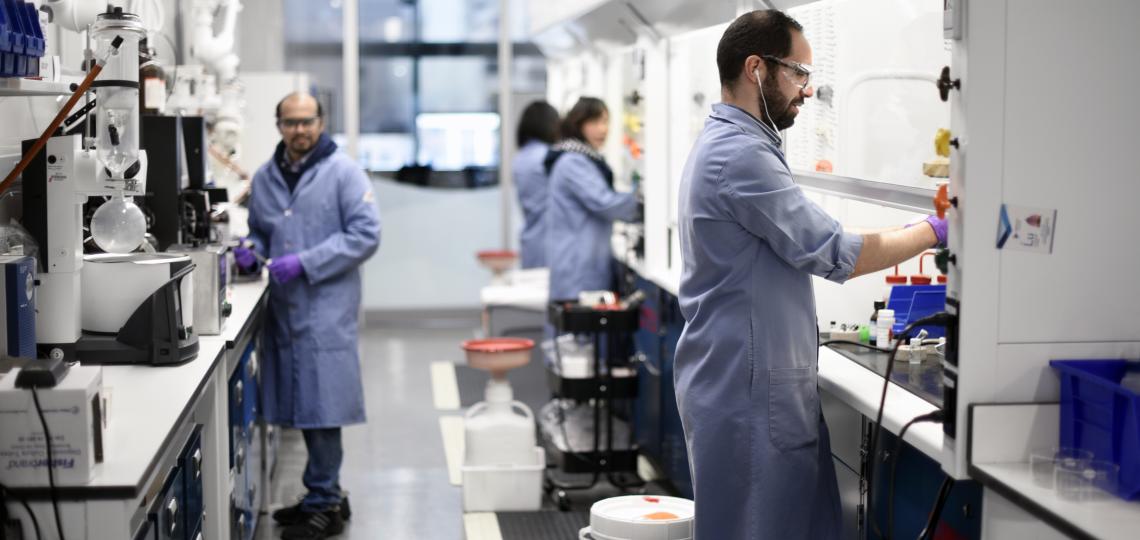 Heading
Bridging the Gap Between Academic Research and Pharmaceutical Discovery
Content
Drs. Hassane Belabed, Ramkumar Modukuri and Angela Ku generate novel molecules in the chemistry laboratory.
Content
The Center for Drug Discovery is a strategic center and resource for investigators at Baylor College of Medicine and beyond. The CDD quickly identifies and advances small molecules to clinical trials, with the goal of developing cost-effective, novel drug and treatment options. The CDD is devoted to finding new cures for a wide range of diseases, including infectious diseases, neurological diseases, metabolic disorders, cancer, diabetes, cardiovascular diseases and inflammatory disorders. Its mission is to develop small molecule probes, preclinical candidates and drugs for researchers and clinicians in the Texas Medical Center and beyond. Though based at Baylor, CDD members include faculty at other institutions in the Texas Medical Center, most notably Texas Children's Hospital and The University of Texas MD Anderson Cancer Center.
The CDD bridges the gap between academic research and pharmaceutical discovery and provides researchers with an economically viable entry into early-stage drug discovery as well as enable the study and validation of protein targets and disease mechanisms. The CDD uses state-of-the-art equipment and methodologies that will yield better candidate compounds for drugs and experimental therapeutics.
The center employs techniques that sample more fully the theoretical total "chemical space" that comprises all possible chemical synthesis reaction products, resulting in compounds that more efficiently fill three-dimensional molecular space and better modulate the functions of specific target proteins. Chief among these methods are DNA-encoded chemistry technology and fragment-based library discovery that will lower the cost of drug discovery, speed up the process and bring new hope to finding cures for some of the most urgent diseases that afflict human populations.
To date, the CDD has produced libraries of compounds (now totaling over four billion compounds) that will translate into new leads, commer­cial opportunities, and licensure. The ultimate aim is to devise new therapies to alleviate a wide range of illnesses, including infectious disease, diabetes, heart disease, inflammatory disorders, cancer, neurodegeneration and other challenging conditions for which few effective treatments exist.
Heading
Center Membership
Content
Join the 100+ members of the CDD and collaborate with like-minded scientists.
Become a Member
Content
The team members from a diverse set of backgrounds work together toward novel therapeutics.
View Members List
Content
The use of the Center for Drug Discovery's instrumentation is open to all CDD-associated laboratories. See what this includes! 
View Core Resources
Heading
Path to Discovery
Content
Proper navigation requires knowing what lies ahead and using the best roads to get there:
View Methodologies We Use