Master
Content
Save the Date! 33rd Keck Annual Research Conference and Poster Session, New Frontiers in RNA Biology and Therapeutics, on Friday, October 20, 2023. RNA Biology is considered one of the most influential areas in modern biology and biomedicine. Don't miss this exciting conference and poster session. Confirmed speakers are: James Chappell, PhD, Rice Univ; Jimena Giudice, PhD, UNC Chapel Hill; Haifan Lin, PhD, Yale School of Medicine; Samie Jaffrey, PhD, Weill Medical College of Cornell Univ; Anastasia Khvorova, PhD, UMass, Chan Medical School; Lydia Conreras, PhD, UT Austin. 2023 Keck Conference co-chairs are Wenbo Li, PhD, UTHealth, and Monica Pillon, Baylor College of Medicine. More information to come. 
Save the Date! FASEB RNA Processing & Cancer Conference is coming to Houston this November! Please visit the Conference's website for more information. Hope you can join us!
Media Component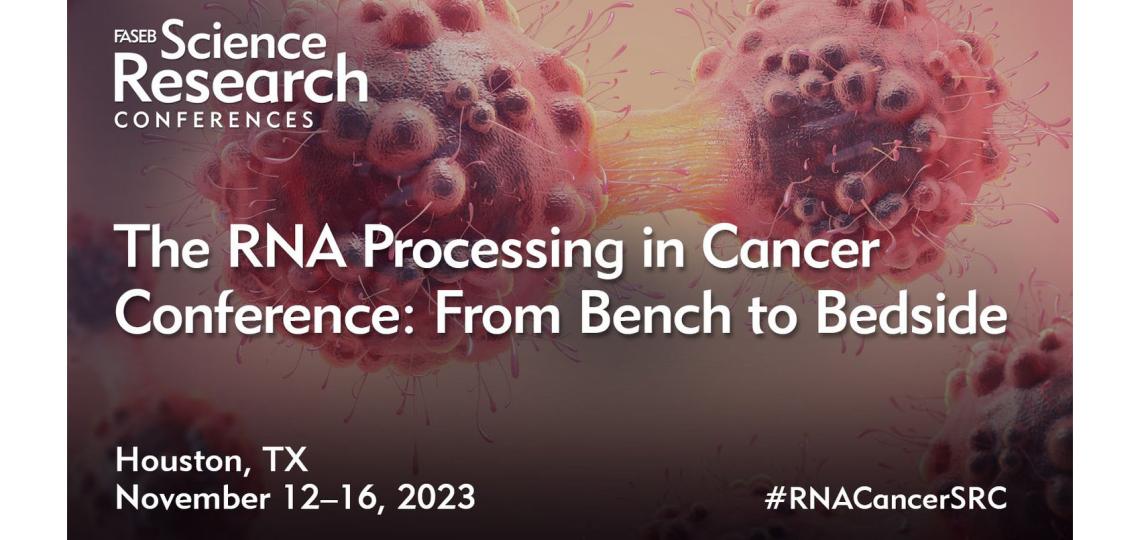 Content
The RNA Group is a long standing tradition here in Houston. Hosted by THINC, the group meets to discuss recent advances in RNA biology. We are able to continue thanks to the generous support of the RNA Society and Lexogen.  
The talks will resume in September 2023. Visit soon for the 2023-2024 series schedule.
Media Component

Content
2023
Speaker 1
Speaker 2
Sept 18
THINC Therapeutic Team, BCM
Andrea Garza, Chappell Lab, Rice
Oct 2
John Cooke, Houston Methodist
Kiss Lab, Houston Methodist
Oct 16
Rodriguez Lab, BCM
J. Lee Lab, BCM
Oct 30
Hodges Lab, BCM
J. Lee Lab, BCM
Nov 13
No Meeting (FASEB RNA Processing in Cancer Meeting)
Nov 27
Westbrook Lab, BCM
Pillon Lab, BCM
Dec 11
Van Nostrand Lab, BCM
Chonghui Cheng Lab, BCM
 
No Meeting (President's Day)
2024
Speaker 1
Speaker 2
Jan 8
Robin Mo, Chappell Lab, Rice
Rong-Chi Hu, Cooper Lab, BCM
Jan 22
Fazal Lab, BCM
Abhinav Jain Lab, MD Anderson
Feb 5
Fagg Lab, UTMB
Denicourt Lab, UT Health
Feb 19
 
 
Mar 4
McRae Lab, Houston Methodist
Van Hoof Lab, UT Health
Mar 18
Rosen Lab, HCM
Wilusz Lab, BCM
April 1
Kiss Lab, Houston Methodist
Riback Lab, BCM
April 15
Mustoe Lab, BCM
Brannan Lab, Houston Methodist
April 29
Di Stefano Lab, BCM
Boeynaems Lab, BCM
May 13
Lee Lab, MD Anderson
Cooper Lab, BCM
 
 
 
Talks will be Mondays from 10-11 am in M112
Each Speaker will have 25 minutes to present and 5 minutes for questions