Master
Media Component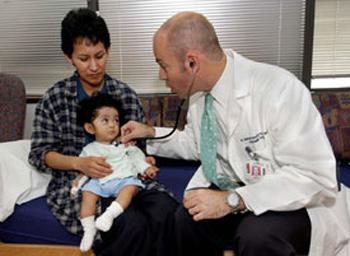 Content
Baylor Medicine Genetics is part of one of the leading genetics departments in the world, offering unparalleled clinical treatment and counseling and a full range of diagnostic genetic testing through our diagnostic laboratory.
Here you will find some of the most respected and highly-trained geneticists in the field. Our physicians are experts in their individual areas of interest and renowned for research discoveries that yield the latest information on genetic diseases and their causes and state-of-the-art testing methodologies.
Our large clinical faculty ensures timely, expert assistance for each patient. Patients also benefit from a collaborative approach to treatment that draws not only on the expertise of other physicians within our own department, but also from physicians in other specialties, providing outside expertise without the need to schedule additional appointments.
Collectively, our goal is to improve the lives of our patients by providing valuable information from which they can make the best possible decisions. Our patient-friendly approach emphasizes minimal wait times and paper work, timely new patient visits, and expanded office hours to accommodate a growing demand for our services.
Content
Genetic evaluation and counseling for adult patients with a variety of inherited disorders and genetic conditions.
Heading
Pediatric Genetics
Content
Inpatient care for complex and/or critically ill patients at Texas Children's Hospital and several other hospitals throughout Greater Houston. 
Heading
Prenatal Genetics
Content
World-renowned clinical and research expertise in prenatal and reproductive risk assessment, genetic screening and diagnostic testing, and counseling.
Content
Through Baylor College of Medicine, Baylor Medicine patients are able to participate in clinical trials giving participants access to the latest, most comprehensive diagnostic and treatment options available.
View Clinical Trials
Heading
Diagnostic Laboratory
Content
Baylor Genetics provides comprehensive genetic diagnostic testing services. Some of the services include high resolution chromosome analysis, FISH analysis, chromosomal microarray analysis, DNA based testing, mitochondrial and metabolic molecular testing, and cancer diagnostic testing services. Read more about our services.
Heading
Achieving the Amazing: Alexis's Story
Content
At age five, she couldn't walk. At 18, she made her college track team. Diagnosed with a rare genetic condition, Alexis Beery now receives the treatment she needs to keep moving fast.