Master
Media Component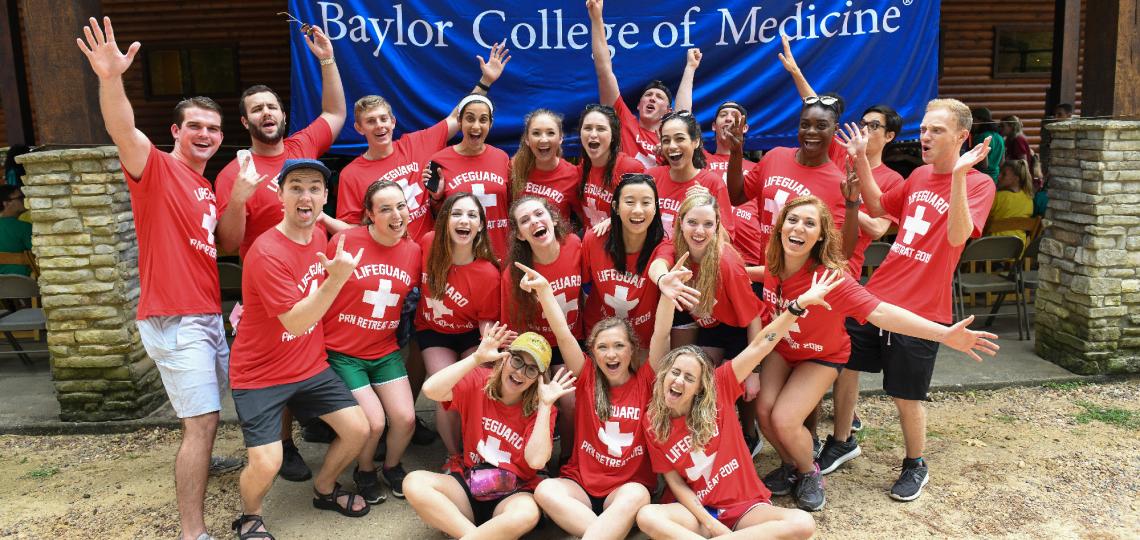 Content
2019 PRN Orientation Retreat Coordinators and Facilitators
Heading
Table of Contents
Content
Have questions? Find out who to contact for answers.
Message from Dr. Jennifer Christner.
This section contains information about and links to policies, procedures, rules, and regulations. Students are responsible for all the information presented.
In this section:
Baylor College of Medicine is committed to creating an environment for students that is conducive to academic success and academic freedom commensurate with all applicable laws and regulations.
In this section:
In this section:
A student pursuing the degree of Doctor of Medicine at Baylor College of Medicine assumes responsibility to develop in-depth knowledge, acquire and apply special skills, and demonstrate professionalism. 
In this section:
In this section:
Current students can view the curriculum schedule and additional content on the Baylor Intranet (login required). View the schedules and calendars. (BCM Intranet Login required)
In this section:
Learning Communities
Learning Communities are networks of clinical faculty advisors for medical students. Advisors follow assigned students longitudinally beginning in the first-year through the final year, which culminates in the awarding of the Doctor of Medicine degree.
View information about Learning Communities on the Office of Student Affairs web pages.
In this section:
In this section:
This page contains information on College policies related to the use of social media.
View the Student Organization Handbook. Visit the Student Senate website to view of list of Student Societies and Organizations. Read about Committees with Student Involvement.
Heading
Policies and Procedures
Content
In addition to the policies and procedures presented in this handbook, all students are expected to abide by all policies of Baylor College of Medicine as published in the College's Policy and Procedures Manual (Intranet Link). The Academic Policies website provides links to policies of particular relevance to students.
Services for Baylor College of Medicine are offered both by individual programs and by the College. Students are encouraged to visit the Office of Student Services website for updated listings of services provided by the College.
Heading
Statement of Student Rights
Content
The School of Medicine is accredited by the Liaison Committee on Medical Education (LCME), the accrediting body for the educational program leading to the Doctor of Medicine degree.
View all Baylor accreditation information.
Content
Abbreviations used in the School of Medicine Student Handbook

| Abbreviation | Definition |
| --- | --- |
| AAMC | Association of American Medical Colleges |
| ACCME | Accreditation Council for Continuing Medical Education |
| ACGME | Accreditation Council for Graduate Medical Education |
| AMA | American Medical Association |
| BCM | Baylor College of Medicine |
| CME | Continuing Medical Education |
| FERPA | Family Educational Rights and Privacy Act of 1974 |
| GME | Graduate Medical Education |
| HLC | Higher Learning Commission |
| LCME | Liaison Committee on Medical Education |
| MD | Doctor of Medicine Degree |
| MDPC | Committee on Student Promotions and Academic Achievement |
| MSPE | Medical Student Performance Evaluation |
| SACSCOC | Southern Association of Colleges and Schools Commission on Colleges |
| SOM | School of Medicine |
| SPRINT | Student Professionalism Response Intervention Team |
| UME | Undergraduate Medical Education |