Master
Media Component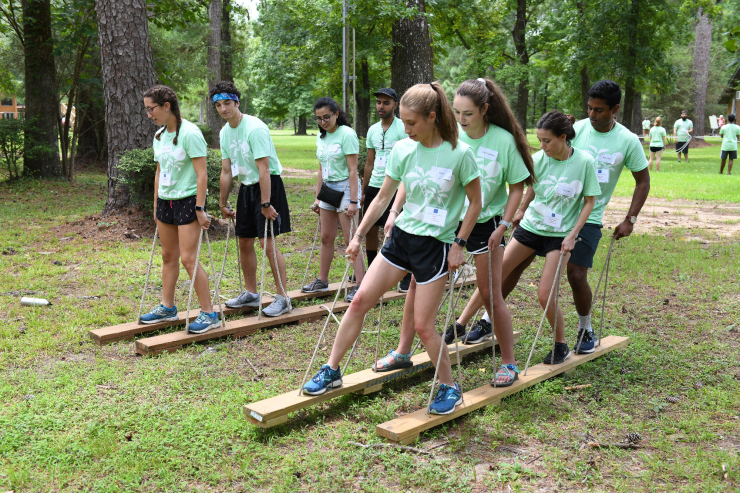 Content
The Office of Student Affairs coordinates and supports events that are held to mark the many milestones reached on the path to your M.D. degree, as well as other student activities throughout the year:
Orientation for new medical students: Two days away from Baylor College of Medicine, professional facilitators and Baylor students coordinate group activities in an experiential learning, outdoor environment. The focus is on team building, the effective development of group and personal relationships and fun. Then three days of presentations, discussions and events at Baylor to help new students have an informative and meaningful transition from undergraduate education to professional school education. See the 2021 Retreat photo slideshow and the 2021 Retreat video.
Charity Bowl: Read about the 2018 social event that raised funds for HOMES.
25th White Coat Ceremony: The 2021 White Coat Ceremony was held on Friday, Aug. 13 at the Bayou Event Center. The celebration was live streamed. See the 2021 White Coat Ceremony slide show.
Medical School Family Day: See a photo slideshow from Family Day 2019.
Match Day coordination: See the festivities from Match Day 2021.
Graduation coordination: See Commencement 2021.
Graduating Class Senior Gala
End of Basic Science Banquet: We assist the second-year class in this celebration at the end of their foundational sciences academic studies.
Also support for: Service Learning Poster Symposium; SHIFT Competition; First Tuesday at the State Capitol
We also provide support for: Over 60 student organizations.
Find academic calendars for Baylor College of Medicine programs on the Office of the Registrar site.
Content
Follow the journeys of your colleagues on Progress Notes where Baylor medical students share their stories from the clinics.