Master
Media Component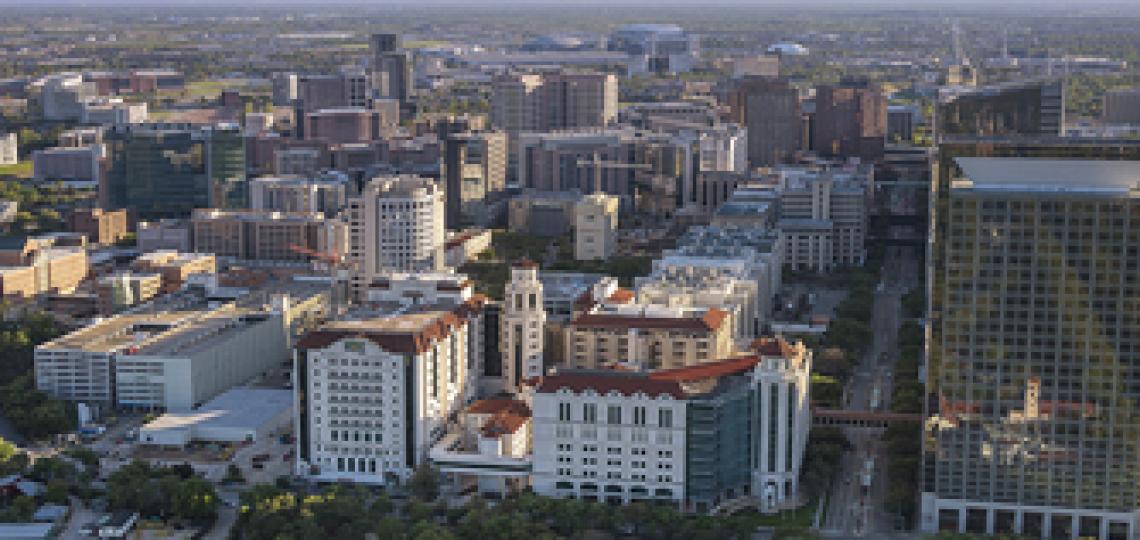 Content
During the core clerkships, students complete rotations at several of our clinical training sites, most located within walking distance of our main campus in the Texas Medical Center. 
You will have input into the order in which you rotate through the required clerkships. Learn about each clerkship below.
Heading
Emergency Medicine Clerkship
Content
The Emergency Medicine course at Baylor College of Medicine is a two-week rotation that is designed to give students exposure to the field of Emergency Medicine and the emergent approach and stabilization of the undifferentiated patient. Students will also learn the emergency medicine approach to common chief complaints that present to the emergency department. Commonly, the student will be the first provider to take a full history and physical from a patient and from this form a differential and a therapeutic plan to present to the senior resident and the attending.
The Emergency Medicine Clerkship takes place in the Ben Taub Hospital Emergency Room, which sees approximately 100,000 patients a year and is also a Level 1 Trauma Center.
Learn more about the Henry J.N. Taub Department of Emergency Medicne at Baylor.
Credits: 2
Heading
Family and Community Medicine Clerkship
Content
The Family and Community Medicine Clerkship introduces students to the role and identity of the family physician in today's healthcare system and demonstrates the family medicine approach to the comprehensive care of common health problems.
In this clerkship, students spend most of their time seeing ambulatory patients in the office of a family physician preceptor in the community. They learn how to approach different types of visits seen in the ambulatory setting and how to diagnose and manage common ambulatory clinical conditions.
Learn more about the Department of Family and Community Medicine at Baylor.
Credits: 4
Heading
Medicine Clerkship
Content
In the Core Medicine clinical rotation students develop skills in the diagnosis and management of illness in adults. Each student will have a unique experience in medicine, but all students will rotate to the same core hospitals and undertake the same curriculum. Learning is often self-directed and based on the individual patients seen during the clinical experience. Students will learn a great deal about the physical diagnosis, laboratory evaluation and differential diagnosis of important disorders. Students will also be expected to learn fundamental aspects of therapy that will help develop their competency in the assessment and treatment of common adult illnesses.
Learn more about the Margaret M. and Albert B. Alkek Department of Medicine at Baylor.
Credits: 8
Heading
Neurology Clerkship
Content
The required Clerkship in Neurology is a four-week rotation designed to apply the skills of localizing pathology within the neuraxis to evaluate and diagnose patients with neurological diseases and discuss management issues. Students will spend the majority of their time at one hospital in the inpatient services and have the opportunity to evaluate patients in the ambulatory setting as well. Students will learn through didactic lectures, team-based learning sessions, supervised direct patient interaction, and clinical instruction.
Learn more about the Department of Neurology at Baylor.
Credits: 4
Heading
Obstetrics/Gynecology (OB/GYN) Clerkship
Content
The OB/GYN Clerkship provides medical students with the knowledge and skills necessary to compassionately care for women of all ages. The student will be exposed to the breadth of obstetrics and gynecology, while focusing on skills unique to the field including pelvic examinations, vaginal delivery techniques, and exposure to the surgical environment. The clerkship goal is for the student to develop core clinical knowledge essential for providing comprehensive care and advocacy for all aspects of women's health.
Learn more about the Department of Obstetrics and Gynecology at Baylor.
Credits for graduating Class of 2022 and beyond: 6.0 credits
Heading
Pediatric Clerkship
Content
The Pediatric Clerkship at Baylor College of Medicine leverages Baylor's preeminence as one of the leading pediatric programs in the nation to provide high-quality clinical experiences for students to develop foundational knowledge of growth, development, and disease management in children from birth through adolescence.
Students create strategies for pediatric health promotion, develop pediatric-specific clinical examination and problem-solving skills, acquire an understanding the approach of pediatricians to the health care of children, and gain the knowledge necessary for the diagnosis and management of common pediatric acute and chronic illnesses. In addition, students experience continuity of care by rotating through both inpatient and outpatient settings.
Learn more about the Department of Pediatrics at Baylor.
Credits: 6
Heading
Psychiatry Clerkship
Content
The Psychiatry Clerkship strives to educate students in the diagnosis and treatment of mental illness as well as the spectrum of normal and abnormal behavior through the lifespan. Students will be given an appreciation of mental health and mental illness in all areas of healthcare, and we hope that students will strive to be a psychologically informed physician.
The Psychiatry Clerkship is a four-week rotation at our affiliate hospitals and clinics. The clerkship builds on the foundations course in behavioral science where knowledge about psychiatric evaluation, diagnoses and treatments were introduced. Students obtain information from patients via the psychiatric interview, work on primary and differential diagnoses, learn to manage psychiatric illnesses, critically evaluate treatments in Psychiatry, and improve overall communication skills with patients.
Learn more about the Menninger Department of Psychiatry and Behavioral Sciences at Baylor.
Credits: 4
Heading
Surgery Clerkship
Content
In this course, we strive to provide medical students with an immersive and balanced surgical experience.  Our goal is to equip learners with an appreciation for the diagnosis and treatment of surgical disease and, for those interested in a surgical discipline, inspire the next generation of surgical leaders. As a member of a surgical team, students gain an understanding of the fundamentals of perioperative management of surgical patients in various hospital settings. Students learn the presenting signs, diagnosis and treatment of common surgical diseases.
Learn more about the Michael E. DeBakey Department of Surgery at Baylor.
Credits for graduating Class 2022 and beyond: 6
Content
Course credits pertain to 2020-2021 academic year.