Master
Media Component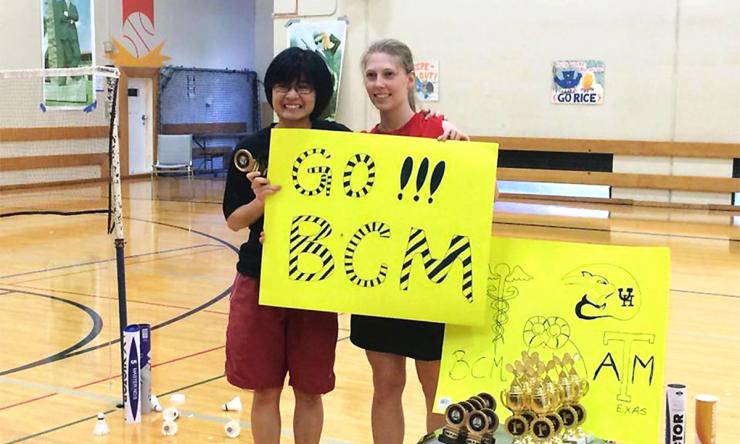 Content
Baylor College of Medicine's official Badminton Club.
Media Component
Content
The first intercollegiate Badminton tournament of April 2014.
Content
The Baylor Badminton Club was established as a non-profit student organization affiliated with Baylor College of Medicine in December 2001. Based out of the Baylor Wellness Center - an athletic facility located on the eighth floor of Garage 6 in Texas Medical Center - the Baylor Badminton Club serves badminton fans at the College, aiming to achieve healthy bodies and minds by promoting exercise and socialization. Currently, there are three full-size badminton courts located in the gym and an ever-increasing body of players including Baylor faculty, staff, post-docs and students.
Every year the Baylor Badminton Club hosts a friendly tournament in which colleagues from all over the Texas Medical Center come to have fun, make new friends and play badminton. These tournaments have shed a positive light on the institution, drawing attention from international students who avidly practice the sport, enabling new relationships and subsequent collaborations to form and contribute to a friendly environment. The Baylor College of Medicine Wellness Center has been the epicenter of the last six badminton tournaments hosted by our badminton club, with companies such as Chase Bank, Yonex, Fisher Scientific, Eppendorf, Miltenyi Biotec and Millipore as past sponsors.
Due to changes in the club's organization, tournaments have not taken place in the last couple of years. One of our goals is to gradually revive this tradition by hosting a smaller tournament, in the hopes of having a more pronounced event with greater sponsorship in the future. The team has discussed an annual agenda that will include community events, training and more tournaments within and outside of the College. In fact, the Baylor Badminton Club team won first place in the most recent intercollegiate badminton tournament against Rice University, University of Houston and Texas A&M that took place on April 20, 2014.
Another goal of the club is to continue working with the Houston Badminton Club, particularly volunteering to train and develop the city's youth as part of the Houston Youth Badminton Program, which takes place on Saturday morning at the Fondé Recreation Center. We strive to obtain members that share similar core values and are willing to contribute their efforts to reinstate the Baylor Badminton Club as an active student organization.