Master
Heading
2020 Virtual Graduation Commencement honoring our residents and fellows on June 23, 2020.
Content
The Michael E. DeBakey Department of Surgery at Baylor College of Medicine offers dynamic educational programs for undergraduates, medical students, residents, and fellows that are built upon a strong foundation of outstanding surgeons, leaders, and educators. The educational programs for trainees of the department are founded on Dr. DeBakey's legacy of supporting meaningful inquiry and experience in medicine and surgery.
Residency
General Surgery Residency
Pediatric Surgery Residency
Plastic Surgery Integrated Residency
Surgical Critical Care Residency
Thoracic Surgery Residency
Vascular Surgery Residency
Fellowship
Aortic Surgery Fellowship
Congenital Cardiac Surgery Fellowship
Liver Transplantation Fellowship
Pediatric Plastic Surgery Fellowship
Heading
Michael E. DeBakey Summer Surgery Program
Media Component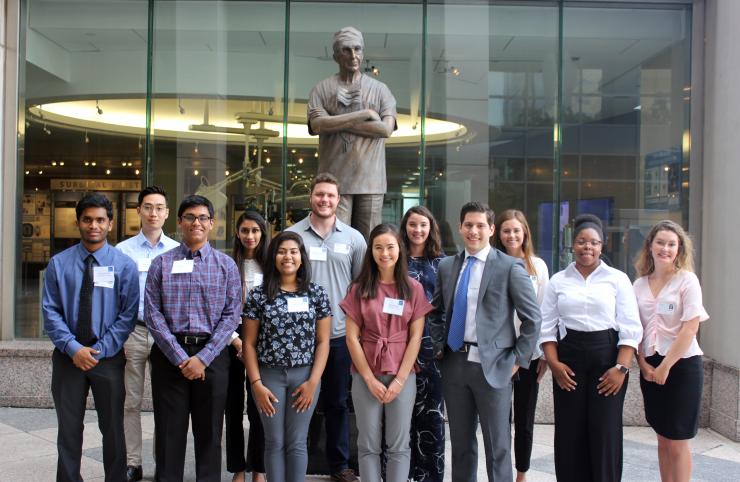 Content
On an annual basis the department sponsors an eight-week Summer Surgery Student Program for pre-medical students. The Michael E. DeBakey Summer Surgery Program encourages the development and interest of well-qualified undergraduate students who are considering a medically oriented career. Learn more about the Summer Surgery Program. 
Heading
Undergraduate Medical Education Programs
Content
The Michael E. DeBakey Department of Surgery stirves to inspire the next generation of surgeons by providing medical students with a balanced exposure and experience that meets core surgical competencies in both knowledge and skills. The faculty is actively involved in all educational aspects of our medical student programs, including an eight-week core surgery clerkship rotation for third-year medical students as well as surgery electives in which fourth-year medical students from Baylor and other schools participate. The department also supports the Baylor Student Surgical Society, an organization which provides information and support for Baylor medical students interested in a career in surgery or a surgical subspecialty. Learn more about the Surgery Sub-Internship / Elective Programs.