Master
Media Component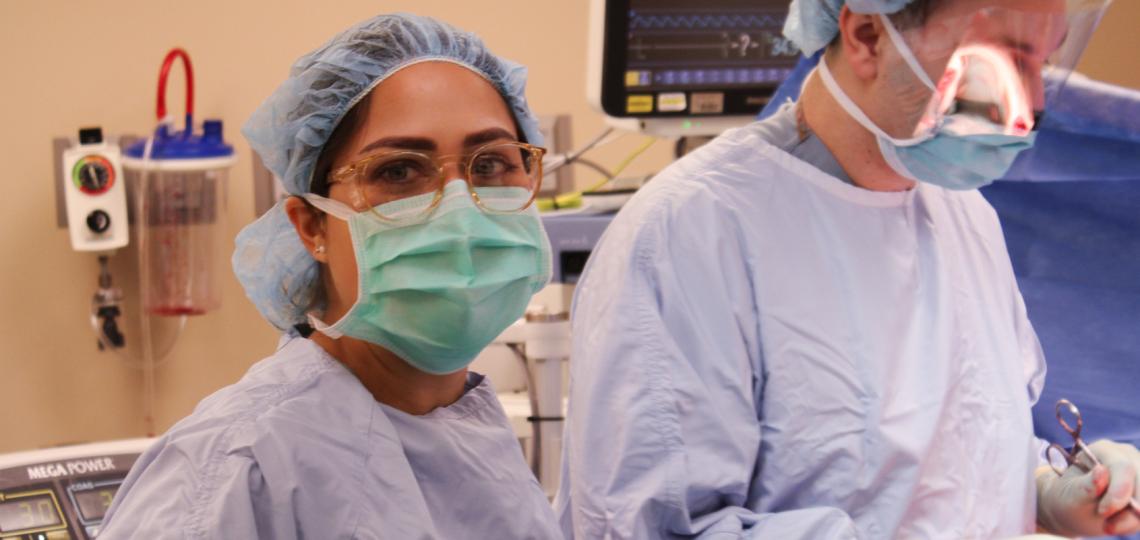 Content
The curriculum and educational approach of the Baylor College of Medicine Plastic Surgery Residency Program is characterized by three primary features:
Clinical Education on Surgical Services
Operative Experience
Educational and Core Curriculum Didactic Conferences
Clinical Education on Surgical Services
The Plastic Surgery Residency Program offers six years of clinical training encompassing a broad range of surgical specialties. All residents in our program are expected, through experience on these clinical rotations, to fulfill the requirements for certification by the American Board of Plastic Surgery. Residency training is characterized by increasingly graded responsibility from one level to the next with appropriate supervision at all levels. Clinical rotations that take place across a number of different sites enhance the quality of residents' educational experience through exposure to a diverse array of patient populations and immersion in a range of healthcare contexts and practice systems.
While clinical education at levels PGY-1 and PGY-2 involves daily operative experience, a major emphasis at these levels is on pre-operative and post-operative patient care. Invaluable experience is provided in general surgery, plastic surgery, cardiothoracic surgery, critical care medicine, burn management, orthopedic surgery, transplant, anesthesia and emergency medicine. Clinical training at levels PGY-3 and PGY-4 focuses more heavily on surgical technique and skill refinement.
Invaluable experience is provided in general plastic surgery, surgical oncology, otolaryngology, surgical dermatology, and pediatric plastic surgery, hand and upper extremity, trauma deformities, microsurgery trauma, and reconstruction of extremities, maxillofacial surgery, breast reconstruction, aesthetic and reconstructive plastic surgery. Clinical training at level PGY-5 and Chief residents at the PGY-6 level are expected to capably lead their own surgical team and assume full responsibility for patient and resident team management. Invaluable experience is provided in pediatric surgery experience in cleft lip/palate and craniofacial surgery, laser and vascular tumor clinic, congenital hand deformities, facial nerve injuries, aesthetic, and reconstruction.
Operative Experience
The scope of surgical experience in our residency program is substantial and residents gain sufficient operative experience to meet the American Board of Plastic Surgery requirements. Notably, our training program offers residents at higher levels of training strong experience in complex major cases. Similar to increasingly graded clinical responsibility from one level to the next, residents are afforded progressive operative experience beginning with more basic procedures in the earlier years of residency and advancing to more complex cases as they gain further experience and expertise.
Educational and Core Curriculum Didactic Conferences
The Department of Surgery is dedicated to providing an excellent educational experience for residents. We know that much learning occurs during clinical experiences, such as seeing outpatients or performing surgeries. We also realize that didactic lectures and conferences are also an integral part of increasing a resident's knowledge base. Therefore, we have set aside dedicated time for these lectures and conferences. Attendance at these meetings is mandatory, and attendance is taken.
Monday
Hand and Craniofacial Conference
Tuesday
Hand Fellow Conference
Wednesday
Oral Board Prep-Style Conference
Thursday
Grand Rounds/Guest Speakers-Given Lectures/QIC/Case Conferences
Friday
Written Board Preparation
A core curriculum calendar is distributed on a monthly basis outlining the topics/modules to be covered at each of these small group project sessions.