Master
Media Component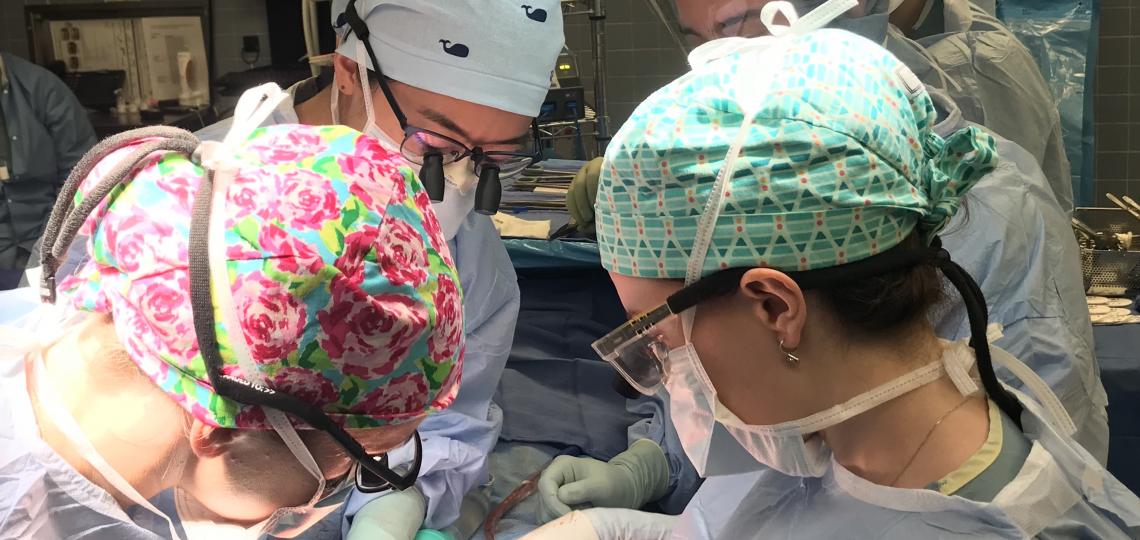 Content
First and Second Year (PGY-1 and PGY-2)
During the first two years, the curriculum is designed to provide the prerequisite training as required by the American Board of Plastic Surgery as well as beginning training in plastic surgery. Residents are assigned to surgical services in the private and public hospitals in the Texas Medical Center, where they develop a sound foundation of increasing responsibility in patient care.
Surgical knowledge and training are acquired in surgical disciplines that comply with the requirements of the Accreditation Council of Graduate Medical Education and the Residency Review Committee for an integrated plastic surgery program.
Invaluable experience is provided in general surgery, plastic surgery, cardiothoracic surgery, vascular surgery, critical care medicine, burn management, orthopedic surgery, transplant, anesthesia and emergency medicine.
The Plastic Surgery residents rotate on the clinical services and see the patients preoperatively and postoperatively in their perspective clinics following surgery.
Third Year (PGY-3)
Residents rotate at a cancer center and private affiliated institutions. Areas of experience include general plastic surgery, surgical oncology, otolaryngology, surgical dermatology, and pediatric plastic surgery. The resident will also learn basic principles of preoperative evaluation, diagnosis, operative plans, and postoperative care, and receive training in case review studies and outcomes research.
On the surgical oncology rotation, a multidisciplinary team approach is used to teach the resident preoperative evaluation, diagnosis, and perioperative care of patients with breast cancer, melanoma, and soft tissue sarcoma.
Resident participation in research and contribution to at least one publication is required. Microsurgery lab training, anatomy lab, grant writing, statistics, and outcomes are also part of the year's curriculum.
Fourth Year (PGY-4)
During the the fourth year, training is provided in hand and upper extremity, trauma deformities, microsurgery trauma, and reconstruction of extremities, maxillofacial surgery, breast reconstruction, general plastic surgery, aesthetic and reconstructive plastic surgery. These rotations are performed at Ben Taub Hospital Plastic Surgery Service, Ben Taub Hospital Hand Surgery Service, and Houston Methodist Hospital under the supervision of Dr. Jeffrey Friedman and multiple clinical faculty.
Fifth Year (PGY-5)
Senior resident rotations include four months of intensive pediatric plastic surgery training at Texas Children's Hospital. Residents get pediatric surgery experience in cleft lip/palate and craniofacial surgery, laser and vascular tumor clinic, congenital hand deformities, and facial nerve injuries.
The general plastic surgery rotation at Baylor St. Luke's Medical Center further develops residents' skills in general plastic surgery, aesthetic, and reconstruction.
The senior resident at MD Anderson Cancer Center, a world-respected cancer facility, acquires knowledge and skills in the management of patients with head and neck cancer (ablative and reconstructive). He or she is directly responsible for patient care, including outpatient clinic, surgical procedures, and emergency room care.
Sixth Year (PGY-6) - Chief
Chief residents are assigned to the plastic surgery service at Ben Taub Hospital, Baylor St. Luke's Medical Center, Dallas Plastic Surgery Institute, and Michael E. DeBakey Veterans Affairs Medical Center. Unique to the Baylor plastic surgery program, the chief year includes four months dedicated to managing every aspect of a Residents' Aesthetic Clinic under the guidance of a faculty director.
From initial evaluation to postoperative follow up, including billing and insurance, the resident learns the most up-to-date techniques in aesthetic surgery and gains the ability to individualize treatment for patients and handle complications. This year completes the program and ensures that the resident is eligible to take the American Board of Plastic Surgery examination.
Residents have the opportunity to assume graduated responsibility for performing operations independently. They are the leaders of their teams and coordinate all clinical activities for their service with the appropriate assistance of their assigned faculty member.
Residents are also involved in directing service and administrative functions. They report directly to the senior staff of the Division of Plastic Surgery at each institution and to the program director.
Chief residents are role models to the junior residents, and their leadership skills strengthen throughout the year as they approach graduation. Each chief resident graduates with an outstanding clinical operative experience as assistant surgeon and first surgeon that meets or exceeds the requirements for the American Board of Plastic Surgery and the Residency Review Committee for Plastic Surgery. Upon graduation, these physicians join competitive fellowship programs or outstanding practices in either academics or private practice.
Content
PGY-1
Baylor St. Luke's Medical Center: (Two Months)
Plastic Surgery
General Surgery
Texas Children's Hospital: (Two Months)
Cleft/Craniofacial/Pediatric Surgery
Pediatric Otolaryngology
Ben Taub Hospital: (Four Months)
Surgery Emergency Center
General Surgery Floor
Hand Surgery
Surgery Intensive Care Unit
Michael E. DeBakey Veterans Affairs Medical Center: (Four Months)
General Surgery
Anesthesia
Orthopedic Surgery
Plastic Surgery
PGY-2
Baylor St. Luke's Medical Center: (Two Months)
Ben Taub Hospital: (Four Months)
Surgery Emergency Center
Surgery Intensive Care Unit
Plastic Surgery
Surgical Oncology
Texas Children's Hospital: (One Month)
Houston Methodist Hospital: (Four Months)
Cardiothoracic Surgery
General Surgery
Vascular Surgery
The University of Texas Medical Branch at Galveston: (1 Month)
PGY-3
MD Anderson Cancer Center: (Four Months)
Oncologic Surgery – Melanoma
Oncologic Surgery – Breast
Oncologic Surgery – Reconstructive Surgery
Texas Children's Hospital: (Two Months)
Cleft/Craniofacial/Pediatric Surgery
Houston Methodist Hospital: (Four Months)
Oral Surgery
Dermatology/Ophthalmology
Plastic Surgery
Baylor St. Luke's Medical Center: (Two Month)
PGY-4
Ben Taub Hospital: (Eight Months)
Plastic/Reconstructive
Hand Surgery
Houston Methodist Hospital: (Four Months)
PGY-5
Texas Children's Hospital: (Four Months)
Cleft/Craniofacial/Pediatric Surgery
Baylor St. Luke's Medical Center: (Four Months)
MD Anderson Cancer Center: (Four Months)
Reconstructive Microsurgery
PGY-6
Ben Taub Hospital: (Four Months)
Plastic/Reconstructive Surgery
Michael E. DeBakey Veterans Affairs Medical Center: (Four Months)
Plastic/Reconstructive Surgery
Baylor St. Luke's Medical Center: (Two Months)
Aesthetic Plastic Surgery
Dallas Plastic Surgery Institute: (Two Months)
Aesthetic Plastic Surgery