Master
Media Component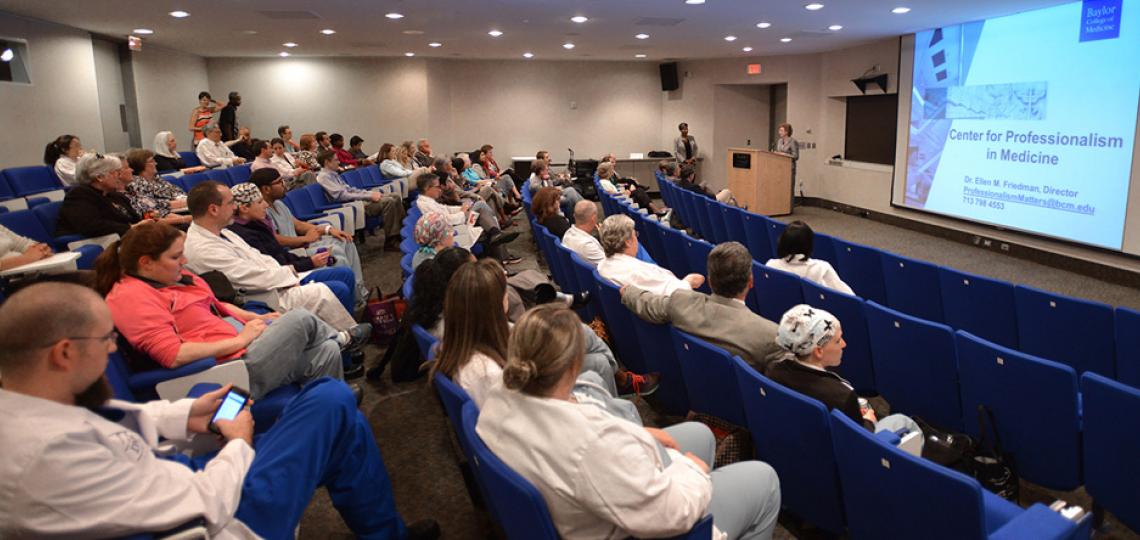 Content
The Center for Professionalism at Baylor College of Medicine creates, supports and sustains a culture of heightened professionalism and integrity among all members of the College's community, resulting in the best possible quality of education, medical care, patient satisfaction, and scientific advances.
Heading
What Is Professionalism?
Content
Professionalism describes the behaviors, responsibilities and values one assumes in practice of a profession.
In medicine, medical education and training, professionalism includes absolute integrity, awareness of the impact of one's behavior on patients, colleagues and coworkers. It includes clear, honest and timely communication, meticulous, compassionate and up-to-date care, with the highest priority given to the needs and interests of our patients.
In research, it includes absolute integrity and collegial and respectful relationships with colleagues and coworkers. It is respect and concern for the welfare of research subjects, both human and nonhuman, and manage any potential conflict or appearance of conflict of interest.
Content
Support 
Provide tools for personal and team growth
Promote collegiality and collaboration through increased professionalism college wide
Evaluate and remediate performance issues, patient dissatisfaction, and other behaviors that undermine a culture of safety, collegiality, or collaboration in a consistent and fair manner
Concern Resolution
Grants
The center offers mini grants, between $300 and $1,000, to support innovative and unique small programs focused on professionalism. View details and application information.
Speakers Bureau
Ellen Friedman, M.D. is available to give lectures and presentations on professionalism for retreats, conferences, programs, grand rounds and more. Contact the center at ProfessionalismMatters@bcm.edu or 713-798-4553.
Resources
Policies
Heading
Upcoming Profiles in Professionalism Speakers
Content
Feb. 25, 2020: Dr. Caprice Greenberg at 4 p.m. at Main Baylor, 201A
Dr. Greenberg speaks about women in surgery, diversity in surgery, and mentoring in surgery.
Have a suggestion for a future speaker? Email suggestions to the center.
Content
These awards help to celebrate the positive actions performed daily by the members of our community and help us reveal the power of professionalism. 
Nomination Information
Heading
Tacos with Teachers
Content
Tacos with Teachers provides opportunities for selected Baylor teachers to give inspirational talks about how they have found meaning in their careers, what keeps them motivated, maintaining connection and joy in their work, and their career paths. Each session has a limited number of seats.
View Dates and RSVP
Heading
Facilitator's Manual for a 60-Minute Workshop
Content
'The Threads Among Us' video is designed to increase discussions about the ways in which healthcare professionals treat one another. A 60-minute workshop that accompanies the video is available for free.
View Video and Workshop
Content
Visit our Twitter account for updates and event photos. 
Follow Us!
Content
Ellen M. Friedman, M.D., FAAP, FACS
Director, Center for Professionalism
One Baylor Plaza, Suite 206A
Mail Stop: BCM165
Houston, Texas 77030
ProfessionalismMatters@bcm.edu
(713) 798-4553
Andrea Croft
Administrative Contact, Center for Professionalism
acroft@bcm.edu
(713) 798-4553
Integrity Hotline: (855) 764-7292