Master
Media Component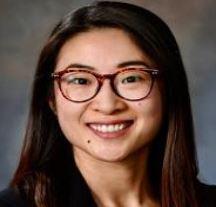 Content
What is your favorite memory from residency?
There are so many great memories, it's hard to choose one. One that comes to mind is the first laparoscopic nephrectomy where I performed the entire case. My senior resident coached me through all the steps of the surgery but let me struggle through everything without taking over, even when I secretly hoped he would. The kidney we were removing was quite large and contained an infected stone the size of a tangerine, so it was tough case! By the end, my eyes were exhausted and my arms were dead, but the satisfaction of pulling out that kidney was quite memorable. Furthermore, I saw a huge improvement in my laparoscopic skills afterwards, just from all the hands on experience I got pushing through that case. The resident-to-resident teaching experience is one of the best parts of our residency program.
Why did you choose urology?
I came into medical school with a very open mind. I didn't even know if I wanted to be a surgeon. During my urology elective, I had the opportunity to watch a robotic surgery, and my attending let me look into the console and play around on the controls. I was hooked. This was the first time in medical school, I had seen something that I passionately wanted to learn how to do. The more I learned about urology, the more interested I became. I love the great variety of surgeries urologists perform –everything from endoscopic laser procedures to ex-laps for cancer and trauma. Moreover, of the surgeons I worked with -the urologists definitely seemed to be the most fun!
What drew you to the BCM Scott Department of Urology?
I did an away rotation here, so I got an inside look before applying. The biggest draw was the residents I worked with. I felt like they had impressive autonomy in the OR but also had close mentorship from the attendings, who were all very approachable.The residents, fellows, and attendings were all excellent teachers.I also just had a lot of fun on the rotation joking around and hanging out with my team. Additionally, the amazing, multicultural Houston food scene was a big draw.
What's your favorite thing and/or spot in Houston?
One of my favorite spots in Houston is Sawyer Yards. This is an area made up of several large industrial warehouses that have been repurposed into one of the largest working artists communities in the country. There are also restaurants, a brewery, and even a rock climbing gym. Once a month, the studios are open to the public, and you have the chance to view all the art and talk to the artists themselves all while drinking wine and eating endless free snacks!
What is one new thing you started in residency that you hadn't done before?
I adopted a dog (a second one!) I've also travelled to several new places including Barcelona,Italy, Bali, and Peru.