Master
Heading
The Key to Improving Outcomes for Cancer Patients
Content
The Precision Proteome Initiative is focused on improving the accuracy of the cancer diagnostic process to decrease exposure to ineffective therapies and increase access to effective treatment.
Learn More
Heading
Continuing a Legacy of Excellence
Content
Through the philanthropic support of Baylor Medical Foundation, Baylor College of Medicine is focused on advancing human health while honoring the tradition of visionary philanthropy that brought Baylor to Houston in 1943 to establish the Texas Medical Center. Our more than a century-old legacy of community support has inspired generations of physicians, scientists and trainees to stand as leaders in discovery, pursuing excellence in every endeavor. The relationships we build with donors, faculty and colleagues define Baylor's future and are celebrated in our culture.
Donate Today!
Content
Endowed funds, such as named chairs and professorships or scholarships, represent the financial bedrock of Baylor College of Medicine and provide permanent funds to sustain our mission.
Learn More
Content
Interested in learning some creative ways to support our work? Take a moment to visit Baylor College of Medicine's gift planning website.
Learn More
Content
Subscribe for email updates on Baylor College of Medicine news and information.
Subscribe Today!
Heading
Our Impact on COVID-19
Content
Baylor's remarkable ability to respond to the COVID-19 pandemic has once again proven that we are at the heart of medicine. Baylor has led the way in responding to our nation's health needs during a crisis that left many vulnerable.
Donate
Media Component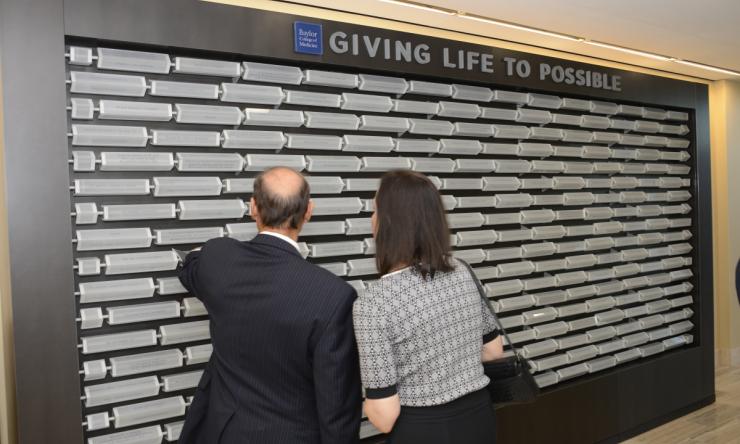 Heading
Look to the Future
Content
At Baylor College of Medicine, we honor the philanthropy that built our institution and continues to support our growth in healthcare, research and education. View a listing of our Endowed Chairs & Professorship. 
"While each of you or your family members may experience illness differently, our team will continue to provide the best possible care, hunting for breakthroughs and fighting for a cure."
Heading
General Information
Content
Main Line: (713) 798-4714  /  Main Fax: (713) 798–3344  /  Email: connect@bcm.edu
Mail your donation to:
Baylor College of Medicine
Office of Institutional Advancement and Alumni Affairs
MSC #800
P.O. BOX 4976
Houston, Texas 77210