Master
Media Component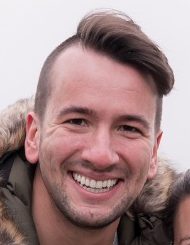 Content
What is your favorite memory from residency?
Considering that I have only been on general surgery thus far, my favorite memory from residency was scrubbing into my first case. On my third day as a resident, I got to put ports in, bedside, and close skin during a robotic case for a patient with numerous comorbidities. For the entire case, I was on cloud 9. I was so humbled to be providing a critical role in helping this patient, while also being so pumped and excited to finally be operating. At that moment, it really felt like all of the hard work during medical school was paying off. It also made me so excited for what was ahead of me, and hungry to maximize all of it. 
Why did you choose urology?
There are so many reasons why Urology is the best field, and, in my opinion, it starts with the people.  Urology really seems to draw people that are not only ambitious, smart, and hard-working, but also good-natured, quirky, funny, and know how to have a good time. They are amazing people in all specialties, but I truly felt like I fit in best with Urologists. Also, I think Urology is the perfect surgical subspecialty because of the breadth of surgeries that you have to master. You truly have the opportunity to make your career exactly what you want it to be, and to help patients in an extremely fulfilling way. Lastly, it is humbling to be a part of a field that is so cutting-edge and advances medicine for patients through innovation, technology, and research. 
What drew you to the BCM Scott Department of Urology?
The first thing that stuck out to me during my interview was the people. All of the attendings and residents  I met on my interview day were intelligent, genuine, funny, and didn't take themselves too seriously. It also seemed like the residents really got along well with each other, and had a great relationship with the attendings. It seemed like a place where I could thrive. Additionally,  the surgical training is unparalleled. It has incredible volume and an excellent balance of legitimate autonomy and opportunities to learn from world-renowned urologists. While also providing the privilege to take care of a very diverse patient population in four major hospitals, each of which has its own unique flair that adds to your training. I truly left my interview thinking that BCM Scott Department of Urology was a place where I could become an excellent Urologist that had every door open to me. 
What's your favorite thing and/or spot in Houston?
I still have a lot of exploring to do, but so far my favorite thing to do in Houston is to check out all of the parks/trails in the city and surrounding area. For a city that has a rep of being a "concrete jungle", it was really surprising how many parks are in the area, as well as opportunities for "outdoorsy" things. Nothing beats going to a new park with my fiancee and dog and then ending it with trying out a new brewery or restaurant (there's literally thousands!).
What is one new thing you started in residency that you hadn't done before?
I started running with a running group, and it has been a game-changer. Houston has a huge running crowd, and it's been a great way to meet people in a new city, and prioritize something important for my work-life balance.