Master
Media Component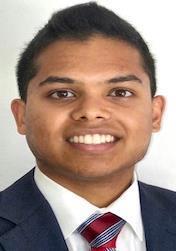 Content
What is your favorite memory from medical school or residency?
I think my favorite memory of medical school is celebrating the incremental successes with friends and classmates. Medicine is a long and arduous journey, so you definitely need to "trust the process"and take time to reflect. Those post-anatomy final, post-step 1, post-(insert other significant medical school milestone) hangouts were always so exciting because it gave my classmates and a chance to celebrate all the effort we had put in and to appreciate just how far we had come asa class. I am definitely looking forward to having these similar celebrations with my co-residents during residency.
Why did you choose urology?
There are so many reasons why I love urology. Apart from the obvious ones like a great work-life balance, good blend of surgery and clinical medicine, and chance to work with cutting-edge technology, I think what truly stands out to me now are the people within the field. Having only recently completed the residency interview process, I can honestly say that urology seems to attract the most good-natured, hilarious, quirky, energetic, and all around charismatic group of peopleI have ever met. And I definitely think this is well reflected amongst our intern cohort, residents, and faculty at Baylor Urology!
What drew you to the BCM Scott Department of Urology?
Without a doubt, the surgical training at Baylor was what truly stood out to me. I can think of very few other residency programs in the country where residents have the opportunity to work at four major hospitals, each with their own unique patient population and practice environment. I think this is an invaluable asset to any resident because it gives you such a diverse training base that then prepares you for a career in any practice setting you desire, be it private practice, academic medicine, or some blend of the two. I certainly wanted a program that would open any door I decided to enter when I completed my surgical training and I certainly believe that the residency program at Baylor caters to this goal.
What's your favorite thing and/or spot in Houston?
My favorite place in Houston is definitely Hermann Park. It has offers everything you could ask for on a sunny day, from awesome running trails to a full 18-hole golf course. I have spent many days just hanging out with my co-residents and other friends on the green grass and listening to live concerts at the amphitheater as well! It really is the ultimate place to decompress and it is located right at the heart of the medical center!
What is one new thing you started in residency that you hadn't done before?
I think finding a consistent activity that helps relieve stress and brings you joy is essential to resident wellbeing. For me personally, running has become that passion. I used to run a lot during my high school days, but lost interest in college and medical school. I picked it backup again just prior to beginning residency and I am once again thoroughly enjoying it. It's such a great way to feel productive and get some well-deserved fresh air. Plus, it definitely helps that Houston has many beautiful running trails and parks to explore, so every run is new and exciting!