Master
Heading
Clinical Training
Media Component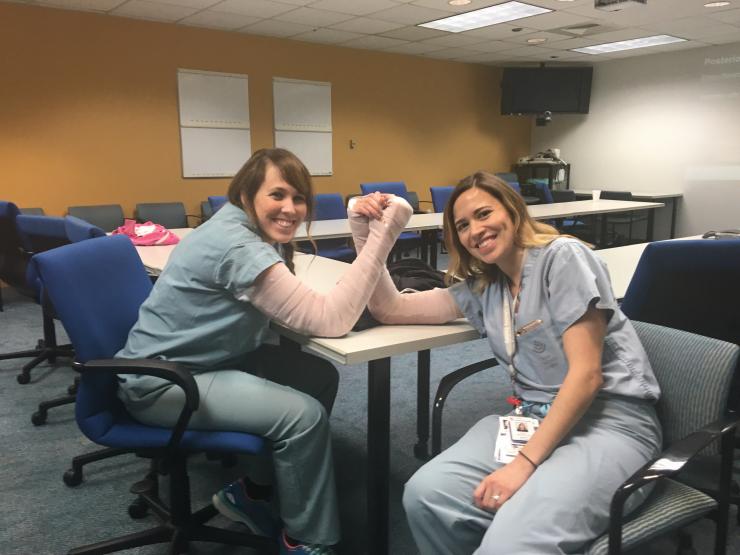 Content
Over three years, residents spend approximately 75 percent of their training time at Texas Children's Hospital and 25 percent at various locations within the Harris Health System. The scope, balance, and flexibility of the program prepare the house officers for either general pediatric practice or subspecialty training.
Clinical training provides instruction in:
Well-child care
Normal and abnormal growth and development
General pediatrics
Acute and chronic medical and surgical specialties
Attending rounds for teaching and supervision inpatient care are conducted at both hospitals on all inpatient units. Department grand rounds are held weekly and there is the opportunity to attend a variety of other conferences on inpatient and outpatient units.
Media Component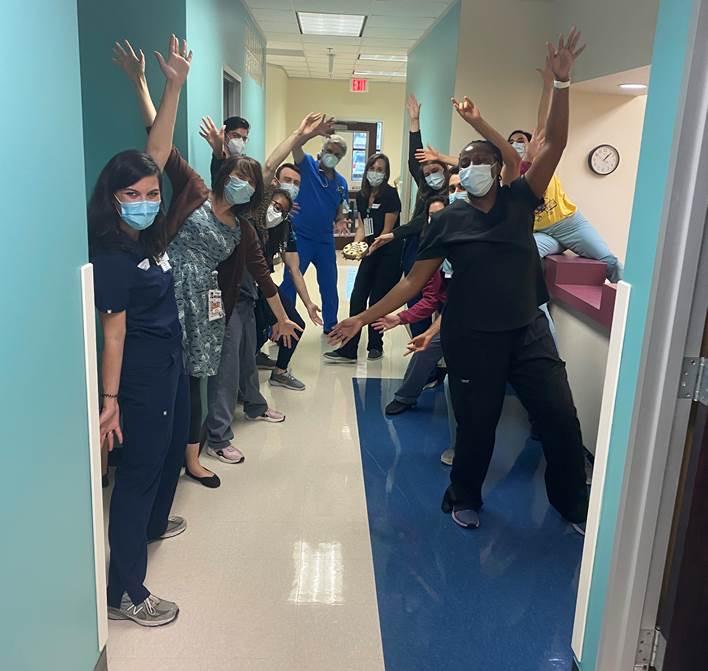 Content
Approximately 40 percent of our graduates go into primary care. Our program offers a broad-based training experience that provides a solid framework of knowledge and skills whether one chooses to practice in a rural or urban setting. We have rotations that focus on community pediatrics. These rotations have learning experiences in:
School health
Virtual medicine / TeleHealth
Mental health
Care of the underserved
Car seat installation
The Emergency medicine system
Environmental health
Teaching children and parents about staying healthy
Heading
Continuity Clinic
Content
Each week for the entire training period, residents participate in a half-day continuity clinic. Baylor College of Medicine offers three distinct practice sites for the resident to choose from upon entering the program.
Heading
Curriculum Overview
Content
Our curriculum is divided into 13 rotation blocks (4 weeks each) per academic year with a combination of outpatient, inpatient and subspecialty pediatrics. We offer selective or elective rotations in each year including a rotation dedicated to caring for an underserved population (locally in the Houston area, at one of our health facilities on a Navajo Indian Reservation in New Mexico or Arizona, or at one of Baylor's affiliated pediatrics centers in Botswana, Malawi, Eswatini, and Lesotho, Africa).
Our curriculum is designed to challenge our residents with a graded increase in the level of supervisory responsibility from their PGY-1 (teaching medical students) to PGY-3 (supervising residents and students) years. These supervisory experiences occur in outpatient, general inpatient, subspecialty and NICU rotations.
Each resident chooses an Individualized Curriculum track. View details.
Curriculum by Year
Details of each PGY year can be found below.
Content
PGY 1: (7 blocks with night shifts, 1 EC month with variety of hours)
General Outpatient Pediatrics – clinics in Harris Health System (1 blocks)
Pediatric Hospital Medicine – general inpatient at Texas Children's Hospital (2 blocks)
TCH Pediatric Emergency Center (1 block)
Subspecialty pediatrics – inpatient, outpatient, and consults at TCH (3 blocks)
- Nephrology, Pulmonary, Neurology, and Endocrinology
Selective in Outpatient Subspecialty Pediatrics – TCH (and HHS) (1 block)
- Rheumatology, Allergy & Immunology, Genetics, and Infectious Disease, plus a variety of subspecialties within the Harris Health system
Developmental Pediatrics – outpatient at Meyer Center for Developmental Pediatrics (1 block)
Neonatal Intensive Care Unit – Ben Taub Hospital (1 block)
Newborn – Ben Taub Hospital or TCH (1 block)
Transitional Intensive Care unit – PICU for technology-dependent patients at TCH (1 block)
Pedi Cares 101 – introductory course with elements of teaching and communication skills as well as the effects of chronic illness, the in-home environment and the cultural background, and economic issues of health care. (1 block)
PGY 2: (3 blocks with night shifts, 2 blocks with 24-hour call, and 1 EC months with variety of hours)
Adolescent medicine – inpatient and outpatient care TCH and HHS (1 block)
Pediatric Hospital Medicine – general inpatient at Texas Children's Hospital (1 block)
TCH Pediatric Emergency Center (1 block)
Subspecialty pediatrics – inpatient and outpatient at TCH (3 blocks)
- Cardiology, Gastroenterology/Hepatology, and Hematology/Oncology
TCH Pediatric Intensive care unit (1 block)
TCH Neonatal Intensive care unit (1 block)
Elective rotation (1 block)
Scholarly Project rotation (1 block)
Selective based on Individualized Curriculum (2 blocks)
Pedi Cares 201– continuation of topics from Pedi Cares 101 as well as supervisory skills (1 block)
PGY 3: (2 blocks with night shifts, 1 block with 24-hour call, and 1-2 EC months with variety of hours)
General Outpatient Pediatrics supervisor - clinics in Harris Health System (1 block)
Pediatric Hospital Medicine supervisor – general inpatient at Texas Children's Hospital (1 block)
Subspecialty pediatrics supervisor – inpatient and outpatient at TCH (1-2 blocks)
Neonatal Intensive Care unit - Ben Taub Hospital (1 block)
TCH Pediatric Emergency Center (1-2 blocks)
Pedi Cares 301 / Community Pediatrics (1 block)
TCH STaRS – Safety and Teaching as Resident Supervisors (1 blocks)
Ben Taub STaRS and Intermediate Care Nursery supervisor (1 block)
Elective rotation (1 block)
Selective based on Individualized Curriculum (2 blocks)
Capstone in anticipated career-associated subspecialty/primary care (1 block)