Master
Media Component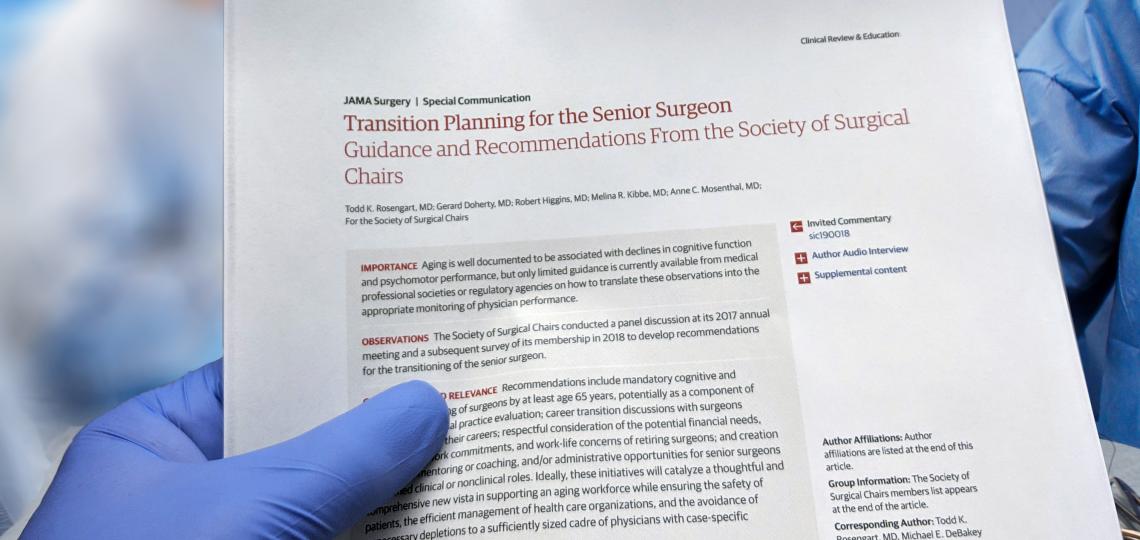 Content
2019 - 2020
Alore EA, Suliburk JW, Ramsey DJ, Massarweh NN, Balentine CJ, Singh H, Awad SS, Makris KI. Diagnosis and management of primary hyperparathyroidism across the veterans affairs health care system. JAMA Intern Med. 2019 Jul 15;179(9):1220–7. doi: 10.1001/jamainternmed.2019.1747. Epub ahead of print. Erratum in: JAMA Intern Med. 2019 Sep 1;179(9):1304. PMID: 31305864; PMCID: PMC6632180. 18.6
da Costa WL Jr, Tran Cao HS, Massarweh NN. Neoadjuvant treatment for patients with localized pancreatic adenocarcinoma: are we there yet? JAMA Oncol. 2020 May 28. doi: 10.1001/jamaoncol.2020.0562. Epub ahead of print. PMID: 32463451. 24.8
DiNorcia J, Florman SS, Haydel B, Tabrizian P, Ruiz RM, Klintmalm GB, Senguttuvan S, Lee DD, Taner CB, Verna EC, Halazun KJ, Hoteit M, Levine MH, Chapman WC, Vachharajani N, Aucejo F, Nguyen MH, Melcher ML, Tevar AD, Humar A, Mobley C, Ghobrial M, Nydam TL, Amundsen B, Markmann JF, Berumen J, Hemming AW, Langnas AN, Carney CA, Sudan DL, Hong JC, Kim J, Zimmerman MA, Rana A, Kueht ML, Jones CM, Fishbein TM, Markovic D, Busuttil RW, Agopian VG. Pathologic Response to Pretransplant Locoregional Therapy is Predictive of Patient Outcome After Liver Transplantation for Hepatocellular Carcinoma: Analysis From the US Multicenter HCC Transplant Consortium. Ann Surg. 2020 Apr;271(4):616-624. doi: 10.1097/SLA.0000000000003253. PMID: 30870180. 9.2
Drake SA, Holcomb JB, Yang Y, Thetford C, Myers L, Brock M, Wolf DA, Cron S, Persse D, McCarthy J, Kao L, Todd SR, Naik-Mathuria BJ, Cox C, Kitagawa R, Sandberg G, Wade CE. Establishing a Regional Trauma Preventable/Potentially Preventable Death Rate. Ann Surg. 2020 Feb;271(2):375-382. doi: 10.1097/SLA.0000000000002999. PMID: 30067544. 9.2
Greenleaf CE, Binsalamah ZM, Adachi I. Replacement of Left Ventricular Assist Device Inflow Cannula Using a Right Angle Atrial Cannula. Ann Thorac Surg. 2020 May;109(5):e389. doi: 10.1016/j.athoracsur.2019.11.060. Epub 2020 Jan 23. PMID: 31982441. 9.2
Grigoryan L, Germanos G, Zoorob R, Juneja S, Raphael JL, Paasche-Orlow MK, Trautner BW. Use of antibiotics without a prescription in the U.S. population: a scoping review. Ann Intern Med. 2019 Aug 20;171(4):257-263. doi: 10.7326/M19-0505. Epub 2019 Jul 23. PMID: 31330541. 21.3
Harpavat S, Garcia-Prats JA, Anaya C, Brandt ML, Lupo PJ, Finegold MJ, Obuobi A, ElHennawy AA, Jarriel WS, Shneider BL. Diagnostic yield of newborn screening for biliary atresia using direct or conjugated bilirubin measurements. JAMA. 2020 Mar 24;323(12):1141-1150. doi: 10.1001/jama.2020.0837. PMID: 32207797; PMCID: PMC7093763. 45.5
Hernaez R, Liu Y, Kramer JR, Rana A, El-Serag HB, Kanwal F. Model for end-stage liver disease-sodium underestimates 90-day mortality risk in patients with acute-on-chronic liver failure. J Hepatol. 2020 Jun 10:S0168-8278(20)30373-1. doi: 10.1016/j.jhep.2020.06.005. Epub ahead of print. PMID: 32531416. 14.1
Jacobs RC, Groth S, Farjah F, Wilson MA, Petersen LA, Massarweh NN. Potential Impact of "Take the Volume Pledge" on Access and Outcomes for Gastrointestinal Cancer Surgery. Ann Surg. 2019 Dec;270(6):1079-1089. doi: 10.1097/SLA.0000000000002796. PMID: 29697444. 9.2
Kanabur P, Chai C, Taylor J. Use of Indocyanine Green for Intraoperative Ureteral Identification in Nonurologic Surgery. JAMA Surg. 2020 Mar 18. doi: 10.1001/jamasurg.2020.0094. Epub ahead of print. PMID: 32186665.
Kougias P, Tiwari V, Sharath SE, Garcia A, Pathak A, Chen M, Ramsey D, Barshes NR, Berger DH. A Statistical Model-driven Surgical Case Scheduling System Improves Multiple Measures of Operative Suite Efficiency: Findings From a Single-center, Randomized Controlled Trial. Ann Surg. 2019 Dec;270(6):1000-1004. doi: 10.1097/SLA.0000000000002763. PMID: 29697450. 9.2
Kougias P, Sharath S, Mi Z, Biswas K, Mills JL. Effect of Postoperative Permissive Anemia and Cardiovascular Risk Status on Outcomes After Major General and Vascular Surgery Operative Interventions. Ann Surg. 2019 Oct;270(4):602-611. doi: 10.1097/SLA.0000000000003525. PMID: 31478978. 9.2
Kuy S, Gupta R, Roy C, Awad S. Incidence of Catheter-Associated Urinary Tract Infections With Compliance With Preventive Guidelines. JAMA Surg. 2020 Jul 1;155(7):661-662. doi: 10.1001/jamasurg.2020.0428. PMID: 32320018; PMCID: PMC7177634. 13.6
Litton JK, Scoggins ME, Hess KR, Adrada BE, Murthy RK, Damodaran S, DeSnyder SM, Brewster AM, Barcenas CH, Valero V, Whitman GJ, Schwartz-Gomez J, Mittendorf EA, Thompson AM, Helgason T, Ibrahim N, Piwnica-Worms H, Moulder SL, Arun BK. Neoadjuvant talazoparib for patients with operable breast cancer with a germline BRCA pathogenic variant. J Clin Oncol. 2020 Feb 10;38(5):388-394. doi: 10.1200/JCO.19.01304. Epub 2019 Aug 28. PMID: 31461380; PMCID: PMC7351336. 33.0
Loor G, Warnecke G, Villavicencio MA, Smith MA, Kukreja J, Ardehali A, Hartwig M, Daneshmand MA, Hertz MI, Huddleston S, Haverich A, Madsen JC, Van Raemdonck D. Portable normothermic ex-vivo lung perfusion, ventilation, and functional assessment with the Organ Care System on donor lung use for transplantation from extended-criteria donors (EXPAND): a single-arm, pivotal trial. Lancet Respir Med. 2019 Nov;7(11):975-984. doi: 10.1016/S2213-2600(19)30200-0. Epub 2019 Aug 1. PMID: 31378427. 15.8
Luo W, Wang Y, Zhang L, Ren P, Zhang C, Li Y, Azares AR, Zhang M, Guo J, Ghaghada KB, Starosolski ZA, Rajapakshe K, Coarfa C, Li Y, Chen R, Fujiwara K, Abe JI, Coselli JS, Milewicz DM, LeMaire SA, Shen YH. Critical role of cytosolic DNA and its sensing adaptor STING in aortic degeneration, dissection, and rupture. Circulation. 2020 Jan 7;141(1):42-66. doi: 10.1161/CIRCULATIONAHA.119.041460. Epub 2019 Dec 30. PMID: 31887080; PMCID: PMC6939474. 23.6
Massarweh NN, Itani KMF, Morris MS. The VA MISSION Act and the future of Veterans' access to quality health care. JAMA. 2020 Jun 30. doi: 10.1001/jama.2020.4505. Epub ahead of print. PMID: 32602896. 45.5
Massarweh NN, LeMaire SA, Merkow RP. Preserving an Academic Mission in the Face of Clinical Productivity Targets: Where Is the Academic Surgeon's Carrot? Ann Surg. 2020 Feb;271(2):223-224. doi: 10.1097/SLA.0000000000003380. PMID: 31188219. 9.2
Polites SF, Heaton TE, LaQuaglia MP, Kim ES, Barry WE, Goodhue CJ, Murphy AJ, Davidoff AM, Langham MR, Meyers RL, Short SS, Lautz TB, Glick RD, Vasudevan SA, Bence CM, Lal DR, Baertschiger RM, Emr B, Malek MM, Dasgupta R. Pneumonectomy for Pediatric Tumors-a Pediatric Surgical Oncology Research Collaborative Study. Ann Surg. 2020 Mar 20. doi: 10.1097/SLA.0000000000003795. Epub ahead of print. PMID: 32209902. 9.2
Rosengart TK, Doherty G, Higgins R, Kibbe MR, Mosenthal AC. Transition Planning for the Senior Surgeon: Guidance and Recommendations From the Society of Surgical Chairs. JAMA Surg. 2019 Jul 1;154(7):647-653. doi: 10.1001/jamasurg.2019.1159. Erratum in: JAMA Surg. 2019 Jul 1;154(7):676. PMID: 31090889. 13.6
Sheetz KH, Massarweh NN. Centralization of high-risk surgery in the US: feasible solution or more trouble than it is worth? JAMA. 2020 Jun 29. doi: 10.1001/jama.2020.2953. Epub ahead of print. PMID: 32597965. 45.5
Shinall MC Jr, Arya S, Youk A, Varley P, Shah R, Massarweh NN, Shireman PK, Johanning JM, Brown AJ, Christie NA, Crist L, Curtin CM, Drolet BC, Dhupar R, Griffin J, Ibinson JW, Johnson JT, Kinney S, LaGrange C, Langerman A, Loyd GE, Mady LJ, Mott MP, Patri M, Siebler JC, Stimson CJ, Thorell WE, Vincent SA, Hall DE. Association of Preoperative Patient Frailty and Operative Stress With Postoperative Mortality. JAMA Surg. 2019 Nov 13;155(1):e194620. doi: 10.1001/jamasurg.2019.4620. Epub ahead of print. PMID: 31721994; PMCID: PMC6865246. 13.6
Thompson AM. Breast conservation therapy versus mastectomy for breast cancer. Lancet Oncol. 2020;21(4):493-494. doi:10.1016/S1470-2045(20)30174-1. 33.7
Varley PR, Borrebach JD, Arya S, Massarweh NN, Bilderback AL, Wisniewski MK, Nelson JB, Johnson JT, Johanning JM, Hall DE. Clinical Utility of the Risk Analysis Index as a Prospective Frailty Screening Tool within a Multi-practice, Multi-hospital Integrated Healthcare System. Ann Surg. 2020 Feb 28. doi: 10.1097/SLA.0000000000003808. Epub ahead of print. PMID: 32118596. 9.2
White J, Thompson A, Whelan T. Accelerated partial breast irradiation and intraoperative partial breast irradiation: reducing the burden of effective breast conservation. J Clin Oncol. 2020 Jul 10;38(20):2254-2262. doi: 10.1200/JCO.20.00070. Epub 2020 May 22. PMID: 32442062. 33.0
Wren SM, Balch CM, Doherty GM, Finlayson SR, Kauffman GL, Kibbe MR, Haider AH, Minter RM, Mock C, Muguti GI, Numann PJ, Olutoye OO, Roy N, Weigel RJ. Academic Advancement in Global Surgery: Appointment, Promotion, and Tenure: Recommendations From the American Surgical Association Working Group on Global Surgery. Ann Surg. 2020 Feb;271(2):279-282. doi: 10.1097/SLA.0000000000003480. PMID: 31356270. 9.
2018 - 2019
Arnold J, Cashin M, Olutoye OO. Simulation-Based Clinical Rehearsals as a Method for Improving Patient Safety. JAMA Surg. 2018 Dec 1;153(12):1143-1144. doi: 10.1001/jamasurg.2018.3526. PMID: 30347045. 13.6
Arya S, Varley P, Youk A, Borrebach JA, Perez S, Massarweh NN, Johanning JM, Hall DE. Recalibration and External Validation of the Risk Analysis Index: A Surgical Frailty Assessment Tool. Ann Surg. 2019 Mar 19. doi: 10.1097/SLA.0000000000003276. Epub ahead of print. PMID: 30907757. 9.2
Cha JH1, Yang WH2, Xia W2, Wei Y2, Chan LC3, Lim SO2, Li CW2, Kim T2, Chang SS2, Lee HH2, Hsu JL4, Wang HL5, Kuo CW6, Chang WC7, Hadad S8, Purdie CA9, McCoy AM10, Cai S10, Tu Y10, Litton JK11, Mittendorf EA12, Moulder SL11, Symmans WF13, Thompson AM, Piwnica-Worms H14, Chen CH15, Khoo KH6, Hung MC16. metformin promotes antitumor immunity via endoplasmic-reticulum-associated degradation of PD-L1. Molecular Cell. 14.714
Chai CY, Tran Cao HS, Massarweh NN. Limitations of the National Cancer Data Base to Evaluate Early-Stage Anal Cancer Treatment Outcomes-Reply. JAMA Surg. 2018 Jul 1;153(7):691-692. doi: 10.1001/jamasurg.2018.0400. PMID: 29710204. 13.6
Goldstein AM, Blair AB, Keswani SG, Gosain A, Morowitz M, Kuo JS, Levine M, Ahuja N, Hackam DJ; Basic Science Committee of the Society of University Surgeons. A Roadmap for Aspiring Surgeon-Scientists in Today's Healthcare Environment. Ann Surg. 2019 Jan;269(1):66-72. doi: 10.1097/SLA.0000000000002840. PMID: 29958227; PMCID: PMC6298819. 9.2
Inaba, K; Eastman, A.L.; Jacobs, L.M.; Mattox, K.L. Active-shooter response at a health care facility. New England Journal of Medicine. 379 6; 583-586. 72.406
LeMaire SA, Zhang L, Luo W, Ren P, Azares AR, Wang Y, Zhang C, Coselli JS, Shen YH. Effect of Ciprofloxacin on Susceptibility to Aortic Dissection and Rupture in Mice. JAMA Surg. 2018 Sep 1;153(9):e181804. doi: 10.1001/jamasurg.2018.1804. Epub 2018 Sep 19. PMID: 30046809; PMCID: PMC6233654. 13.6
Lord SR, Cheng WC, Liu D, Gaude E, Haider S, Metcalf T, Patel N, Teoh EJ, Gleeson F, Bradley K, Wigfield S, Zois C, McGowan DR, Ah-See ML, Thompson AM, et al. Integrated pharmacodynamic analysis identifies two metabolic adaption pathways to metformin in breast cancer. Cell Metabolism. 18.164
Lederle FA, Kyriakides TC, Stroupe KT, Freischlag JA, Padberg FT Jr, Matsumura JS, Huo Z, Johnson GR; OVER Veterans Affairs Cooperative Study Group. Open versus endovascular repair of abdominal aortic aneurysm. N Engl J Med. 2019 May 30;380(22):2126-2135. doi: 10.1056/NEJMoa1715955. PMID: 31141634. 74.7
LeMaire SA, Trautner BW, Ramamurthy U, Green SY, Zhang Q, Fisher WE, Rosengart TK. An Academic Relative Value Unit System for Incentivizing the Academic Productivity of Surgery Faculty Members. Ann Surg. 2018 Sep;268(3):526-533. doi: 10.1097/SLA.0000000000002921. PMID: 30004925. 9.2
Mason MC, Tran Cao HS, Awad SS, Farjah F, Chang GJ, Massarweh NN. Hospital Minimally Invasive Surgery Utilization for Gastrointestinal Cancer. Ann Surg. 2018 Aug;268(2):303-310. doi: 10.1097/SLA.0000000000002302. PMID: 28498235. 9.2
Massarweh NN. Response to: "Why Morbidity is Not an Adequate Metric for Evaluation of Surgical Quality". Ann Surg. 2018 Jul;268(1):e11-e12. doi: 10.1097/SLA.0000000000002257. PMID: 29889679. 9.2
Massarweh NN, Chang GJ. Translating Research Findings Into Practice-The Unfulfilled and Unclear Mission of Observational Data. JAMA Surg. 2019 Feb 1;154(2):103-104. doi: 10.1001/jamasurg.2018.3118. PMID: 30422255. 13.6
Massarweh NN, Kaji AH, Itani KMF. Practical Guide to Surgical Data Sets: Veterans Affairs Surgical Quality Improvement Program (VASQIP). JAMA Surg. 2018 Aug 1;153(8):768-769. doi: 10.1001/jamasurg.2018.0504. PMID: 29617543. 13.6
Miller L, Birks E, Guglin M, Lamba H, Frazier OH. Use of ventricular assist devices and heart transplantation for advanced heart failure. Circulation Research. 124 11; 1658-78. 15.211
Mock C, Debas H, Balch CM, Brennan M, Buyske J, Cusack J, DeMeester S, Herndon D, Le Holterman AX, Jaffe B, Kandil E, Kauffman G, Mazariegos G, sMerchant N, Numann P, Oleynikov D, Olutoye O, O'Neill J, Shackford S, Stock P, Tarpley JL, Tuttle T, Wolf S, Wren SM, Yang GP. Global Surgery: Effective Involvement of US Academic Surgery: Report of the American Surgical Association Working Group on Global Surgery. Ann Surg. 2018 Oct;268(4):557-563. doi: 10.1097/SLA.0000000000002934. PMID: 30004921. 9.2
Parker PA1, Peterson SK1, Shen Y1, Bedrosian I1, Black DM1, Thompson AM, Nelson JC1, DeSnyder SM1, Cook RL1, Hunt KK1, Volk RJ1, Cantor SB1, Dong W1, Brewster AM1. Prospective study of psychosocial outcomes of having contralateral prophylactic mastectomy among women with nonhereditary breast cancer. Journal of Clinical Oncology. 24.008
Porcari AM, Zhang J, Garza KY, Rodrigues-Peres RM, Lin JQ, Young JH, Tibshirani R, Nagi C, Paiva GR, Carter SA, Sarian LO, Eberlin MN, Eberlin LS. Multicenter study using desorption-electrospray-ionization-mass-spectrometry imaging for breast-cancer diagnosis. Anal Chem. 2018 Oct 2;90(19):11324-11332. doi: 10.1021/acs.analchem.8b01961. Epub 2018 Sep 18. PMID: 30170496; PMCID: PMC7433752. 14.7
Popma JJ, Deeb GM, Yakubov SJ, Mumtaz M, Gada H, O'Hair D, Bajwa T, Heiser JC, Merhi W, Kleiman NS, Askew J, Sorajja P, Rovin J, Chetcuti SJ, Adams DH, Teirstein PS, Zorn GL 3rd, Forrest JK, Tchétché D, Resar J, Walton A, Piazza N, Ramlawi B, Robinson N, Petrossian G, Gleason TG, Oh JK, Boulware MJ, Qiao H, Mugglin AS, Reardon MJ; EVOLUT low risk trial investigators. Transcatheter aortic-valve replacement with a self-expanding valve in low-risk patients. N Engl J Med. 2019 May 2;380(18):1706-1715. doi: 10.1056/NEJMoa1816885. Epub 2019 Mar 16. PMID: 30883053. 74.7
Rana A, Ackah RL, Webb GJ, Halazun KJ, Vierling JM, Liu H, Wu MF, Yoeli D, Kueht M, Mindikoglu AL, Sussman NL, Galván NT, Cotton RT, O'Mahony CA, Goss JA. No Gains in Long-term Survival After Liver Transplantation Over the Past Three Decades. Ann Surg. 2019 Jan;269(1):20-27. doi: 10.1097/SLA.0000000000002650. PMID: 29303806. 9.2
Saint S, Trautner BW, Fowler KE, Colozzi J, Ratz D, Lescinskas E, Hollingsworth JM, Krein S. A multicenter study of patient-reported infectious and noninfectious complications associated with indwelling urethral catheters. JAMA Internal Medicine. 16.538
Vorselaars WMCM, Nell S, Postma EL, Zarnegar R, Drake FT, Duh QY, Talutis SD, McAneny DB, McManus C, Lee JA, Grant SB, Grogan RH, Romero Arenas MA, Perrier ND, Peipert BJ, Mongelli MN, Castelino T, Mitmaker EJ, Parente DN, Pasternak JD, Engelsman AF, Sywak M, D'Amato G, Raffaelli M, Schuermans V, Bouvy ND, Eker HH, Bonjer HJ, Vaarzon Morel NM, Nieveen van Dijkum EJM, Vrielink OM, Kruijff S, Spiering W, Borel Rinkes IHM, Valk GD, Vriens MR; International CONNsortium study group. Clinical Outcomes After Unilateral Adrenalectomy for Primary Aldosteronism. JAMA Surg. 2019 Apr 1;154(4):e185842. doi: 10.1001/jamasurg.2018.5842. Epub 2019 Apr 17. PMID: 30810749; PMCID: PMC6484800. 13.6
Wissam Hanayneh, Yu Wang, Thomas J. George, Miles Cameron, Sanda Tan, Atif Iqbal, Thomas Read, Carmen Joseph Allegra, Hiral D. Parekh. Colorectal cancer in young patients: An institutional experience. Journal of Clinical Oncology, Abstract# e15140. 26.36
Zenati MA, Bhatt DL, Bakaeen FG, Stock EM, Biswas K, Gaziano JM, Kelly RF, Tseng EE, Bitondo J, Quin JA, Almassi GH, Haime M, Hattler B, DeMatt E, Scrymgeour A, Huang GD, Loor G; REGROUP Trial investigators. Randomized trial of endoscopic or open vein-graft harvesting for coronary-artery bypass. New England Journal of Medicine. 380 2; 132-41. 72.406.