Master
Heading
Clinical Curriculum
Content
The curriculum is designed to provide new clinical and intellectual challenges with each successive year, in a sequence of graded responsibility which guarantees mastery of emergency medicine upon graduation.
Media Component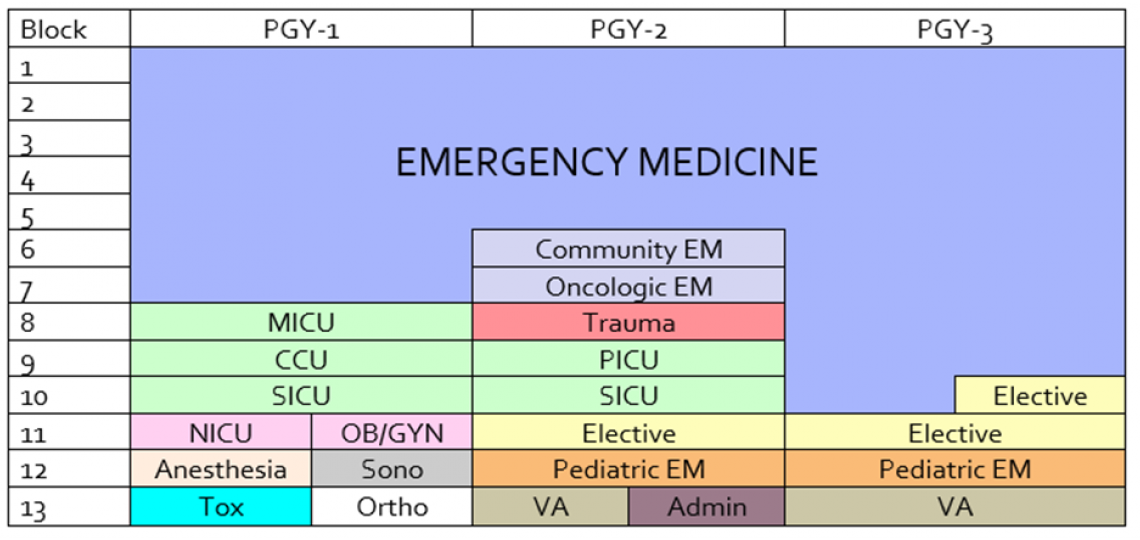 Content
*EMS shifts occur longitudinally during EM blocks
*Peds EM shifts occur longitudinally during EM blocks, with dedicated Peds EM rotations as specified
Content
PGY-1: Foundations of Practice
Over the course of intern year, our educational emphasis begins with functioning capably in the ED, and evolves incrementally to developing cognitive heuristics for common ED complaints, achievement of procedural competence, and finally proficiency with multitasking and managing a high patient census.
PGY-2: Critical Care Expertise
The focus of the second year is on applying knowledge and broadening procedural skill to comfortably and expertly manage the highest acuity patients as their primary provider, while simultaneously functioning as a resource for interns as they begin to see more complex cases.
PGY-3: Clinical Leadership
During their final year, our PGY-3s supervise junior and rotating residents, with the expectation that they see every patient in their clinical area, and are attentive to wait times and throughput. A predetermined percentage of shifts are also spent working directly with an attending so as to refine their individual clinical decision making and efficiency in preparation for independent practice.
Heading
Medical Simulation
Content
The Emergency Medicine Simulation program is committed to improving clinical practice by providing a longitudinal and comprehensive simulation experience at all learner levels, and pursuing academic excellence in simulation didactics, research, and faculty development. Medical simulation and its associated procedure curriculum are integrated into the weekly conference series. The BCM EM Simulation Division has an inventory of resources with different levels of fidelity which are strategically deployed on a monthly basis to assist with the achievement of competence in:
Team leadership skills
Team membership skills
Communication
Management of stress during resuscitations
Airway management
Management of rare and/or complex pathologies
Performance of emergency medical procedures
Residents are formatively evaluated by EM faculty during their simulation experiences, and their performance is one of several data points which help to inform assignment of milestones in a variety of the patient care and interpersonal and communication skills sub-competencies
Heading
International Emergency Medicine
Content
Resident opportunities for global emergency medicine include clinical, educational, and research opportunities with one-on-one mentorship by our global emergency medicine faculty. Active educational projects include pediatric emergency medicine (PEM) development, implementation of WHO educational projects (BEC and ETAT), and point-of-care-ultrasound (POCUS) education in Belize and Ghana. Active clinical/public health research projects include sepsis screening, HIV screening, and acute febrile illness surveillance in Belize. Clinical experience is available at all of our main sites in Belize, Ghana and Liberia as well as associated sites in Southeast Asia and India. 
.