Master
Media Component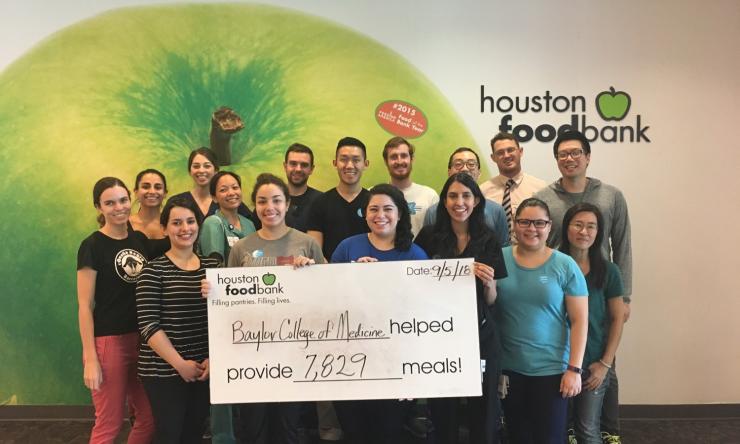 Heading
Community Outreach
Content
EM Resident Service Day at the Houston Food Bank.
Media Component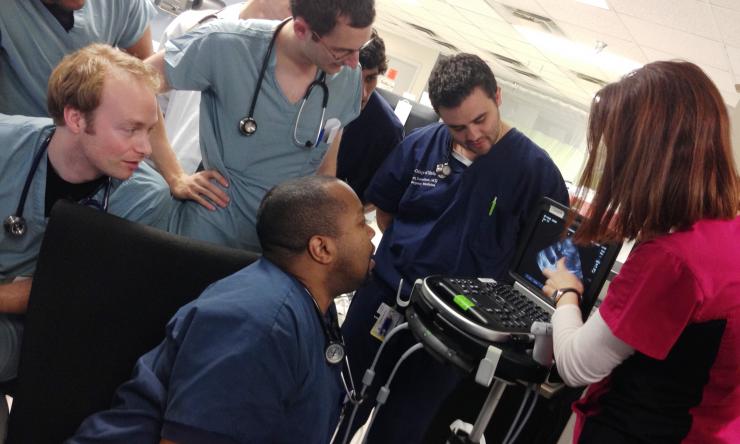 Content
Students learn about ultrasound at the bedside.
Heading
Education Philosophy
Content
Education and leadership are embedded in the service we provide to our patients and our community, and that service is both a privilege and a responsibility.
-Dr. Tyson Pillow
Heading
Message from the Program Director
Content
It is a pleasure to introduce you to the Baylor College of Medicine Emergency Medicine Residency. We are a three-year, ACGME accredited program, driven by our commitment to service, education and leadership. Our foremost goal is to create exceptional healers who lead by example in whichever domain of emergency medicine they choose to dedicate themselves to, but always and especially at the bedside. A dynamic, learner-centric approach to education and our exceptionally diverse clinical training settings combine to create an environment of inquiry in which our trainees gain as much knowledge about themselves as they do about the discipline of emergency medicine.
Residency training is a time of transition from an instructor-dependent educational model, to one which requires candid self-assessment of gaps in expertise, filled by the relentless pursuit of an ever-changing body of knowledge in order to take the best care of your next patient. At Baylor, we equip our housestaff for that transition by applying adult learning theory to our didactic paradigm, which fosters engagement by intersecting clinically relevant content with interactive teaching methods that use the residents themselves, and the diversity of their experience as an educational resource. The result is a graduating class of lifelong learners who have the insight to identify individual opportunities for improvement, the internal motivation to address them, and the skillset with which to do so independently.
Our central location in the world's largest medical complex enables us to select rotations from among the country's top-ranked clinical and research institutions to complement our unique didactic model with an unparalleled clinical experience. The primary public hospital for greater Houston, the largest children's hospital in the world and the premier oncologic hospital in the nation combine to provide our residents with access to resources and mentorship to support any and all professional aspirations, while simultaneously inculcating into them our shared responsibility to care for marginalized and underserved populations in a manner that prioritizes compassion, integrity and respect – without exception.
Since the time of our initial accreditation, the Baylor Emergency Medicine Residency has embraced a philosophy of empowering residents to take ownership of their own education. We operationalize this idea by providing our trainees with the opportunity to participate in the process when decisions are made related to our program's destiny. This ensures that our vision for the future is a shared one, and that the next iteration of our residency is very much the legacy of those who currently call it home. We hope you consider joining our family, and helping to shape what lies ahead.
Aleksandr M. Tichter, MD, MS
Program Director
Emergency Medicine Residency
Baylor College of Medicine
See a list of faculty.
Content
Incredible clinical and academic milieu within the largest medical complex in the world, and home to leaders in medicine, research and innovation in healthcare
Resident driven program, which empowers its learners to assume control of their own education
Faculty who are deeply invested in the program, provide regular bedside teaching, and leverage their broad expertise to prepare our residents for professional excellence
Ten weeks of elective time, with multiple international opportunities, as well as a long precedent of residents customizing novel experiences to support their unique academic aspirations
Patients who are profoundly grateful for the care we provide at the flagship public hospital and Level 1 Trauma center for the most diverse city in the United States
The privilege of dedicating ourselves to caring for the most vulnerable and underserved members of our society
Amazing group of residents who support one another personally and professionally, and whose cohesiveness ensures the success of each individual
Multiple fellowship programs led by accomplished emergency medicine faculty, including global health, ultrasound, research, medical education, administration, and health policy
Content
Affiliations with leading research and healthcare institutions in and around the Texas Medical Center, the world's largest healthcare complex, provide access to an exceptionally diverse array of people and resources. Discover how our affiliations enhance our education programs.
Content
Recent graduates of Baylor College of Medicine Emergency Medicine