Master
Media Component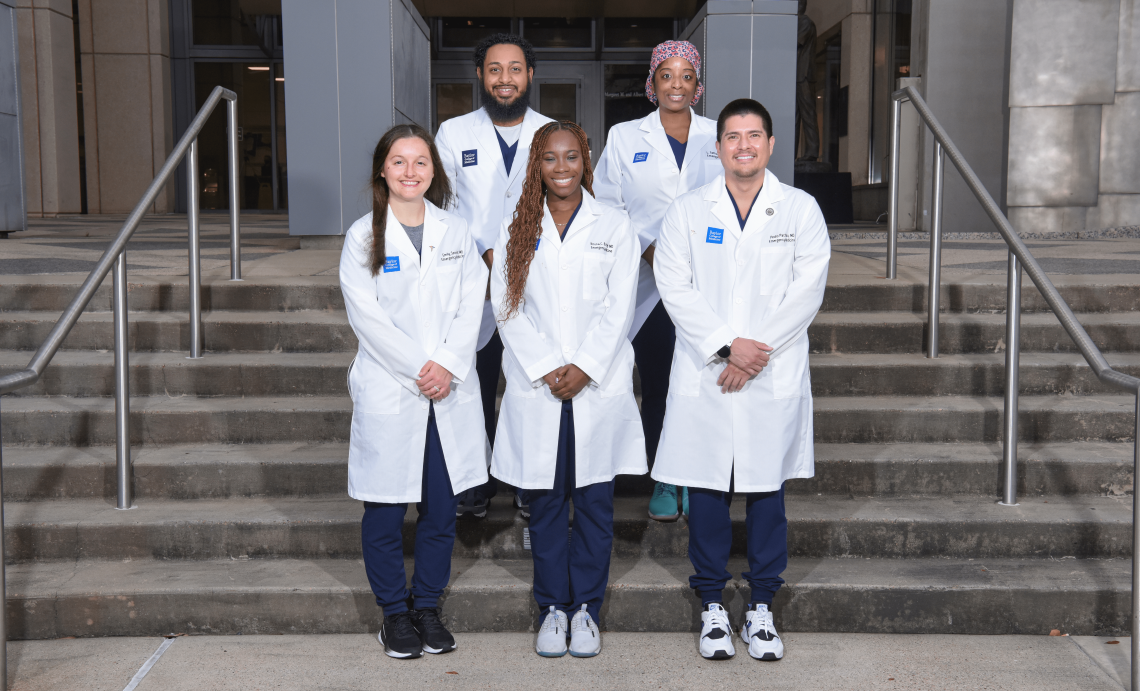 Content

Welcome to the Baylor College of Medicine Emergency Medicine Residency Program! We are thrilled to serve as the chief residents for the 2023-2024 academic year and excited that you have taken the time to learn more about us.
We are a three-year training program located in the heart of the world's largest medical complex located in Houston, Texas. Houston is the fourth most populous city in the nation and the Greater Houston region is the most ethnically diverse metropolitan area in the United States. Our primary training site is Ben Taub General Hospital, a county hospital where we serve the most vulnerable population in Harris County, the 3rd largest county in the country. We also train at other top-tier hospitals including MD Anderson Cancer Center (ranked #1 cancer hospital in the nation), Baylor St. Luke's Medical Center (ranked #1 best hospital in Houston and a cardiac and transplant center), Texas Children's Hospital (ranked #3 best children's hospital in the nation) and the Michael E. DeBakey VA Medical Center, the primary health care provider for more than 131,000 Veterans. You can't ask for a better training lineup than that!
If you browse our resident and faculty pages, we hope it is obvious that diversity is one of our core values. We pride ourselves on being one of the most diverse residency programs in the country. Our current residents come from backgrounds that span the globe and our interests are just as diverse. Current resident interests include administration, sports medicine, space medicine, education, EMS, wilderness medicine, critical care, ultrasound, global health, and toxicology (just to name a few). Our faculty serve as incredible mentors to our residents. You may find our attendings practicing medicine across the globe, running EMS systems, leading national organizations, and even giving interviews on national news channels.
Our program has undergone a lot of change over the past couple years. Within the last year, we have completely overhauled our didactic curriculum allowing us to incorporate team based learning and greater support for resident education. Resident wellbeing has remained a core focus and we have incorporated monthly wellness events and administrative changes to improve resident wellness. We embody our commitment to Houston communities from day one with "intern day of service" and have forged longitudinal partnerships with several Houston organizations including Houston Food Bank and The Beacon. Our residents are actively engaged in creating our departmental Community Advisory Board and our program is developing ways for residents to remain engaged in Houston communities.
Our PD, APDs, and faculty leadership remain supportive of our program goals and have been flexible (as is the true nature of emergency medicine) as we continue to recover from the COVID-19 pandemic in Houston. We stand ready to provide our patients with exceptional care. Our program is strong and tight-knit and we are looking forward to any new challenges that come our way.
Emergency Medicine is an incredible specialty, and our residents are prepared for anyone, anytime, anywhere. Please don't hesitate to reach out to us. We would love to tell you more about why BCM EM is (in our opinion) the best residency program in the country. We are truly a family and can't wait to tell you why you should join us!
See you soon,
BCM Emergency Medicine 2023-2024 Chief Residents
Briona Butcher
Yasien Eltigani 
Pedro Pacheco 
Emily Secrist
L. Tamara Wilson
PS: Feel free to message us at EMChiefs@bcm.edu - looking forward to hearing from you!