Master
Content
Morning Report

Our residents participate in morning report twice per week. Residents are responsible for preparing materials for about two thirds of the sessions, and the chief residents prepare about one third of the sessions. While we do have "traditional" morning reports focused on recent interesting cases seen in the clinic or in the hospital, we have worked to introduce gamification, board preparatory material, and structured educational opportunities.
 
Noon Conference

Woven into our noon lecture series is a board review curriculum with a topical focus of the month designed to maximize preparation for board exams. This curriculum repeats twice over the course of your residency to ensure important topics are not missed.
 
Friday Didactics

Every other Friday afternoon will be dedicated to resident block lectures, allowing more time for interactive teaching methods such as workshops, small groups, and class-specific sessions for each PGY level. Several longitudinal curricula such as culinary health, residents as teachers, the business of medicine, simulation, quality improvement, career planning, and advanced communication skills are taught in this venue.
 
Simulation Training

Residents participate regularly in simulation sessions in our state of the art, $1.6 million simulation lab. NICU, PICU, ED, and PHM faculty work with residents to simulate and then debrief high-fidelity scenarios. These sessions are a great opportunity to practice decision making in a low-stakes environment.
Continuity Clinic Curriculum

There is a well-child curriculum presented every month, which follows the age progression throughout your residency. We utilize the Johns Hopkins Harriet Lane Continuity Clinic Curriculum and the Yale Primary Care Pediatrics Curriculum as well as QSTREAM, which is a "spaced education" program where questions on important continuity topics are emailed or sent via app every few days for a direct easy-to-study method of teaching.
Quality Improvement

Interns participate in a year-long quality improvement curriculum, with targeted educational sessions to improve their knowledge of important QI concepts. Each intern is required to participate in a QI project, many of which have been published regionally or nationally!
Heading
Other conferences
Media Component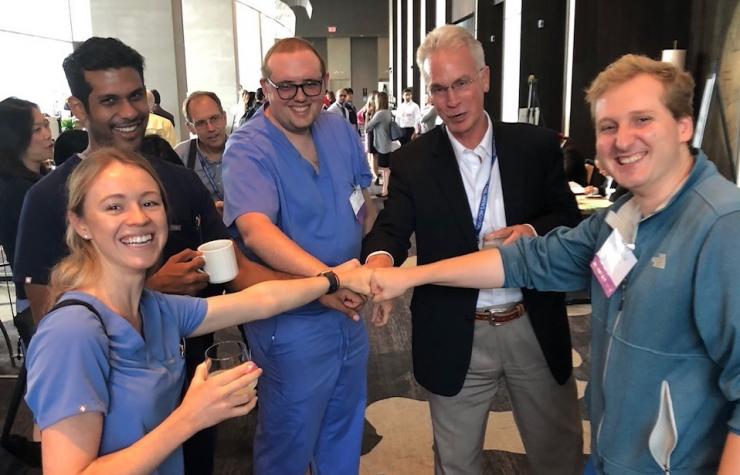 Content
Weekly Grand Rounds
Monthly Janus diagnostic rounds
Monthly journal club
Quarterly Morbidity, Mortality, and Improvement conferences
Rotation-specific didactics (e.g., ED, PICU)
Media Component