Master
Heading
Benefits and Stipends
Content
Medical and dental insurance at no cost for trainee
Life insurance (1.5 times annual salary)
Professional liability insurance
Short and long term disability at no cost for trainee
Content
In-service training (ITE) examination yearly for all house staff
Membership in American Academy of Pediatrics and Texas Pediatric Society
Access to the Texas Medical Center Library, which allows access to most major medical journals as well as databases including UpToDate, ClinicalKey, VisualDx, and many more
Reimbursement for BLS, PALS, and NRP certifications
Yearly educational stipend ($750 for interns, $1,000 for PGY-2s and above)
Departmental reimbursement for Texas Medical Board Training Permit (PIT)
Print copy of MedStudy Pediatrics Core review books
Subscription to PediaLink, which includes access to Pediatrics in Review and PREP Self-Assessment question bank
Print copy of the newest edition of The Harriet Lane Handbook
Content
Three weeks paid vacation per year
Sick time 14 days per year
Additional time available for educational leave
FMLA/parental leave available
Content
Meal tickets for overnight teams
Professional development and team building retreats
No state income tax
Gym discounts
Annual cell phone stipend
Resident lounge and a in-house exercise room
Free parking
White coats
Resident social events throughout the year
Resident wellness program
Media Component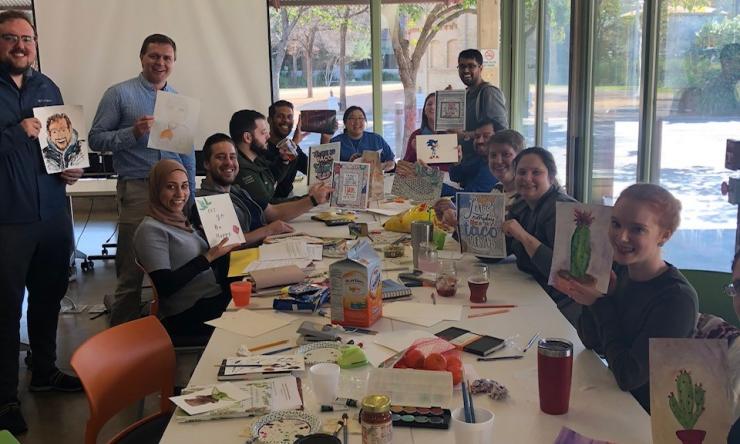 Content
Our residents doing art therapy during our 2020 Winter Retreat.
Media Component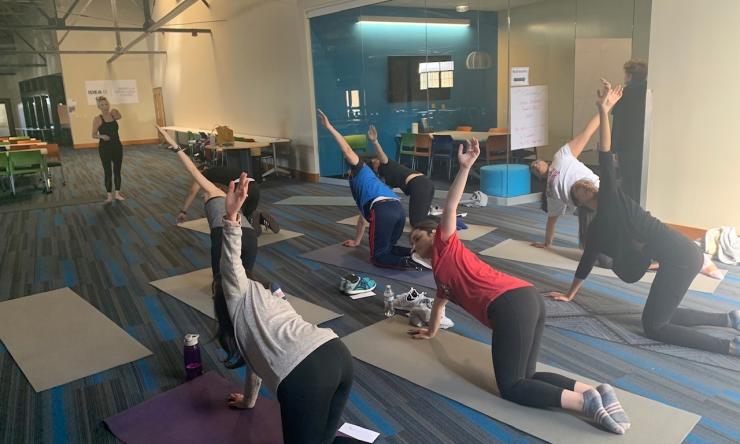 Content
Our residents doing yoga during our 2020 Winter Retreat.
Heading
Wellness Resources
Content
The Wellness Program at BCM/CHofSA is run by and for our pediatric residents. Our resident Wellness Committee hosts regular events such as wellness noon conferences, happy hours, dog park days, and other outings to local events in our community.
We are constantly adding to our wellness programming based on feedback in order to meet the needs of our residents. Recent additions include sorting residents into "houses" for participation in our annual House Cup. Residents can earn points by participating in various individual and group activities that foster resident wellbeing. We also started "Brews and Reviews," a monthly review session where we go through board review questions while exploring San Antonio's many breweries and food truck parks.
A unique feature of our program is our Resident Lounge, which has many areas for studying and socialization in addition to comfortable call rooms for rest. Our Wellness Committee supports our residents on inpatient rotations by ensuring that snacks, coffee, and personal hygiene products are available 24/7 in the lounge and workrooms.
Other wellness initiatives sponsored by Baylor and our GME office include:
Access to the Vitality App, which allows users to earn points toward products or gift cards for engaging in physical activity
A listing of local health resources of physicians, counselors, and dentists maintained by our chief residents
Annual resident retreat and dedicated intern retreat
Monthly resident wellness noon conferences
Frequent formal and informal happy hour events
PHM on PHM- aka Pancakes Helping Morale on Pediatric Hospital Medicine, when our chiefs make pancakes for the residents on inpatient rotations
Read more about Wellness at Baylor College of Medicine residency programs here.
Heading
Life in San Antonio
Media Component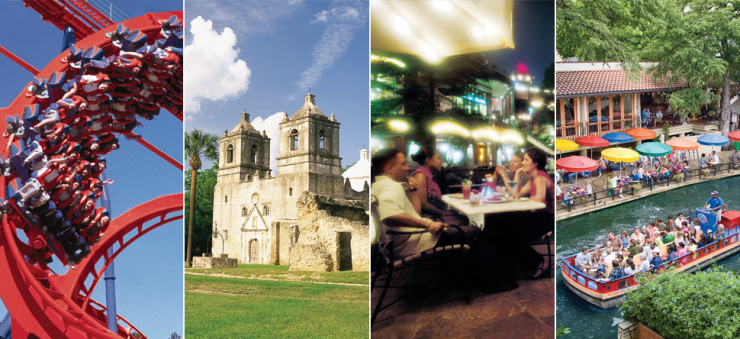 Content
San Antonio is the 7th largest city in the country and the top tourist destination in Texas with over 26 million visitors per year. San Antonio was voted the friendliest city in America by Travel and Leisure Magazine in 2016!
San Antonio is a vibrant city with a rich cultural and historical heritage, amazing food, year-round festivals, abundant outdoor activities with an average of more than 300 days of sunshine per year, great sports teams (Go Spurs! Go!), and endless attractions and events. You will always find something fun to do outside of work.
San Antonio is divided into several distinct neighborhoods, each with their own unique features. View a map of where our current residents live.
Explore San Antonio