Master
Content
Baylor College of Medicine Internal Medicine residents have graduated to a large variety of exciting and fulfilling opportunities, including advanced fellowship training, careers in academic medicine, hospital medicine, primary care, private practice and global health.
Media Component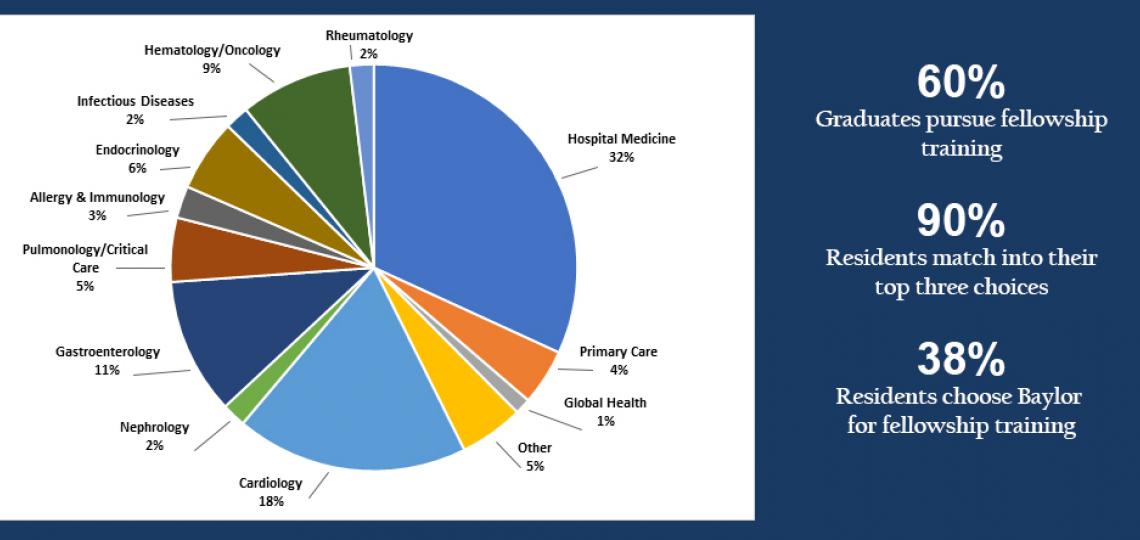 Content
Fellowship Match Summary Statistics (since 2003)
Content
Approximately 60 percent of Baylor Internal Medicine residency graduates choose to pursue advanced fellowship training. For these residents, the Baylor program has developed a robust pathway centered around customized experiences within each of the subspecialties. Baylor residents have access to the following resources to build relationships with key faculty members and to ensure matching competitively within their chosen specialty:
Dedicated Subspecialty Faculty Mentors
Extensive Research Opportunities
Clinical Research Electives
Workshops on Research Methods
Fellowship Forum (Q&A Session with Fellowship Directors)
Residency Leadership Advisors
Subspecialty Electives
Content
Baylor categorical Internal Medicine residents have a 100 percent fellowship match rate for the last five years since 2014. Based on previous surveys, over 90 percent of our fellowship applicants match into their top three choices. In addition, many residents elect to continue their education at Baylor for the clinically rigorous and nationally recognized subspecialty training programs. Baylor has a long history of excellent match results due to the comprehensive clinical training, excellent research opportunities, and individualized mentorship. Details from the most recent fellowship match years (2017-2019) are listed in the table below.
Media Component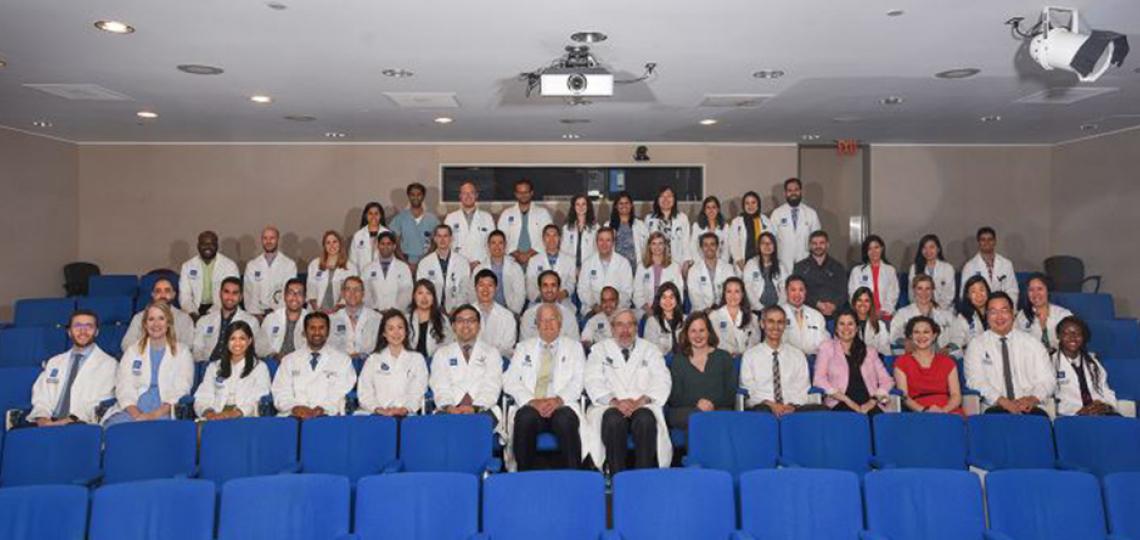 Content
Internal Medicine Residency Program Class of 2019
Content
2017-2020Fellowship Match

Subspecialty/# Residents

School

Baylor College of Medicine
Stanford University
Washington University
University of Virginia
University of California - San Diego
Icahn School of Medicine at Mount Sinai
Boston University
Oregon Health Sciences University
University of Alabama - Birmingham
Boston Children's Hospital
Texas Heart Institute
Loma Linda University
University of Oklahoma
Hofstra University
University of Nevada
University of Texas Health Science Center - Houston
University of California –Los Angeles
University of Miami
Baylor University –Dallas
Loyola University -Chicago

Gastroenterology (23)

Baylor College of Medicine
Washington University
New York University
University of Illinois - Chicago
University of California - Irvine
Ohio State University
Virginia Commonwealth University
Baylor University –Dallas
University of Cincinnati
Houston Methodist Hospital
University of Florida
University of California –Los Angeles
Emory
Methodist Health System –Dallas
University of Southern California

Hematology / Oncology (19)

Baylor College of Medicine
MD Anderson Cancer Center
New York University
University of California - San Diego
Oregon Health Sciences University
University of Maryland
Rush University
University of Utah
University of Texas –Southwestern
University of Washington
Johns Hopkins
Emory

Pulmonology / Critical Care (14)

Baylor College of Medicine
University of California - San Francisco
University of California - Los Angeles
Wake Forest University
University of Miami
University of Chicago

Endocrinology (13)

Massachusetts General Hospital
National Institutes of Allergy & Infectious Diseases
Northwestern University
University of Colorado
Duke
University of Texas –Southwestern
Stanford

Allergy & Immunology (4)

Massachusetts General Hospital
National Institutes of Allergy & Infectious Diseases
Northwestern University
University of Colorado

Nephrology (5)

Duke University
University of Colorado
University of Texas Health Science Center - Houston

Rheumatology (6)

Baylor College of Medicine
University of Chicago
University of California - Los Angeles

Infectious Diseases (4)

Baylor College of Medicine
University of Texas Southwestern
University of Alabama –Birmingham
Duke

Geriatrics (n=3)

Baylor College of Medicine
Beth Israel Deaconess Medical Center/Harvard
Johns Hopkins

Other

Dermatology - Duke University
Dermatology - Baylor College of Medicine
Geriatrics - Harvard University
Geriatrics - Baylor College of Medicine
Aerospace medicine - NASA
Palliative Care - MD Anderson Cancer Center
General Internal Medicine - MD Anderson Cancer Center
Quality & Safety - Michael Debakey VA Medical Center
Lipid & Atherosclerosis - Baylor College of Medicine
CDC Epidemic Intelligence Service