Master
Heading
What is Total Mesorectal Excision (TME)?
Content
Total mesorectal excision (TME) is a specific surgical technique used in the treatment of rectal cancer in which the bowel with the tumor is entirely removed along with surrounding fat and lymph nodes.
Heading
Transanal Total Mesorectal Excision (taTME)
Content
Transanal Total Mesorectal Excision (taTME), also known as 'bottom-up' surgery, is a new minimally invasive robotic alternative to conventional surgery for patients with lower rectal cancer. The main benefit of this procedure is that it allows the surgeon to better visualize and remove the tumor in lower rectal cancers while avoiding a bigger incision on the skin. In the taTME procedure, the tumor is completely removed, while all the benefits of a standard laparoscopic procedure are maintained, including a shorter recovery time, minimal scarring, and less pain. Most importantly, this procedure allows the surgeon to be very aggressive in not removing the anus, allowing patients to avoid having a permanent colostomy (bag).
Heading
Who Should Consider taTME?
Content
Patients with low rectal tumors are candidates for taTME, especially those at higher risk for a permanent colostomy bag such as:
Males
Obese patients
Patients with a narrow pelvis
We recommend that patients who have been told they will need a permanent colostomy bag get a second opinion and see if they are a candidate for taTME. This emerging technique could provide a chance to live a life without a permanent colostomy bag.
Heading
Benefits of taTME
Content
Offers a minimally invasive approach to patients who have rectal cancer but are not candidates for laparoscopy
Less postoperative pain, less narcotic usage, faster recovery, earlier return of bowel function, a quicker return work, and a shorter hospital stay than an open procedure
Decreases the possibility of leaving tumor behind
Avoidance of a permanent ostomy
Media Component
Credit
Scott Holmes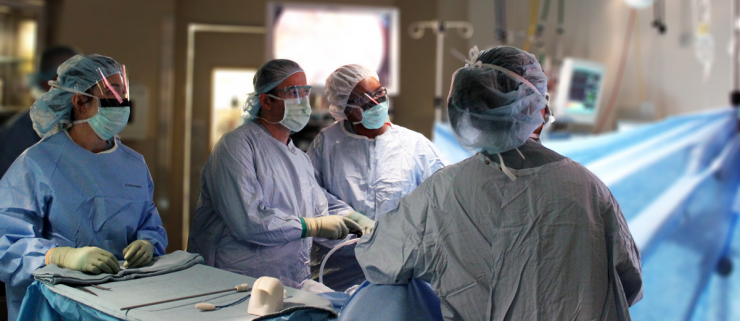 Content
You can drink up to three hours before surgery. You will receive general anesthesia, which will make you sleep during the surgery and unable to feel pain. Our colorectal surgeon will perform the robotic part of the surgery from the abdomen and the laparoscopic portion of the operation from the anus to remove the tumor through the anus. During the procedure, your anus and anal sphincters (the muscle responsible for your ability to control a bowel movement) will be left in place. Our surgeon will reconnect the colon (above the section where the tumor was removed) to the anus (sewn or stapled). In most cases, a temporary ostomy is needed, which is closed in three to six months depending on the need for chemotherapy after surgery.
Heading
After the Procedure
Content
You will stay in the hospital for two to five days. You will resume a clear liquid diet right after surgery and regular diet the day after surgery
Most patients can walk and move around the day after the procedure
Patients are discharged with no restrictions, other than some weight lifting precautions
Content
You will probably have more bowel movements right after the procedure (4-8 bowel movements a day). This improves with time but requires some lifestyle adjustments. Most people recover fully. They can do most of the activities they were doing before their surgery. This includes most sports, travel, gardening, hiking, other outdoor activities, and most types of work.