Master
Media Component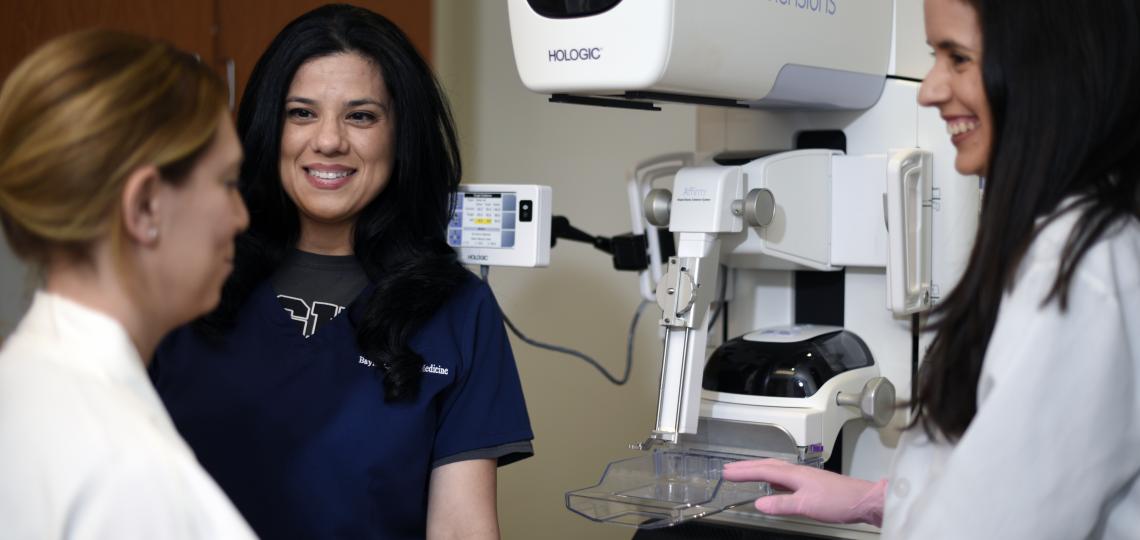 Heading
Schedule a Mammogram
Content
Please note, you will need an order from your doctor's office to complete scheduling. If you do not have an order, you can call your primary care practitioner and ask them to fax an order to 713-610-5606.
Heading
O'Quinn Medical Tower at McNair Campus
Content
To schedule an appointment at the O'Quinn Medical Tower at McNair Campus location, call 832-957-6500. Established patients can schedule a mammogram through MyChart.
Address:
1919 Old Spanish Trail
8th floor Breast Imaging 
Houston, TX 77054
Heading
Why Screening is Important
Content
Breast cancer is one cancer that may be detected early with regular screening. Screening can prevent breast cancer by finding abnormal changes in the cells, or cancerous tumors of the breast so that they can be treated before they spread to other parts of the body. When breast cancer is detected early, it can be cured at higher rates and less often requires chemotherapy.
Screening tests for breast cancer include the breast self-exam (optional), clinical breast exam, and mammogram.
Content
Some risk factors that may affect individuals are those that cannot be changed. These risk factors may increase the chance of getting breast cancer include:
Gender (women are at higher risk versus men)
Starting menstrual cycles before the age of 12
Age (risk increases with age)
Family history of breast cancer
Personal history of breast cancer
Race/ethnic background (Caucasian women are more likely to be diagnosed with breast cancer, but African American women are more likely to die from breast cancer)
Dense breasts
Other risk factors include lifestyle choices, such as:
Having the first child after the age of 30, or not having children at all
Hormone replacement therapy
Diets high in calories
Physical inactivity
Obesity
Heavy alcohol use
Content
For additional information on the various breast cancer screening exams, visit the American Cancer Society website.
Content
Breast Self-Awareness
One approach for women who to notice changes in their breasts is by doing breast self-awareness. According to the American Cancer Society, BSA is an option for women starting in their 20s. Women can check for changes in color and shape in their breasts after their menstrual cycle monthly. The BSA involves woman to feel around each breast and under their arms for any abnormal changes that may be present. Although BSA has a small contribution to finding out if a woman has breast cancer, it is one method for women to be aware of how their breasts look or feel, and for these women to be able to identify any differences that have occurred over time to their doctor.
Clinical Breast Exam
Another exam that is used to screen for breast cancer is a clinical breast exam. A CBE is done by a healthcare professional (doctor, nurse practitioner, physician assistant) in the patient exam room. The healthcare professional looks for changes in the breast color, shape, size, or texture. The CBE involves the healthcare professional examining each breast and the lymph nodes to identify whether any lumps or any suspicious areas are present and may require further testing.
Mammogram
One of the most common screening exams is the mammogram. A mammogram is an x-ray of the breast. Screening mammograms are typically ordered yearly for women 40 years of age or older, unless other risk factors exist. The doctor uses screening mammograms to look for abnormal breast cells in women.
The doctor may order an additional mammogram, called a diagnostic mammogram. The diagnostic mammogram is an x-ray that provides more images for the doctor to review and discover abnormal breast cells in women who have reported to have breast problems or who had an abnormal screening mammogram.