Master
Media Component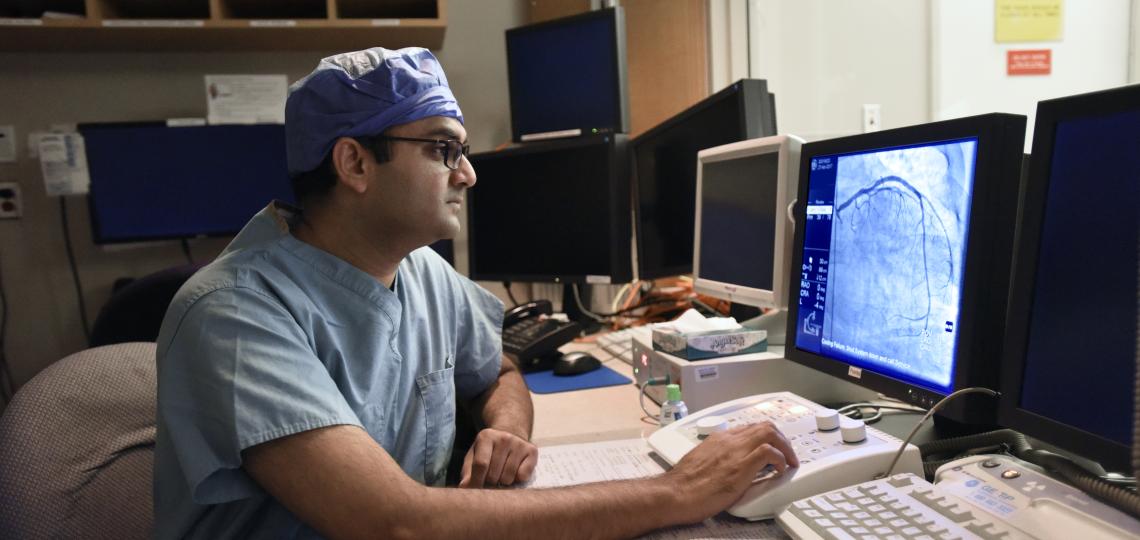 Content
Baylor Medicine cardiologists are improving the lives of patients with cardiovascular disease through minimally invasive treatment options known as interventional procedures.
Interventional techniques use catheters, stents and other advanced tools to address problems with the structure of the heart, such as blocked coronary arteries, without the need for major surgery.
Heading
Cardiovascular Intervention
Content
Baylor Medicine physicians and Hall-Garcia Cardiology Associates provide comprehensive invasive diagnostic and therapeutic options with cardiovascular disease and hypertrophic cardiomyopathy among others. Invasive services are provided at Baylor St. Luke's Medical Center and include:
Coronary angiography
Right and left cardiac catheterization
Percutaneous coronary interventions
Balloon angioplasty
Stenting for peripheral arterial disease
Other services provided include nonsurgical septal reduction therapy for hypertrophic obstructive cardiomyopathy (alcohol septal ablation) as well as venous therapies (catheter-directed local delivery of thrombolytic therapy – clot busters – in patients with pulmonary embolism (blood clots in the lung arteries) and temporary/permanent deployment of IVC filter in such patients to reduce risk of future pulmonary embolism and urgent and emergent cardiac catheterization services for patients with evolving heart attack.
Heading
Treatment for Aortic Disease
Content
Treatment for aortic disease focuses on patients with various disorders resulting in dilation of the aorta (aneurysm). In collaboration with our cardiovascular surgery team, we provide initial evaluation as well as subsequent follow-up to patients so as to refer them for timely aortic surgery before major complications arise.
Heading
Evaluation and Management of Valve Disease
Content
Baylor Medicine cardiology experts provide comprehensive evaluation and management of valvular heart disease and complications of valve disease. This one-stop clinic combines the expertise of clinical cardiology, cardiac imaging (including three-dimensional echocardiography, stress echocardiography), interventional cardiology (for minimally invasive valve surgeries) and surgical intervention for valvular heart disease and aortic pathology.