Master
Heading
What Is Venous Insufficiency?
Media Component
Credit
Healthwise, Incorporated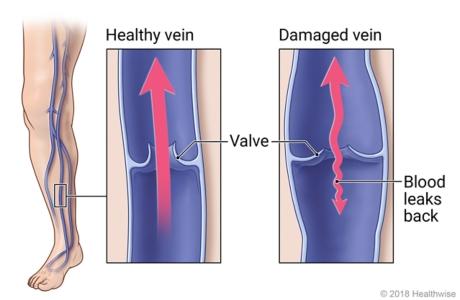 Content
Venous insufficiency is a problem with the flow of blood from the veins of the legs back to the heart. It's also called chronic venous insufficiency or chronic venous stasis.
Your veins bring blood back to the heart after it flows through your body. Veins have valves that keep the blood moving in one direction—toward the heart. But with venous insufficiency, the veins of the legs might not work as they should. This can allow blood to leak backward. Fluid can pool in the legs. This can lead to problems that include varicose veins.
Heading
What are the symptoms of venous insufficiency?
Content
Symptoms of venous insufficiency affect the legs. They may include:
Swelling, often in the ankles.
A rash.
Varicose veins.
Itching.
Cramping.
Skin sores (ulcers).
Aching or a feeling of heaviness.
Changes in skin color.
Heading
How is venous insufficiency diagnosed?
Content
Your doctor can diagnose venous insufficiency by examining your legs and by using a type of ultrasound test (duplex Doppler) to find out how well blood is flowing in your legs.
Heading
How is venous insufficiency treated?
Content
To reduce swelling and relieve pain caused by venous insufficiency, you can wear compression stockings. They are tighter at the ankles than at the top of the legs. They also can help venous skin ulcers heal. But there are different types of stockings, and they need to fit right. So your doctor will recommend what you need.
You also can try to:
Get more exercise, especially walking. It can increase blood flow.
Avoid standing still or sitting for a long time, which can make the fluid pool in your legs.
Try not to sit with your legs crossed at the knee.
Keep your legs raised above your heart when you're lying down. This reduces swelling.
If these treatments don't work, you may need medicine or a procedure to help relieve symptoms. Procedures might be done to close the vein, to remove the vein, or to improve blood flow.
Content
What are the symptoms of a venous skin ulcer?

The first sign of a venous skin ulcer is skin that turns dark red or purple over the area where the blood is leaking out of the vein. The skin also may become thick, dry, and itchy.
Without treatment, an ulcer may form. The ulcer may be painful. You also may have swollen and achy legs.
If the wound becomes infected, the infection may cause an odor, and pus may drain from the wound. The area around the wound also may be more tender and red.
Call your doctor when you first notice the signs of a venous skin ulcer, because you may be able to prevent the ulcer from forming. If an ulcer has formed, get treatment right away, because new and smaller ulcers tend to heal faster than larger ones.
How is a venous skin ulcer treated?

The first step involves improving blood circulation. To do this, you can:
Lift your legs above the level of your heart as often as possible. For example, lie down and then prop up your legs with pillows.
Wear compression stockings or bandages. These help prevent blood from pooling in your legs.
Walk daily. Walking helps your blood circulation.
To help your ulcer heal, your doctor may also remove dead tissue from the wound (debridement).
After your ulcer has healed, continue to wear compression stockings. Take them off only when you bathe and sleep. Compression therapy helps your blood circulate and helps prevent other ulcers from forming.
If your ulcer doesn't heal within a few months, your doctor may advise other treatment, such as:
Medicine to speed healing or get rid of an infection (antibiotics).
Skin grafting, which may be needed for deep or hard-to-heal ulcers.
Vein surgery, which may keep ulcers from coming back.
© 2016-2020 Healthwise, Incorporated.