Master
Content
Every year, our PGY3 residents complete a comprehensive review of the literature on a topic of their choice, and their work is presented at the annual William H. Donovan, MD Critical Review of the Literature Presentations. Here are the presentation topics done by our residents in the past few years.
Media Component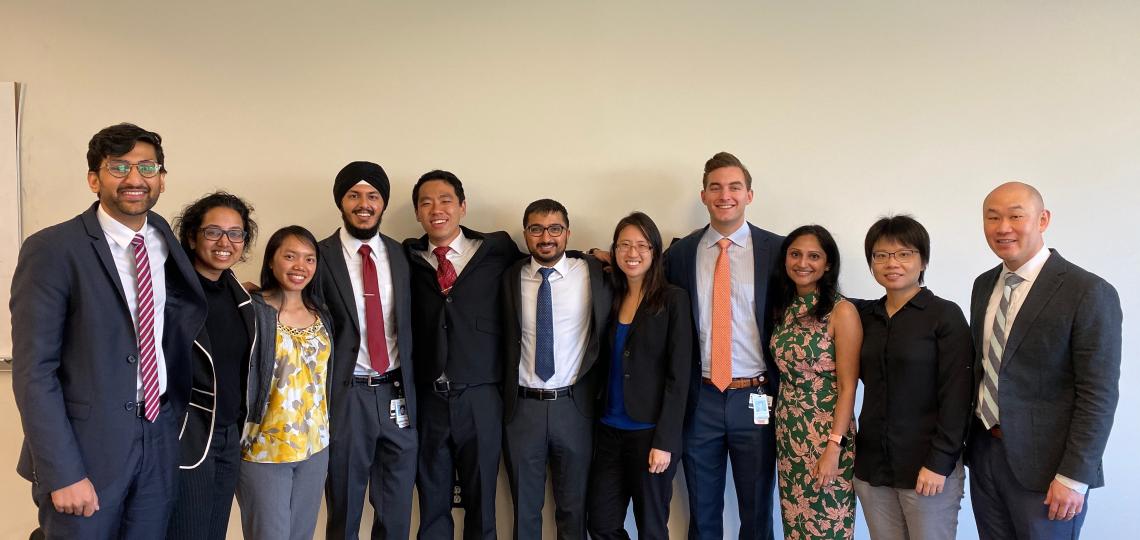 Heading
William H. Donovan, MD Critical Review of the Literature Presentations
Content
2022
Adiga, R.  Effectiveness of Augmented or Virtual Reality Mirror Therapy on Phantom Limb Pain in Lower Extremity Amputees
Catalanotto, M.  Role of Testosterone Supplementation in Pain Perception for Patients with Opioid Induced Androgen Deficiency
Ege, E.  The Effect of Spinal Cord Stimulation on Opioid Use in Failed Back Surgery Syndrome
Isidro, S.  MSK Ultrasound Curriculum in PM&R Residency Programs
Nihn, T.  Effectiveness of Transcranial Direct Current Stimulation on Post Stroke Aphasia
Nweke, N.  Effectiveness of Platelet Rich Plasma (PRP) Injections in Hip Osteoarthritis
Vangeison, C.  Does Peripheral Nerve Stimulation Reduce Pain in Patients with Cluneal Neuralgia?
Vidal, E.  Does Administration of Methylphenidate Improve Recovery in Pediatric Brain Injury?
2021 
Achilike, E. Role of adipose-derived mesenchymal stem cell injections in knee osteoarthritis
Charnay, A. Tibial nerve neurotomy for spastic equinovarus foot after stroke
Chi, B. Use of asynchronous telerehabilitation for post-stroke aphasia
Lachman, L. Does neuromodulation decrease chronic pelvic pain and increase function? A review of the literature
Nguyen, N. Does antibody formation decrease the efficacy of botulinum toxin? 
Palmer, S. Do adipose-derived stem cells have a place in the treatment of rotator cuff disease? 
Pham, D. Botulinum toxin use in neurogenic thoracic outlet syndrome
Roys, J. Effectiveness of peripheral neuromodulation in treating cancer-related pain
2020
Ahmed M. Benefit of Comprehensive Decongestive Therapy on Secondary Lymphedema of the Head and Neck
Gregory E. Is the Superion Interspinous Spacer an Effective and Durable Treatment for Moderate Lumbar Stenosis?
Jiao Y. Does severity of carpal tunnel syndrome based on EMG/NCV studies help guide surgical approach for carpal tunnel release (open/traditional vs endoscopic vs ultrasound guided)?
Kannan H. Evaluating Pain in Patients with Disorders of Consciousness
Polson G. Effectiveness of Percutaneous Vertebroplasty in reducing Axial Pain for those suffering from Multiple Myeloma
Seymour M. The impact of mobility status on health outcomes after transitioning to adulthood in cerebral palsy - a systematic review
Sun J. How effective is radio frequency ablation for lumbar facet arthropathy?
Quezon I. Tele-Rehabilitation for Stroke: Telemedicine supervised home programs, a viable option in the time of lockdown?
2019
Ayyala H. Does Cervical Catheter Placement in Intrathecal Baclofen (ITB) Pumps Improve Upper Motor Spasticity?
Darji N. Diagnostic Utility of Electromyography to Assess Consciousness in Patients with Disorders of Consciousness
Epstein M. Orthobiologic strategies and interleukin-1 as a target for radiculopathy
Hsieh J. Early Mobilization in ICU
Isidro T. Hyaluronic acid (HA) vs platelet-rich plasma (PRP) injections for hip osteoarthritis
Karri J. Combination Intrathecal Morphine and Bupivacaine for Chronic Cancer Pain
Singh J. Dorsal Root Ganglion Stimulation for the Treatment of Complex Regional Pain Syndrome
Song B. Efficacy of Botulinum Toxin in Treating Lateral Epicondylitis: Does Injection Location Matter?
2018
Doan J. Transcranial Direct Current Stimulation and Motor Recovery in SCI
Etesam A. Early Mobilization and Rehab in ECMO Patients
Joshi M, Bruel BM, Grabois M. Intravenous Ketamine for Neuropathic Cancer Pain in Adults: A Critical Review.
Michael A. Radiofrequency Ablation for Knee Pain After Total Knee Replacement.
Newman M. Neurologic Music Therapy, Gait, and Stroke: A Critical Review of the Literature.
Nguyen D. Sensory Deprivation and Pain
Patel S.  Intradiscal Platelet Rich Plasma for Lumbar Discogenic Pain
Yeh P.  Chondrotoxic Effects of Local Anesthetics on Human Knee Chondrocytes