Master
Media Component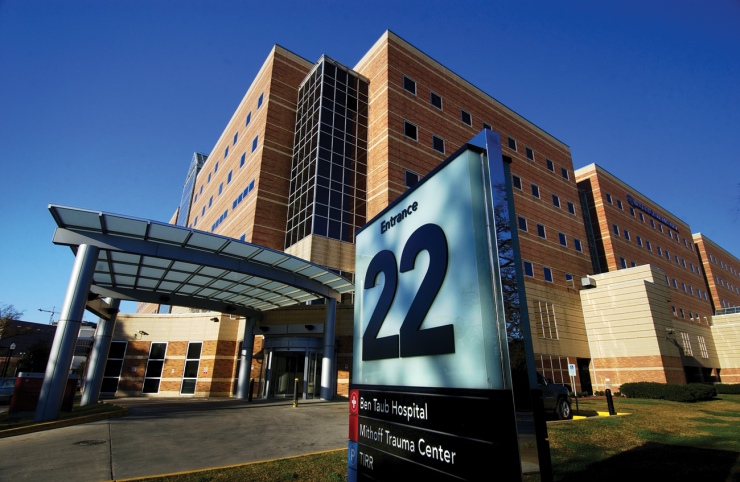 Content
Baylor College of Medicine provides the professional staff for the Ben Taub Hospital, one of two major public hospitals in Harris County. Ben Taub is an acute care teaching facility providing comprehensive care for the residents of Harris County. The hospital has several specialty intensive care units, including medicine, surgery, coronary care, pediatrics, neurology/neurosurgery and a wound unit. There is a wide variety of ambulatory care clinics and a complete array of diagnostic services and treatment facilities.
The Department of Anesthesiology is well represented at Ben Taub and is responsible for operating and staffing the entire anesthesia service. The anesthesiology service is divided into two functional divisions, housing the general operating rooms and an obstetrical/gynecology unit.
Heading
General Operating Rooms
Content
Perioperative anesthesia care is provided for about 9,000 patients every year. Full-time faculty anesthesiologists provide around-the-clock instruction and supervision in 9 operating rooms, one cystoscopy suite, the pre- and post-anesthesia care units, the ambulatory day surgery unit and the nearby surgical intensive care unit. Special training is provided in the management of anesthesia in locations remote from the operating room, including the gastroenterology lab, CT scan and MRI suites, the cardiac catheterization lab, interventional radiology and the intensive care units.
This is the home base of the CA-1 anesthesiology resident as the majority of the first anesthesia clinical year is spent at this institution.
All residents rotate at Ben Taub throughout the continuum of their clinical training. Rotations are two weeks to one month in length and include the following:
General Anesthesia
Advanced airway rotation
Regional anesthesia
Neuroanesthesia
Cardiothoracic anesthesia
Preoperative Screening
Post Anesthesia Care Unit
Heading
Obstetric, Gynecologic and Perinatal Unit
Content
The obstetrical service at Harris Health System performs about 6,000 deliveries each year of which 40 percent are high-risk pregnancies. Approximately half of all parturients admitted to the labor and delivery unit require an anesthetic intervention. Care for critically-ill obstetric patients is provided through the collaborative efforts of the obstetricians and anesthesiologists in the Obstetric Special Care Unit. In addition to obstetric cases, anesthetic care is also provided for elective and emergency benign gynecology and neonatal surgical procedures.
The faculty anesthesiologists in this division have specialized fellowship training in obstetrical anesthesia and supervise all clinical, teaching and research activities of the service. A recurring three-month cycle of didactic lectures covers a wide range of topics. Case management, morbidity/mortality and high risk conferences are held each month, often in conjunction with the Obstetrics Service.
Each year, this service organizes and presents the Texas Anesthesia Conference for Obstetrics and a Difficult Airway Workshop. Additionally, the Obstetrical Anesthesia Division has a long tradition of research productivity. Fellows and faculty have been recipients of the prestigious Gertie Marx Award.