Master
Media Component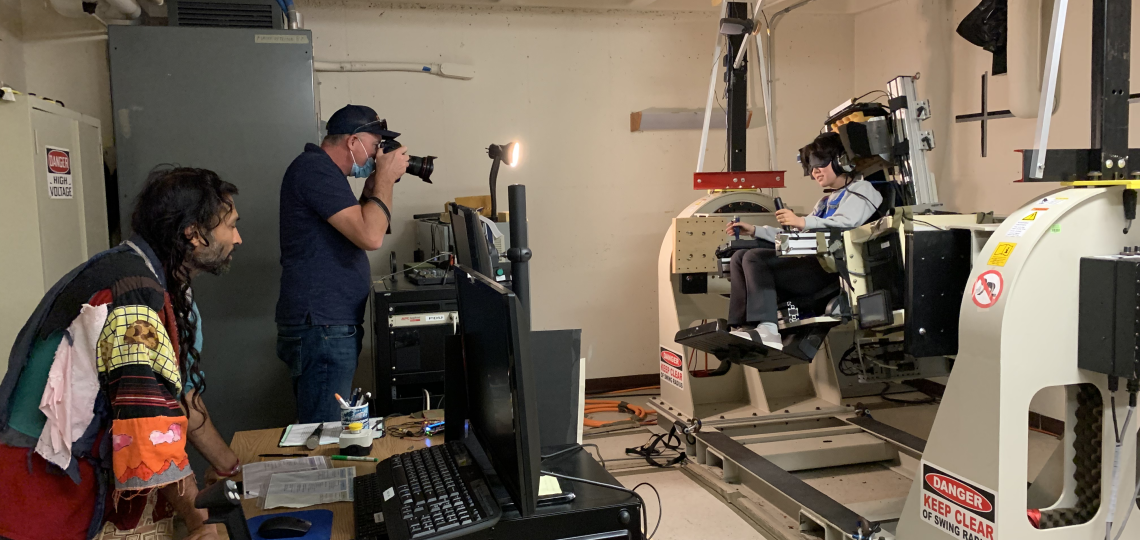 Content
Like many researchers when research projects came to a halt in 2020 due to the COVID-19 pandemic, Dr. Vivekanand Vimal was concerned. As a research scientist in the Ashton Graybiel Spatial Orientation Lab at Brandeis University, he needed human test subjects – something hard to come by while there were government stay-at-home orders and gathering restrictions - to complete research with his Multi-Axis Rotation System (MARS). The MARS is a device that is programmed to behave like an inverted pendulum. Blindfolded test subjects are strapped into the device where they use a joystick to balance themselves, a feat that is challenging for most.  To create a spaceflight analog condition, the MARS is placed in an orientation where test subjects so not have reliable gravitational cues to do the task which is similar to what astronauts may experience during gravitational transitions.  This spaceflight analog condition is the cornerstone to understanding when and why individual experiences spatial disorientation and what sorts of countermeasures can help. 
While this might sound like a joy ride to some, learning about spatial disorientation and being able to predict the occurrence is a critical insight needed to someday land astronauts safely on the Moon and Mars. Astronauts may experience spatial disorientation during transitions such as when landing on the surface of a planet from zero-g, which could jeopardize a mission if, for example, an astronaut needed to manually land on a planet's surface. In fact, spatial disorientation is the number one cause of accidents in military pilots, who have similar training for what may be needed to land somewhere other than Earth
Studying how to combat spatial disorientation seemed like an impossible dream when the Lab shut its doors, instructing students, teachers and researchers to stay home during the COVID pandemic.
"One day I was running experiments and then the next day everything was shut down," said Dr. Vivekanand Vimal. "I was mid-experiment, and I had no idea when I would be able to run again.  At that point, all of my research depended on human data. 
"Especially as an early career scientist, I need to be publishing continuously and the uncertainty of my future induced panic and anxiety.  It took more than a year before I was allowed to run human experiments again."
TRISH recognized the essential need to support postdocs during this time. With research opportunities disappearing and funding drying up, academia was at risk of losing some of the brightest minds, like Dr. Vimal, to alternative career paths. From this, "Go for Launch" was quickly developed and rolled out by TRISH. The program provided a much needed funding opportunity for third-year postdocs. Dr. Vimal recognized the opportunity, applied and was accepted into the program.
"Go for Launch was such a blessing. At a time when there were no opportunities, it was an oasis where I could continue to bloom," said Vimal. "I was able to create a collaboration with a Brandeis CS professor and our project was developing a deep learning model that could predict loss of control in old data that I had from the spaceflight analog condition. Go for Launch allowed me to develop a whole new part of my research that I would not have otherwise. I am very grateful to Dr. Donoviel and the TRISH team for this life saving opportunity."
Now Dr. Vimal wants to use deep learning to better predict loss of control and develop an effective training program to enhance astronaut's performance. NASA wants to take this one step further, by using vibrotactile cueing (a wearable that vibrates to let you know your body's orientation).
Out of 58 proposals, Dr. Vimal's was selected by NASA to study astronaut health and performance for moon and Mars missions. Evaluation of this pre-flight training program has the potential to add to the current suite of spaceflight countermeasures for human health, and to help address sensorimotor risks associated with space flight.
While TRISH would like to take full credit for Dr. Vimal's win, it's the bright minds that are willing to try out-of-the-box studies that TRISH invests in, like Dr. Vimal. TRISH hopes that spaceflight agencies and companies will rely on this technology to keep their space explorers safe on their voyage to the Moon and Mars.