Master
Media Component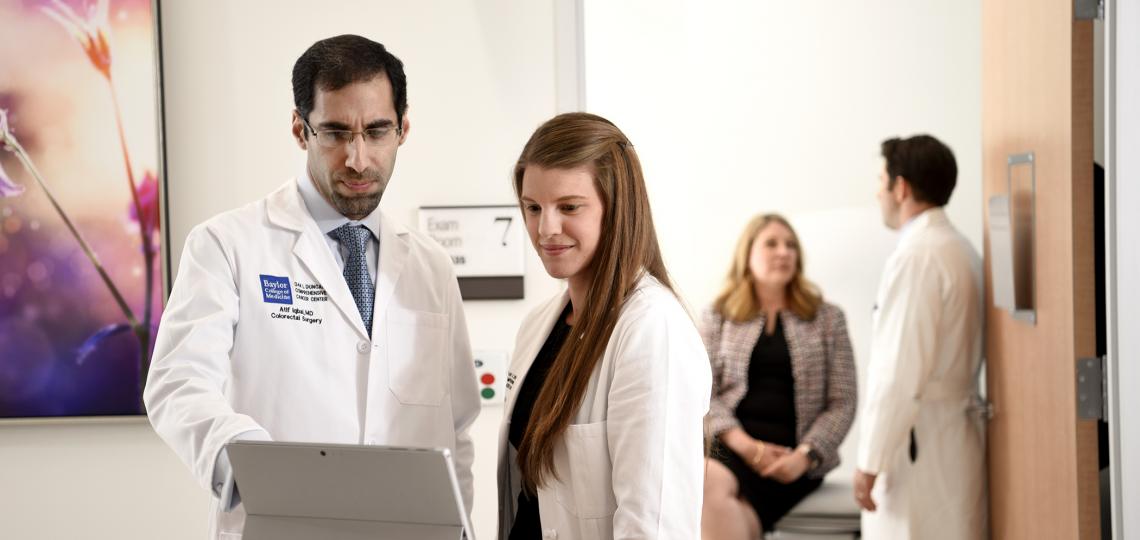 Content
The colorectal surgeons at Baylor Medicine have unique expertise in some of the newest, most innovative, minimally invasive surgical procedures for patients with problems related to the colon, rectum, and small bowel. From colorectal cancer to inflammatory bowel disease to benign colorectal disease, we use the state-of-the-art robotic, laparoscopic, and transanal techniques to provide every patient with top-notch service and quality of care.
We are proud to offer our patients cutting-edge care at the Baylor Department of Surgery, ranked #15 in the country (U.S. News and World Report) with Baylor St. Luke's Medical Center ranked #2 in Houston and #4 in Texas. Our Colorectal Surgery Program at Baylor St. Luke's has been ranked nationally at #21 (Gastroenterology and GI Surgery) and #27 (Cancer) with Colon Cancer Surgery ranking as a 'High Performer' in the 2020 U.S. News and World Report.
Heading
Comprehensive Colorectal Care
Content
Our experienced, multidisciplinary team of professionals values your time, and we want to provide you with the most streamlined experience. Most of our patients can be seen within a week. Additionally, we have combined clinics with medical oncology and gastroenterology to be able to provide a seamless patient experience, with ideal communication. We believe in helping our patients make informed decisions about care and attempt to treat patients like family.
Heading
Surgical Treatment Options
Content
As part of a top research institution in the country, we apply the latest scientific evidence to get the best possible outcomes for our patients through the use of standardized, evidence-based novel protocols. Our surgeons use the latest in diagnostic and treatment options, including transanal endoscopic microsurgery (TEM), transanal minimally invasive surgery (TAMIS), transanal Total Mesorectal Excision (TaTME), robotic surgery, and access to national trials.
Our expert colorectal surgeons utilize various surgical methods to avoid a permanent colostomy in the treatment of rectal cancer. These options include transanal excision (e.g., TaTME, TEM, TAMIS), excision of the entire rectum with anastomosis of the colon to the anus, and intersphincteric resections.
Heading
Surgery for Inflammatory Bowel Disease
Content
We provide surgical services for the Inflammatory Bowel Disease Center at Baylor Medicine offering a full spectrum of services needed to effectively manage IBD, from diagnosis to treatment both surgical and non-surgical.
Heading
Benign Colorectal Services
Content
Baylor Medicine patients have access to the newest, most innovative, minimally invasive surgical procedures being used to treat benign problems related to the colon, rectum and small bowel.
Content
Keep up to date with the latest information on clinical trials concerning colorectal cancer.
Content
We're improving the lives of our patients through the highest quality care and an outstanding team of specialists.