Master
Heading
3/6 Lane Treadmill
Media Component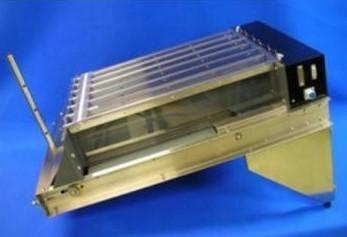 Content
Exer-3/6 (Columbus Instruments) is the third generation, general purpose three (rats) or six (mice) lane animal treadmill that uses a single belt construction with stainless steel dividing walls suspended over the tread surface. An included drive motor controller provides smooth and continuous adjustment of speed in the range 2.5-100 m/m in 0.1 meter/minute increments per second. The treadmill inclination can be altered manually from -15° to +25° in 5° increments. The exercising belt is made with special material that facilitates the animals' grip and is easy to clean. The treadmill has the electrical stimulus system option composed of six shock grids, each with individual on/off switches. Stimulus intensity is adjustable and LED lamps indicate which stimulus grid is active. Software included, provides remote control over the treadmill and settings for speed and acceleration, records distance traveled, and data is saved in CSV format for Excel or similar statistical software.
Heading
Multi-lane Treadmill Request and Use Procedures
Content
Please e-mail Dr. Fiorotto, martaf@bcm.edu with your request and specify: date(s), time(s), how long you wish to use it for, and if you need training.
 
Discuss with Dr. Fiorotto the exercise protocol you wish to use and how it can be accomplished using our equipment and arrange to be trained to operate it.

Obtain IACUC approval for the exercise protocol you wish to use. 
 

If you are going to use electrical stimulation, make sure you include it in your description.
 
Remember to familiarize your mice to the treadmill before performing your first test. They should be allowed to rest for at least 2 d before performing any study.
 
When you have completed your test, you MUST remove all the partitions and clean down the belt removing all the feces and urine and rinsing well. Spray belt with alcohol and dry.  Wipe down the partitions with alcohol and replace.
 
Sign in the logbook including for how long you have used the treadmill.
 
Once you have been trained to use the treadmill, you can book it through the same calendar as the QMR but specifying that you are booking the treadmill.
Check QMR or 6-lane Treadmill Availability
Use the QMR or 6-lane treadmill calendar via Outlook calendar for availability and booking:
In Outlook, click "Folder List" at the bottom left of the Outlook screen.
Click the > before "Public Folders" then click the > before "All Public Folders."
Scroll down to "BCM Pediatrics," then inside to "Nutrition."
Click the Calendar named "QMR or 6-lane treadmill"
To add to favorites, right-click " QMR or 6-lane treadmill " and then select "Add to Favorites."
Click "Calendar" (beside "Folder List" at the bottom left of the Outlook screen).