Master
Content
The MMRU CLAMS unit can house up to 76 mice at a time. This highly versatile system is capable of monitoring/controlling the following parameters, in virtually any permutation.
Please read the CLAMS Measurement Request Protocol and CLAMS Use and Measures for information about the access and use of this system.
Heading
Calorimetry System (With or Without Free Running Wheels)
Media Component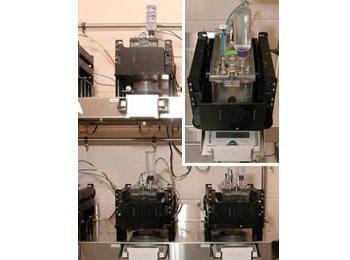 Content
The MMRU has two Oxymax calorimetry systems (Columbus Instruments) permitting either one experiment with up to 28 mice, or two experiments with up to 16 and 12 mice, respectively, to be run concurrently. The two systems have different configurations: automated food access control and telemetry are available on the 16-cage system, and voluntary wheel running capability with food monitoring available on the 12-cage system.
The calorimetry system monitors O2 and CO2 concentrations at the inlet and outlet ports of a chamber through which a known volume of air flows. This information enables the calculation of O2 consumption, CO2 production, and respiratory exchange ratio (or RQ), providing accurate and reproducible data on whole body energy expenditure.
Heading
Activity/Locomotion Monitoring
Media Component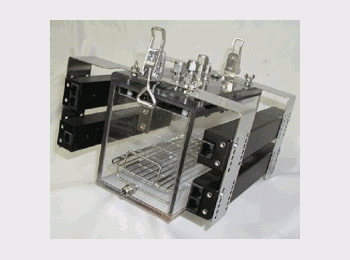 Content
The Columbus Instruments Opto M3 is a multi-channel activity monitoring system for the continuous measurement of ambulatory and total movement. Infra-red beams are projected at 0.5" spacing across the cage on 2 levels. During movement, the beams are broken by the mouse, and this sends signals to the central computer. The beams can detect movement along both the X (length of cage) and Z (height) axes. The system is a component of the calorimetry cages.
Independent studies (see Pack et al. in references) have determined the relationship between activity and sleeping patterns. This information is automatically generated for your data and is provided along with other CLAMS results. 
Heading
Free Running Wheels
Media Component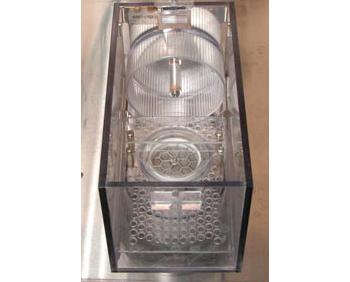 Content
Twelve of these cages can be modified to include free running wheels. The system records the number of revolutions, distance, and speed run, and the time of day when the activity occurs. Due to the diameter of the wheels, measurements are limited to mice weighing less than approximately 35 g.
System capacity for this parameter: 12 mice
Maximum housing duration within these cages: 1 month
Equilibration period recommendation: 2 to 3 days
Weight range: 10 to 70 g (35 g for running wheels)
Heading
Body Temperature Telemetry
Media Component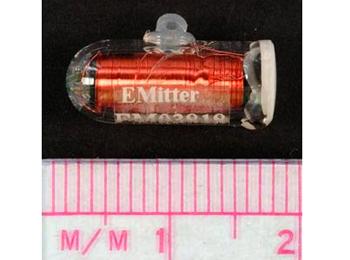 Content
Columbus Instruments has teamed with Mini Mitter® for continuous monitoring of core body temperature within the CLAMS. The transmitting device does not require batteries, and thereby eliminates the time and expense involved in refurbishment. Through the use of the ER-4000 Energizer-Receiver system (a component of the calorimetry cages), the transmitter (G2 E-Mitter; 1.5g weight; surgically implanted within the abdominal cavity) is energized via magnetic impulses. The device continually transmits body temperature information that is recorded by the programmed computer.
System capacity for this parameter: 16 mice
Maximum housing duration within these cages: 1 month
Recovery from surgery: 2 weeks
Equilibration period recommendation: 2 to 3 days
Weight range: 20 to 70 g
Heading
Feeding Mass Monitor
Media Component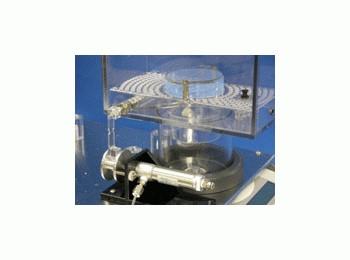 Content
The CLAMS system monitors the amount of food consumed by the mouse, and the frequency and duration of each meal. The combination of these parameters enables investigators to assess appetite and satiety.
Food, in powdered form, is placed in a feeding assembly that rests on a precision modified Mettler Toledo Balance (0.01-210 g range). The mouse accesses food by eating from a spring-loaded feeder through an anti-foraging guard; this guard also prevents full body access to the dish. (For mice that weigh less than 12 g this is not always effective.)
Spillage is accounted for by a larger dish, beneath the main food cup, that catches anything that spills over the edge. This spillage collection cup also rests on the balance, and because spilled food is not accessible to the mouse, the mass remains on the balance, and is not recorded as "food eaten". The mass of food consumed is monitored continuously.
Feeding bout information is gathered by disturbances on the balance, following defined set values (as determined by the investigator) for "minimum valid weight" and "maximum idle time." "Minimum valid weight" is defined as the minimum amount of food that must be consumed in order to record a feeding event. This value can be as little as 3 mg. "Maximum idle time" defines the time that must elapse between balance disturbances to define separate meals. Because food is eaten by the mouthful, the balance often settles between bites. By setting a time value for between bites, a series of bites can be grouped as a meal. Each meal is therefore associated with a start time, finish time, and mass of food consumed. Special Teflon feeders are available for use with high fat diets.
System capacity for this parameter: 48 mice (and additional 28 of can simultaneously provide indirect calorimetry)
Maximum housing duration: indefinite depending on availability
Equilibration period recommendation: 2 to 3 days
Weight range: 10 to 70 g
Heading
Automated Food Access Control
Content
The food access control system provides an automated means to control availability of food to the mouse. A computer-controlled pneumatic arm opens and closes the anti-foraging gate, depending upon time of day and/or mass of food consumed. A hinged food guard prevents harm to the mouse if it is feeding at the time at which the anti-foraging gate closes. Food access is accomplished by defining four parameters: Time On (tON), Time Off (tOFF), Duration (DUR; length of food access in hours), and Limit (mass of food consumed in grams). Examples of strategies for feeding regimes can be seen in the graphs. The graphs illustrate control of food access dependent on Weight (A), Time (B, C), or both (D). Examples given for wild-type (control) versus ob/ob mice.
This system enables pair-feeding and meal-feeding studies to be performed with a high level of reliability, precision, and accuracy. The system can be programmed so that mice within an experiment are provided access to specific amounts of food or, in the case of pair-feeding, an amount of food equal to that consumed by a specified "master" mouse or group of mice. In addition to being highly time efficient, this pair-feeding approach provides the pair-fed group with its food at the same time as the "master" group. This avoids the one-day delay between groups that occurs with the traditional manual approach to pair-feeding, and also any effects of time of day that food is eaten.
System capacity for this parameter: 64 mice
Maximum housing duration within these cages: 3 months (48 cages)
Equilibration period recommendation:  2 to 3 days
Weight range: 10 to 70 g