Master
Media Component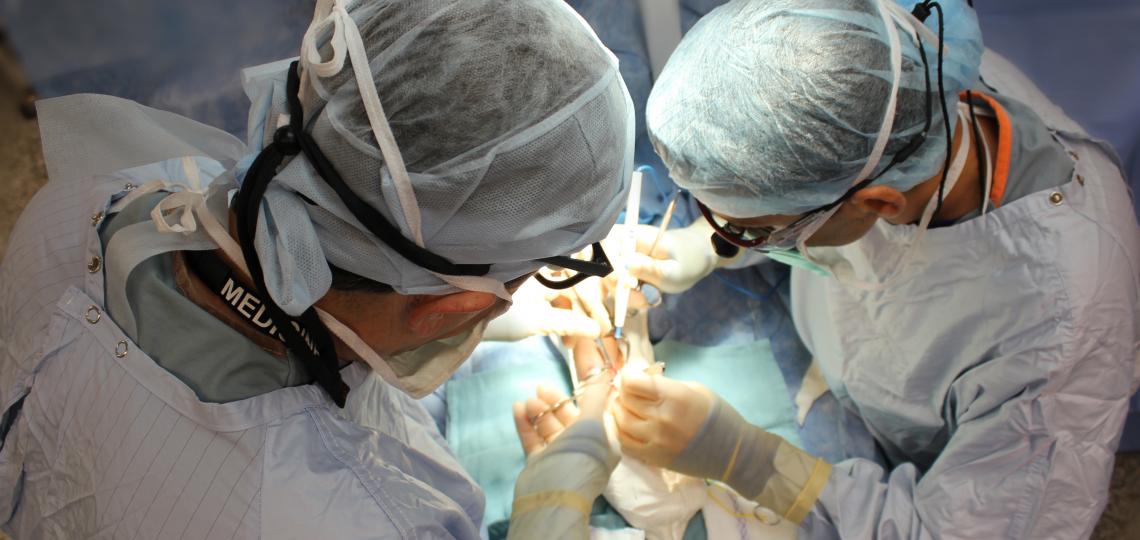 Content
The Division of Vascular Surgery and Endovascular Therapy is firmly rooted in history, founded and led for decades by the late Dr. Michael E. DeBakey and Dr. E. Stanley Crawford. Today, we look forward to meaningful growth and further expansion as we continue the "Pursuit of Excellence" under the leadership of Joseph L. Mills, who arrived in 2015, and has since assembled an active, collegial and productive clinical and research group that includes more than two dozen vascular surgeons, podiatrists, research PhDs and research assistants, and vascular surgery trainees.
Our multidisciplinary clinical program, led by vascular surgeons, researchers and podiatrists, has progressively shifted from not only performing primarily traditional open surgical procedures to offering a wide range of cutting edge, minimally invasive endovascular interventions, targeted to provide the best outcomes for the patients we serve. Our staff have extensive clinical experience in all aspects of vascular surgery, ranging from office-based endovascular procedures for peripheral arterial and venous disease to complex aortic and carotid surgery. The BCM STEP (Save The Extremity Program) is a regional, national and international leader in multidisciplinary care for diabetic foot ulcer and chronic limb-threatening ischemia. Our group is also at the forefront in performing Distal Vein Arterialization (DVA) procedures. Division faculty members are leaders in their field of clinical practice, actively publishing and serving on the editorial boards of all of the major vascular surgery journals, and serving as principal investigators on numerous key clinical trials. 
Our Vascular Surgery Residency (5-2) and Vascular Surgery Integrated Residency (0-5) ACGME-accredited Training Programs provide comprehensive training in the evaluation, treatment and comprehensive, longitudinal care of vascular patients using the best medical, open surgical and catheter-based endoluminal therapy. All graduates are eligible for Board Certification in Vascular Surgery granted by the Vascular Surgery Board of the American Board of Surgery. Training takes place in adjacent, diverse, iconic settings including Baylor St. Luke's Medical Center, the Michael E DeBakey VA Medical Center, Ben Taub Hospital, Texas Children's Hospital, and newly minted Outpatient Vascular Clinic and OBL endovascular space on the McNair Campus. Residents are trained by a faculty who excel in teaching, mentoring and leading the next generation of vascular surgeons, several of whom have been actively involved in national resident education advisory boards.
Our research ventures are broad and focus on the development of new technologies and methods to prevent and treat a variety of vascular conditions. This research covers a wide range of endeavors from preventing falls and measuring frailty with wearable technologies, to preventing amputations by developing novel endovascular techniques to treat peripheral artery disease, to developing novel open, hybrid and endovascular therapies for conditions such as TAA, AAA and TOS. A major focus at all three institutions is limb salvage and amputation prevention, which is based on the internationally accepted SVS WIfI classification system, developed by our faculty, and utilizes seamless integration of vascular and podiatric care. 
Among our many clinical research activities, our group is a leader in peripheral arterial disease (PAD), endovascular aneurysm repair (EVAR) and fenestrated EVAR (FEVAR) trials. One of our faculty, Dr. Panos Kougias, is the driving force and national PI of a $17 million Federal grant to study postoperative anemia and the threshold for transfusion in vascular surgery patients. We collaborate with multiple facilities, analysts, and research teams worldwide to foster advances in the field of vascular health. Among many other grants funded by federal or non-governmental agencies, we recently completed a PCORI grant to reduce amputations and disparities within Harris Health System, our municipal health authority. Our faculty and trainees routinely present their work at the annual meetings of nearly all of the major vascular professional societies, with subsequent publications in the highest ranked surgical journals.
Content
Our physicians provide diagnostic evaluation and interventional treatment for conditions related to vascular health. 
Content
View information about the division's vascular surgery residency programs.