Master
Media Component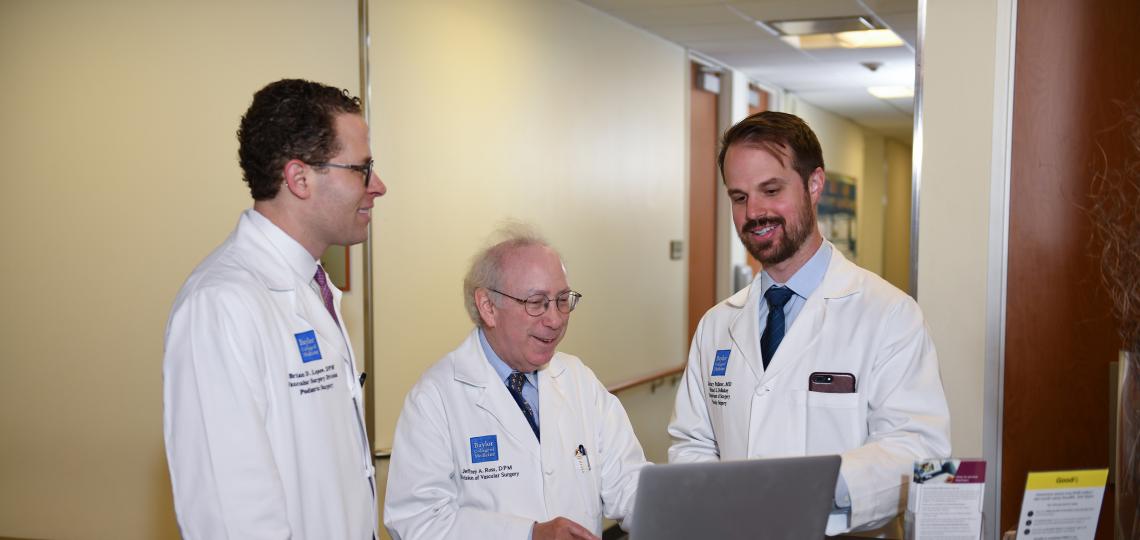 Content
In 2015, the Division of Vascular Surgery and Endovascular Therapy welcomed world-renowned vascular surgeon Dr. Joseph L. Mills Sr. as its new chief. Learn more about Dr. Mills' extensive background in vascular surgery. Before coming to Baylor, Dr. Mills served as chief of the vascular surgery program at the University of Arizona (1994-2015), where he founded and co-directed the widely acclaimed Southern Arizona Limb Salvage Alliance.

Based upon this experience, Dr. Mills is building at Baylor a state-of-the-art Limb Salvage Service that will seamlessly integrate vascular surgery and podiatry in both outpatient and inpatient settings, with the goal of reducing amputations in patients with peripheral artery disease and diabetes.
With eight full-time faculty surgeons working across the Texas Medical Center, the division offers a full array of minimally invasive endovascular interventions as well as traditional open surgical procedures ranging from a new fenestrated aortic graft program to treatment for complex vascular trauma.

As a foundation for its new programs, the division's peripheral vascular lab was recently accredited by the Intersocietal Accreditation Commission. IAC accreditation is a "seal of approval" that patients can rely on as an indication that the facility has been carefully critiqued on all aspects of its operations considered relevant by medical experts in the field.
Content
Our Vascular Surgery Residency has become one of the premier vascular surgery training programs in the country since Drs. Michael DeBakey and Stanley Crawford established it in 1970. This fellowship is a two-year ACGME-approved program. Graduates are eligible for the Certificate of Special Qualifications in Vascular Surgery granted by the American Board of Surgery.
Content
Our clinical program includes eight full-time faculty surgeons have effectively shifted from performing traditional open surgical procedures to minimally invasive endovascular interventions, whenever appropriate. Reflective of this work, division faculty members recently published a paper on the development of a new endovascular technique to treat flush iliac artery occlusions, a daunting challenge to vascular surgeons. This pioneering work, featured at the prestigious Veith Symposium in New York, has been adopted by practitioners all over the world.
Faculty members are widely recognized as leaders in the fields of vascular surgery and endovascular therapy at several institutions in the Texas Medical center, including Baylor St. Luke's Medical Center, the Texas Heart Institute, Texas Children's Hospital, the Michael E. DeBakey VA Medical Center, and Ben Taub Hospital.
Content
Our research focuses on wearable technologies that have shown enormous promise in identifying and preventing limb and life-threatening gangrene as well as providing early warnings to prevent life-threatening falls and fractures in older adults. These game changing technologies are actually "game-based" in that they allow the wearers to improve their stability and mobility through novel video-game-like therapies. In addition to our local research initiatives, we partner with a host of businesses, analysts, and research teams worldwide to foster advances in the field of motion performance.