Master
Media Component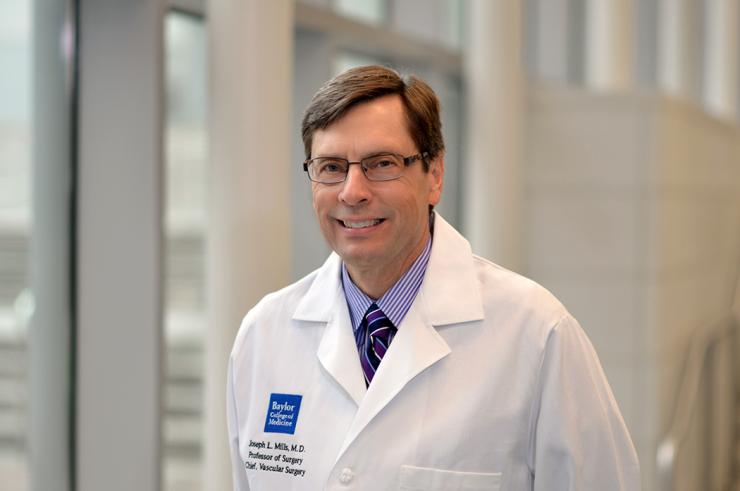 Content
It is both an honor and a great privilege to lead the Division of Vascular Surgery and Endovascular Therapy at Baylor College of Medicine. Our clinical practice and research footprints have greatly expanded over the last 7 years. The longstanding, historic BCM Vascular Surgery training program, founded by Dr. Michael E. DeBakey and Dr. E Stanley Crawford, now also includes the newer 0-5 paradigm, accepting students directly from medical school, the so-called integrated pathway. We continue to train traditional 5-2 pathway residents after they have completed general surgical training. We have developed a comprehensive peripheral arterial disease program with a multidisciplinary focus on limb salvage in patients with diabetic foot complications and continue to try to integrate this program throughout the greater Houston area and Baylor's hospital affiliates, including Baylor St Luke's Medical Center, the Michael E. DeBakey VA Medical center, and Ben Taub Hospital.
Dr. Mills earned his M.D. degree in 1981 at Georgetown University School of Medicine and completed his surgical internship and residency at Wilford Hall USAF Medical Center, Lackland AFB, Texas. He trained in vascular surgery at Oregon Health Sciences University, Portland, Oregon, and subsequently completed a senior fellowship in Endovascular Surgery at Texas Tech University Health Sciences Center before ultimately joining the University of Arizona, where he rose to the rank of professor of surgery. Dr. Mills has authored over 300 peer-reviewed journal articles and book chapters focused on his clinical and research interests in noninvasive diagnosis, vein graft stenosis, intimal hyperplasia, and limb-salvage in patients with diabetes mellitus. He has been the principal investigator for over 40 clinical trials, including a number of current investigations, and is widely regarded as an expert in peripheral vascular disease and limb salvage and as a renowned educator in vascular surgery training. He is dedicated to fostering the continued growth and excellence of the clinical, research, outreach, and educational components of our mission.
Joseph L. Mills Sr., M.D.
John W. "Jack" Reid, M.D. '43 and Josephine L. Reid Endowed Professor in Surgery
Chief, Division of Vascular Surgery and Endovascular Therapy
Michael E. DeBakey Department of Surgery
Baylor College of Medicine
Heading
Meet Dr. Joseph L. Mills
Content
Dr. Joseph L. Mills describes his background and specialized training to become a vascular surgeon.