Master
Heading
Outstanding Clinical Experience
Content
Fellows have a minimum of 12 months of inpatient service in three years. Fellows rotate through three inpatient teams. The first year of fellowship consists of six months of inpatient service, (two months of time on each of the inpatient teams.) The second and third years of fellowship consist of three months of inpatient service (one month of time on each of the inpatient teams) When not on inpatient service, time is spent in the Continuity and Cystic Fibrosis clinics, elective rotations, preparing educational presentations or engaging in quality improvement projects and scholarship/research activity. The fellows also participate in structured outpatient rotations in flexible bronchoscopy, asthma education for first-year residents, and interpretation of pulmonary function tests.
Elective rotations can be done in the second and third years. Common elective rotations include Sleep Center, Allergy and Immunology, PICU, ENT and many other areas of interest.
Heading
Non-Service Rotations
Media Component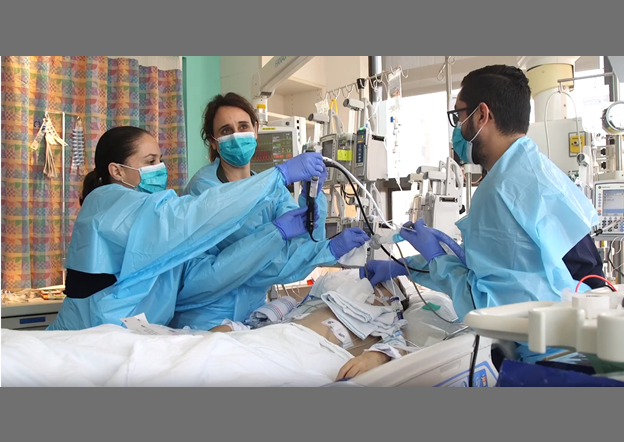 Content
Every one to two weeks, a fellow is assigned to perform outpatient flexible bronchoscopies, teach residents and interpret pulmonary function testing. Many of the opportunities to perform outpatient flexible bronchoscopies are due to the lung transplant and aerodigestive programs, as well as general pulmonary patients.
Heading
Inpatient Service Rotations
Content
Fellows are expected to take primary responsibility for the evaluation and management of their list of patients under direct supervision of an attending pulmonologist and are allowed graded autonomy over three years. Hospital follow-up is frequently arranged with the fellow which allows longitudinal learning experiences. The fellows leads a team of residents in the care of patients admitted to the pulmonary service. During consult rotations, patient rounds are tailored to the individual fellow's learning and are conducted mainly by the fellow and attending in collaboration with services requesting a pulmonary consultation.
Heading
Outpatient Clinics
Content
Fellows maintain their own panel of patients over three years in their continuity and CF clinics. Fellows have one half-day of general continuity clinic and one half-day of CF continuity clinic per week. Each fellow is assigned a supervising attending pulmonologist. The fellow establishes a long-term relationship with patients and families which is considered a critical part of training.
Heading
Advanced Rotations
Content
During the 2nd year of the program, fellows complete a hybrid inpatient/outpatient rotation dedicated to lung transplant, a community clinic rotation, as well as a subspecialty outpatient clinic rotation in which fellows see patients in a variety of the highly specialized pulmonary clinics:
Aerodigestive
Life-Threatening Asthma (LTA)
Muscular Dystrophy
Sickle Cell
Pulmonary Hypertension
Lung Transplantation
Cystic Fibrosis
Sleep Medicine
Heading
Robust Academic Experience
Content
Learning opportunities are a blend of section-specific, departmental, and college-level offerings. Fellows are immersed in an academic environment that fosters intellectual discussion and exchange of knowledge in all of the ACGME competencies and beyond.
Media Component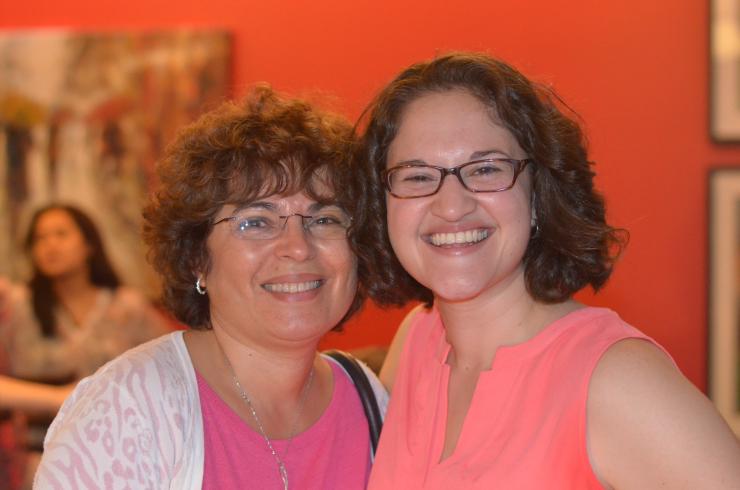 Content
When beginning the program, each fellow is assigned a general mentor among the faculty within the section of pediatric pulmonology. Mentors may be matched to fellows according to background, interests, and future career goals.
Heading
Individualized Curriculum
Content
At the end of the first year, fellows will be asked to select a track to individualize their second and third year electives. The curriculum is tailored to reinforce clinical interests and academic niches that fellows may want to develop. Examples include critical care, CF, community, and airway tracks.
Heading
Scholarly Activity
Media Component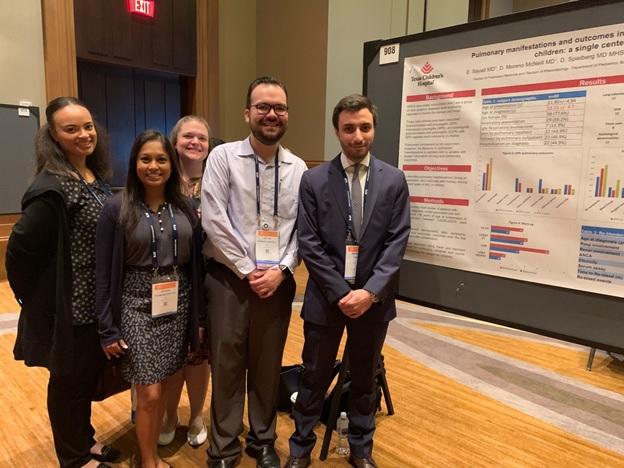 Content
During the first year of training, fellows explore areas of interest and begin to select potential research mentors within or outside the section. By the end of the first year, the fellow is required to create a Scholarship Oversight Committee which is responsible for monitoring the progress and guiding all stages of the project to completion. In the first year of training, fellows will participate in a research module offered by Fellows College to learn basic principles of scientific methods and analyses. During the second and third years of training, there is ample time to focus on scholarship and research. Nearly all of our fellows' projects lead to poster presentations at national meetings and/or publication in peer-reviewed journals. Fellows are encouraged to pursue individual interests in either basic science, clinical or educational research. Also, all fellows participate in quality improvement projects.
Content
All of our fellows are expected to deliver lectures and presentations for pulmonary-specific conferences.
Heading
Department of Pediatrics
Content
Pediatric Fellows College
Fellows College is an innovative and collaborative approach to sub-specialty training implemented at Baylor College of Medicine in 2011. The primary focus is to provide educational seminars for pediatric sub-specialties to meet the core curriculum (quality improvement, patient safety, communication, professionalism & medical writing) required by the ACGME and the ABP. In addition to the sessions offered to meet the core curriculum, Fellows College offers educational series on topics such as Fellows as Educators, Academic Career Development, Quality Improvement, Leadership, and Research.
Expanded curricular opportunities provided by Fellows College help to prepare sub-specialty fellows for their future careers. Furthermore, fellows have a wider range of opportunities to network and interact with an extended community of learners and leaders participating in Fellows College.
Pediatric Grand Rounds
Grand Rounds is held every Friday at Texas Children's Hospital and open to pediatric physicians, residents, and fellows of Texas Children's Hospital / Baylor College of Medicine. Grand Rounds fulfills the need for regular updates on advances in the fields of general pediatrics and pediatric sub-specialties. Educational methods include lectures and question/answer sessions and is designated as an educational activity for AMA PRA category 1 credit.
Heading
College Experience