Master
Content
Fellows have at least one hour per day of mandatory structured learning activities (e.g., lecture, workshops, clinical case discussions, problem-based learning, etc.) three to four days out of the week. The program delivers a board-aligned didactic curriculum where many activities contain content that is fellow-focused and guided by the ABP PCCM Content Outline. Our didactic curriculum includes journal clubs, conferences, seminars and more. An educational council consisting of 12 faculty support and oversee all the following activities. The fellows and faculty play an active role in both scheduling and organizing these highly valued educational activities. Two fellows assume the responsibility of organizing the lecture topics and inviting speakers for each two-month block of conferences. Our recurring didactic series includes the following:
Board Review
Every other month a fellow prepares questions on a critical care topic from PREP-ICU with a supervising faculty member. This serves to prepare fellows for taking the boards after completion of their fellowship by presenting them with board type questions, as well as, explanations of the accompanying responses.
Morbidity & Mortality Conferences
M&M case presentations are performed monthly. These discussions are coordinated and led by the fellow and consist of multidisciplinary participation from sub-specialists and pathologists. There are also weekly Mortality reports presented by the Transport fellow that seek to foster discussion on opportunities for improvement in the quality and delivery of care provided.
Evidence-Based Medicine Series
The Evidence-Based Medicine series is comprised of several sessions intended to enhance the fellows' ability to ask a PICO question, appraise existing evidence and application of the evidence to answer the clinical question. This series is conducted annually and includes didactic presentations followed by appraisal practice sessions for interventional, observational, and diagnostic studies.
Patient Care Conferences
These conferences, coordinated and led by the fellow, offer the opportunity for an in-depth review of the management of select ICU patients. Fellows select patients to be reviewed and invite sub-specialty guests, if applicable. There are also weekly presentations of admitted patients, by fellows on clinical service, that are meant to ignite collaborative discussions on diagnostic and management aspects.
Research Workshops and Conferences
As part of their fellowship training requirement, all fellows will present their scholarly activity to our division. This will allow the fellow to share their work, hone their presentation skills, and gather recommendations from a wide variety of clinicians and researchers. In addition to the Fellows' Research Conferences, there is a series of Faculty Research Conferences for the Critical Care faculty and staff to share their academic interests with the division.
Clinical Updates from Invited Guest Speakers
Our division frequently invites guest speakers with national recognition to present at formal and informal sessions such as fellow conferences and grand rounds.
Joint Critical Care and Emergency Medicine Conferences
Twice a year, the Divisions of Critical Care Medicine and Emergency Medicine conduct a joint conference to critically evaluate the management of a group of common patients. These conferences serve as both educational sessions as well as opportunities for quality improvement.
Narrative Medicine
These sessions are offered every other month and aims to equip fellows with the skills to recognize both patients' and their personal stories in the hopes of increasing empathy and promoting healing. Fellows learn skills that include close reading, art analysis, and writing as a way to facilitate self-reflection and examination of assumptions in complex situations.
Ethics Seminar
The CCM Fellow's Ethics Seminar teaches fellows the critical thinking skills necessary to navigate the extraordinarily complex interplay between critical illness, family dynamics, multiple sub-specialties and technology. We utilize the BCM Center for Medical Ethics and Health Policy framework for ethical analysis. These interactive sessions, based off of real cases picked by the fellows, help to identify and name morally distressing aspects of care and formulate an ethically-based plan of action.
Continuous Renal Replacement Therapy Workshops
We offer an annual program for accelerated competency in Continuous Renal Replacement Therapy.  A two-part workshop using a blended learning framework is delivered by the program with each workshop integrating Team Based Learning (TBL) and online gamification components. The TBL portion is adapted to use meaningful gamification in the form of "choose your own adventure (CYOA)" branching scenarios as pre-course work.  Following the pre-course work, the participants attend two sequential three-hour workshops.
Critical Care Ultrasound/Point-of-Care Ultrasound Educational Program
The CCUS Educational program prepares fellows for the ever-advancing applications of ultrasound in Pediatric Critical Care Medicine. A broad year-long curriculum is taught covering applications of clinician ultrasound in both Diagnostic applications for managing the critically ill child including areas such as:
Cardiac
Pulmonary and Airway
Vascular
Abdominal/Trauma
Neurological and Ophthalmic
as well as specific procedural education in:
Central and Peripheral Venous and Arterial access
Guided drainage procedures of the Thorax and Abdomen
Education includes a regular monthly didactic series as well as monthly walk rounds in small groups of 1-3 fellows per instructor. CCUS faculty are broadly trained in ultrasound, teach nationally, and include individuals who have formal echocardiography training in cardiology as well as advanced ultrasound fellowships.  The primary focus of the educational program is equipping fellows with a robust education in ultrasound and help them implement the technology in their future careers as its presence rapidly advances in Critical Care.
Heading
Physiology Curriculum
Content
Core and Applied Physiology Curriculum
These conferences are repeated cyclically every year. They occur twice monthly and use team- and case-based learning methodology where learners break into small groups to discuss the answers among their peers prior to discussion by the entire group. Faculty, fellows, and advanced practitioners attend these conferences, whereby one fellow leads the group discussion of the topic. All fellows will receive the syllabus containing objectives and questions for the year during the first week in July. 
Pulmonary Development and Functional Anatomy
Ventilation and Breathing
Pulmonary Circulation
Diffusion of Gases, Oxyhemoglobin Dissociation, Carbon Dioxide Transport
Gas Exchange, Oxygen Transport, and Hypoxemia
Pulmonary Edema/Lymphatics/Nerve Supply
Applied Physiology-Transitioning to Mechanical Ventilation
Applied Physiology-Obstructive Lung Disease
Normal Cardiovascular Physiology
Coronary Blood Flow and Myocardial Oxygen Demand
Applied Physiology-Acute Respiratory Distress Syndrome
Applied Physiology-Pulmonary Hypertension
Normal Renal Physiology
Acid-Base Disorders
Applied Physiology-Acute Renal Failure and Diuretics
Cardiopulmonary Interactions
Applied Physiology-TBI, HIE, & Stroke
Immunity and Inflammation
Applied Physiology-Pathophysiology of Sepsis
Liver Anatomy and Physiology
Applied Physiology-Acute Liver Failure
Hemostasis and Disseminated Intravascular Coagulation
Cardiac Core and Applied Physiology Curriculum
These educational sessions occur biweekly and cover the breadth of cardiac critical care physiology and anatomy. They are case-based discussions led by cardiac critical care faculty. The curriculum and reading material are available at the beginning of the year to allow learners ample opportunity to read and prepare for the sessions. The material is also made available for reference to benefit the learners during their cardiac ICU rotations.
Shock and Vasoactives
Hemodynamic monitoring
Ventricular function/Dysfunction
Mechanical circulatory support
ECMO
Ventricular Assist device
Tetralogy of Fallot
Truncus Arteriosus
Transposition anatomy and physiology
Single ventricle physiology
Hypoplastic left heart syndrome
Cavo pulmonary anastomosis and Fontan
Cardiac Catheterization
Electrophysiology
Heart failure physiology
Heart and lung transplant
Cardiomyopathy
Board Review
 
Heading
Heart Center Surgical Rounds
Content
Every Thursday morning the Texas Children's Heart Center holds lectures run by the cardiothoracic surgeons covering congenital heart disease topics from the surgeon's perspective. The lectures are attended by cardiology and critical care fellows along with critical care advanced practice providers, and cardiothoracic advanced practice providers. The critical care fellows are required to attend these lectures during their CICU rotation.
Media Component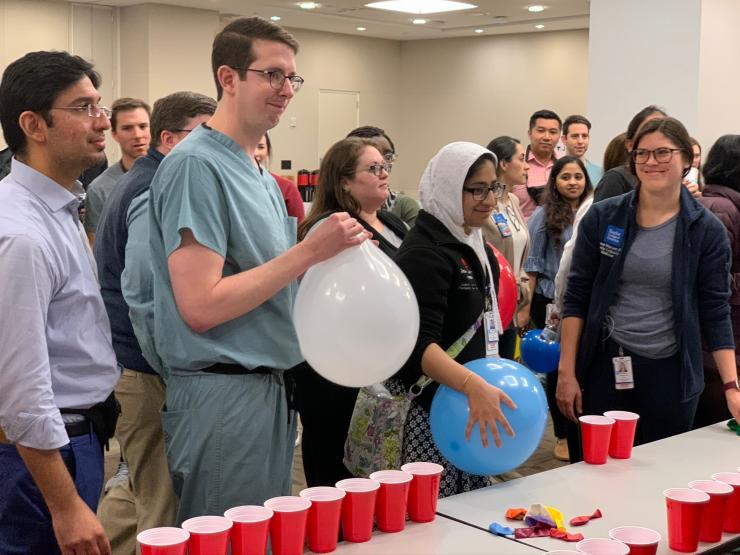 Content
Fellows' College is a centralized program that provides a common curriculum for all 185 pediatric subspecialty fellows in ACGME competencies and additional professional development. Fellows' College offerings are held approximately twice per month and experienced faculty educators serve as lecturers, coaches and facilitators in didactic or workshop formats. It is a great venue where critical care fellows have the opportunity to interact with fellows and faculty from other subspecialties.
Example of Curriculum Modules, where each module consists of a series of educational activities:
Fellows as Educators
Academic Career Development
Quality Improvement and Patient Safety
Research and Scholarship
Professionalism and Communication
Annual Wellness Retreat
Heading
Simulation-based Clinical Orientation for Pediatric (SCOPe) specialists Program for first year fellows
Content
This is a simulation-based clinical orientation program specifically tailored to the needs of incoming first year pediatric subspecialty fellows. The program occurs over the course of several days and introduces the participants to topics relevant to the care of acutely and critically ill pediatric patients, as well as practice with procedures. The orientation program includes workshops on vascular access, airway management, communication, and resuscitation. The goals of this curriculum are to develop the knowledge, skills, and attitudes required by first year Pediatric Subspecialty fellows to engage in crisis resource management skills within the context of inter-professional teams in order to provide high quality, safe, and compassionate care to critically ill children and their families.
Heading
Simulation-based training
Content
All fellows participate in quarterly simulation-based team training using high fidelity simulation. These occur in the Simulation Center where fellows practice crisis resource management skills for both common and high risk, rare events. Teams consist of nurses, trainee physicians, respiratory therapists and other ICU health care personnel. In addition, during CICU rotation fellows have weekly simulation/PBL sessions addressing common cases, complications and life threatening problems encountered in the CICU.