Master
Media Component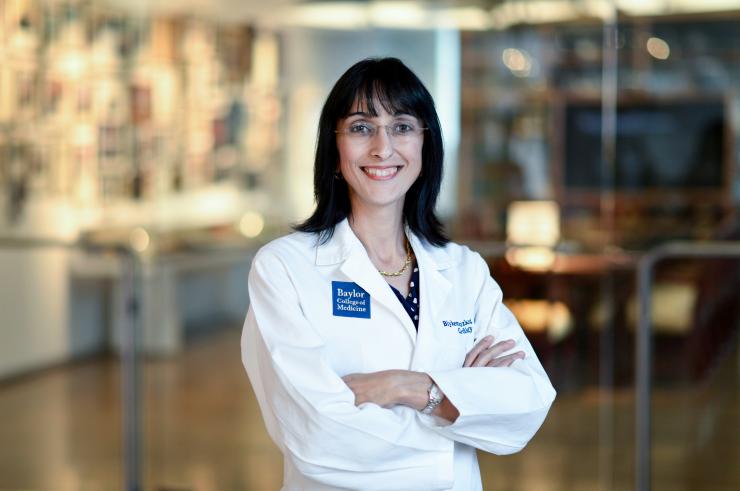 Content
Vice Chair for Veterans Affairs, Biykem Bozkurt, M.D., Ph.D.
As the vice chair of the Department of Medicine Vice Chair Group for Veterans Affairs, I lead the academic and educational areas of Baylor College of Medicine in Medical Care Line at the Michael E. DeBakey VA Medical Center, one of the major teaching hospitals of Baylor College of Medicine.
In this capacity, I oversee the medicine residency program, subspecialty fellowship programs, medical student core clerkships and electives at the VA. MEDVAMC has one of the largest VA residency and fellowship programs in the nation, with at least 271 resident/fellow positions and more than 1,900 students. The medicine department at the VA has at least 126 medicine residents and subspecialty fellow positions. The majority of our physicians are tenured faculty at Baylor; some hold co-leadership positions as chair/vice chair of departments or sections, or as course directors at Baylor.
The Medical Care Line at the VA has renowned investigators who lead in areas of development of percutaneous valves, clinical outcomes in heart failure, the role of H. Pylori in peptic ulcer disease and gastrointestinal cancers, the role of Hepatitis C and GERD in gastrointestinal cancers, pneumococcal vaccines, comparative effectiveness, outcomes research, and medical errors. Most of the Medicine Care Line faculty have received recognition through numerous Baylor awards for excellence in teaching and education, enduring educational material, educational leadership, clinical excellence and research excellence. MEDVAMC receives referrals from other VA hospitals for tertiary care by inter-facility consults for electrophysiology evaluation, transcatheter aortic valve replacement and high-risk cardiac interventions, liver and renal transplant evaluation and follow-up, bone marrow transplant evaluation, preoperative assessment, virtual tumor board and interventional pulmonary procedures.
The MEDVAMC Medical Care Line leads initiatives in quality improvement and core metrics and is recognized as a best practice model. We have an academic hospitalist program with an academic emphasis on quality improvement and education. We also are recognized for having a center of excellence for a multidisciplinary primary care model; a center of excellence for cancer, liver and kidney transplant programs; advanced gastroenterology and hepatology programs in outcomes research; advanced cardiovascular care, including percutaneous support devices and A TAVR program; advanced pulmonary programs, including critical care, interventional pulmonary and sleep; a renowned infectious disease program; and an outstanding health services research program.
We take pride in excellence in patient care, education, research and innovation and are committed to improving outcomes for our patients and to ensuring the success of our trainees and providers.
Heading
Vice Chair Group for Veterans Affairs
Terms

Item Definition
Biykem Bozkurt M.D., Ph.D.