Master
Media Component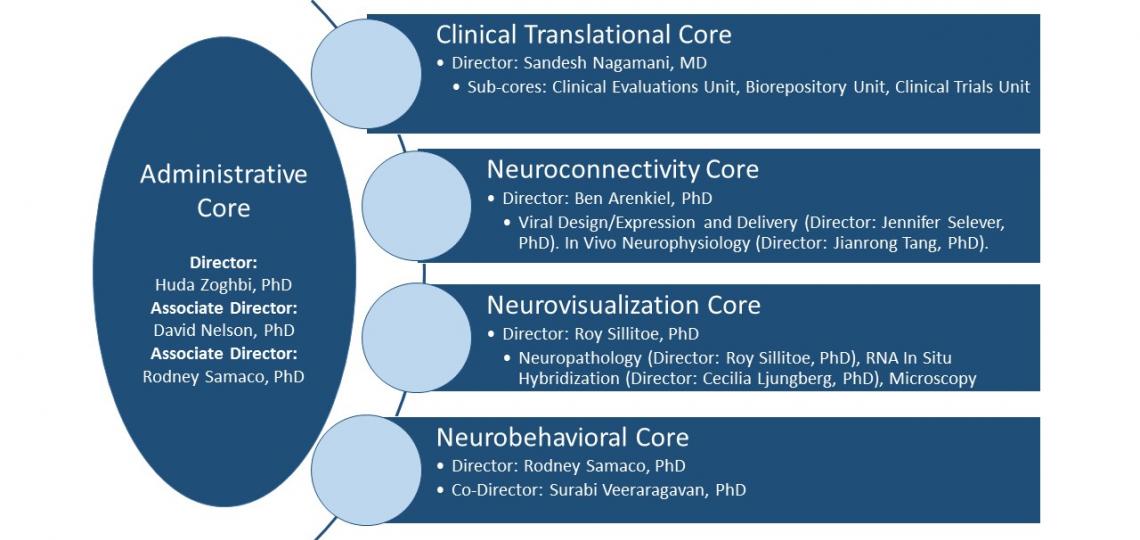 Heading
Our Cores and Units
Content
The cores of the Baylor College of Medicine Intellectual and Developmental Disabilities Research Center provide participating investigators access to expertise and techniques that are typically not available in individual laboratories and facilitate synergistic interactions between our clinicians, neurobiologists, geneticists, and cell and molecular biologists.
Heading
Administrative Core
Content
The Administrative Core oversees the administration of funds awarded to the IDDRC, maintains a high-quality infrastructure to support the research projects, spurs collaborations amongst investigators at Baylor as well with investigators at other institutions, and helps organize community engagement.
Heading
Clinical Translational Core
Content
The BCM IDDRC Clinical Translational Core facilitates the bidirectional translation of research observations into patient-oriented studies. The CTC aims to help IDDRC Investigators to validate the mechanisms underlying IDD, develop new biomarkers and approaches for their diagnosis, and evaluate therapies in robustly conducted proof-of-concept clinical studies. The CTC includes three overlapping entities - Clinical Evaluation Unit, Biorepository Unit, and Clinical Trials Unit.
Director: Sandesh C. Sreenath Nagamani, M.D.
Heading
Neurobehavioral Core
Content
The BCM IDDRC Neurobehavioral Core provides investigators at Baylor College of Medicine with expert consultation, access and training on many behavioral assays. We have two core facilities available, one located in the Transgenic Mouse Facility (TMF) and one in the Jan and Dan Duncan Neurological Research Institute (NRI) animal facility.
Director: Rodney Samaco, Ph.D.
Co-Director: Surabi Veeraragavan, Ph.D.
Heading
Neurovisualization Core
Content
The Neurovisualization Core provides training, equipment, expertise, and analytical support for investigating how brain structure is altered in IDD, using tissues from animal models and human samples. The focus includes molecules, cells, and neural circuits. There are three main areas of expertise: Neuropathology, RNA In Situ Hybridization (ISH), and Microscopy, including confocal microscopy, transmission electron microscopy (TEM), and two-photon imaging.
Director of Neuropathology : Roy V. Sillitoe, Ph.D.
Director of RNA In Situ Hybridization: Cecilia Ljundberg, Ph.D.
Director of Microscopy: Dinghui Yu, Ph.D.
Heading
Neuroconnectivity Core