Master
Content
The overall aim of this project is to prevent the development of persistent pain and opioid misuse following surgery in at-risk patients.
Background Information
Persistent post-surgical pain is a common and debilitating problem following surgery that is associated with opioid misuse.
Orthopedic surgeries, such as Total Knee Arthroplasty (TKA; also known as Total Knee Replacement), are associated with high rates of persistent post-surgical pain.
Patients with high levels of pain, anxiety, and/or depressive symptoms prior to surgery are at increased risk for persistent post-surgical pain.
These risk factors should be attended to in order to improve postoperative pain management and disrupt processes responsible for the transition from acute to chronic pain.
In a pilot study, we showed that 'at-risk' veterans undergoing TKA who attended our one-day Acceptance and Commitment Training (ACT) workshop had less postoperative pain and opioid use compared to those who had surgery alone. This intensive 1-day ACT workshop is designed to enhance acceptance-based coping and reduce behavioral avoidance.
The current study is a four-year multisite randomized controlled trial of 'at-risk' veterans undergoing TKA. Each month, we recruit seven-to-eight veterans who are randomly assigned to attend either an ACT plus education workshop or Attention Control (which focuses on education, resources and support). The primary aim is to compare ACT to Attention Control on key postoperative outcomes:
Pain intensity and functioning
Anxiety and depressive symptoms
Opioid use
Media Component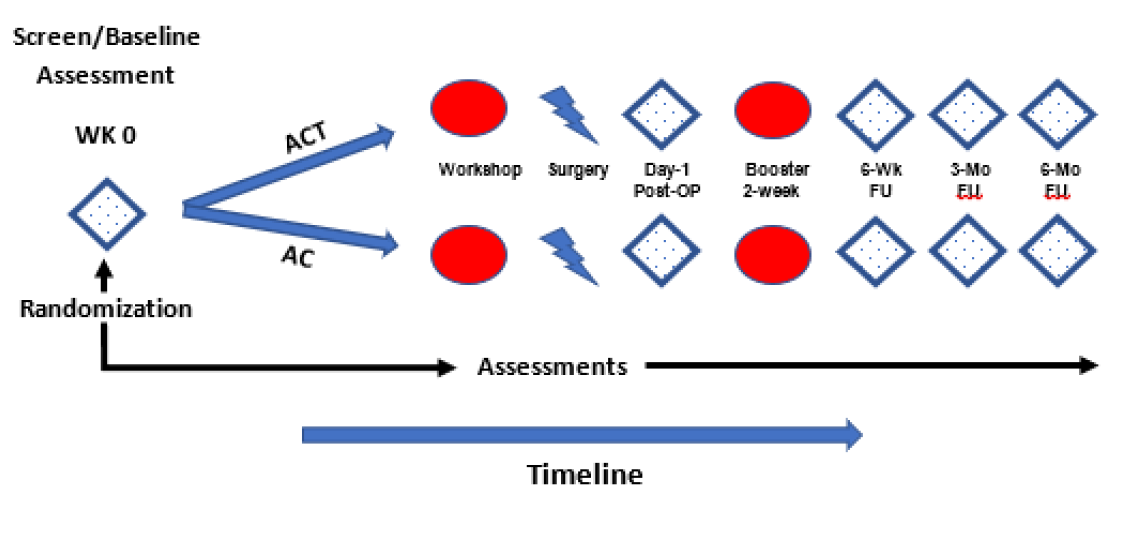 Heading
Study Specifications
Content
Sample Size: 90/ veteran TCA surgery candidates/year
Recruiting: seven-to-eight participants/month
Intervention groups: ACT or AC
One group/nonth with four-to-eight veterans
Study Contact
Contact Name: Merlyn Rodrigues
Email: merlynr@bcm.edu
Phone Number: 713-440-4424