Master
Media Component
Content
Academy of Resident Educators: The academy aims to foster the growth of residents as clinician-educators by encouraging direct instruction, educational leadership, and professional development. It is a resident-driven program that includes workshops throughout the year including curriculum vitae workshops, teaching skills workshops, guest lectures by distinguished educators, and advertisement of educational opportunities throughout the year for personal development. As a resident you have the opportunity to graduate with a distinguished educator certificate if you complete a designated amount of direct teaching and individual professional development time. There are branches of the AoRE for both internal medicine and pediatrics.
Transition Medicine Journal Club: Transition Medicine Journal Club is a group of medicine-pediatrics residents and interested medical students that meets quarterly to review articles regarding barriers to transition of specific patient populations. Group discussions are led by faculty with expertise on the topic discussed. Previous disease-based discussions have included Type I Diabetes, Sickle Cell Disease, Cystic Fibrosis and Lupus.
Diversity Council: The diversity councils of the Department of Medicine and Pediatrics encourage diversity within their respective departments by recruiting and supporting residents, fellows, and faculty who are underrepresented in medicine in order to foster a culture that promotes the practice of culturally competent health care.
Med-Peds Interest Group: The Medicine-Pediatrics Interest Group is a medical student run organization that aims to foster interest in the integration of care in patients transitioning between the pediatric and adult stages of their health care. The med-peds residency program and MPIG hold regular collaborative events, helping to foster student-resident relationships, promote awareness of internal medicine-pediatrics as a specialty, and provide mentorship opportunities to potential applicants.
Med-Peds Families: Incoming interns are assigned a second year peer upon acceptance to the program. This is designed as a first connection to the program and resource for questions about scheduling, housing, etc. In addition to being matched to a second year resident, interns also become part of a medicine-pediatrics family which also includes a third and fourth year resident. These groups meet for dinners and generally serve as references for each other as questions come up during residency training.
Media Component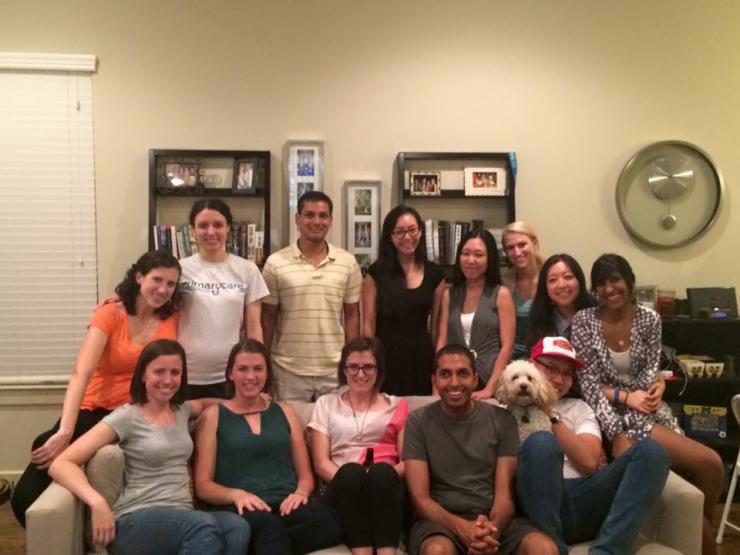 Content
Pediatrics Intern Retreat: Each year the intern's shifts are covered by upper level house staff so that they may enjoy a retreat weekend at the Woodlands Resort about an hour north of Houston. Spouses and children of residents are encouraged to attend. It is a unique opportunity to bond with co-interns and reflect on the first few months of residency.
Annual Medicine Retreat: Each spring, resident duties are covered for a half-day of relaxation and fellowship with residents in the Internal Medicine program. In 2020, our retreat was held at a local bowling alley in Houston.
Media Component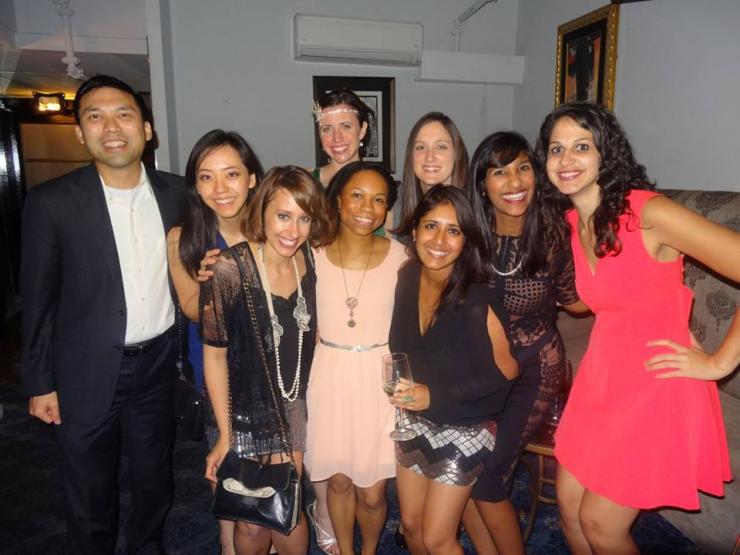 Content
Intern Switch Party: Annually during the weekend of the first "switch" from medicine to pediatrics (or vice versa), the chief residents host a dinner for socializing and trading tips between the interns before changing hospitals.
Double your Board Certifications, Triple your Fun!: Each year residents in the Medicine-Pediatrics program enjoy three holiday parties, three graduation events and a multitude of socials with both categorical programs as well as some Medicine-Pediatrics events of our own.
Meds-Peds Program Townhall: Starting in 2016 the Medicine-Pediatrics program has been holding biannual town hall meetings for feedback on curriculum, activities and resident wellness. This initiative is aimed at keeping program leadership and residents aligned toward common goals for program growth and improvement.
Heading
Community Service
Media Component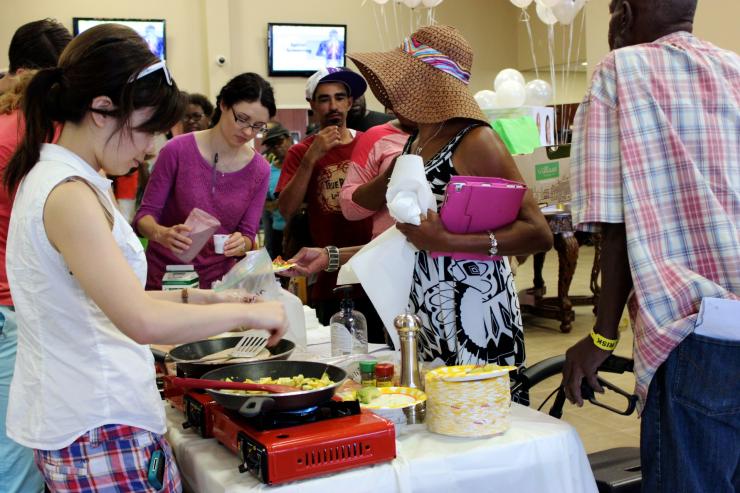 Content
Medicine-Pediatrics Annual Health Fair: Each year the medicine-pediatrics program helps coordinate a community health fair in partnership with Greater Grace Outreach Church and Harris Health. Blood pressure screening, cholesterol screening, nutrition counseling, diabetes screening, and bike helmet distribution are just some of the services provided each year. In the photo, Dr. Amy Cobb is providing samples of nutritious, healthy food options to event attendees.
Holiday Adopt-a-Family: Each medicine-pediatrics class chooses a family in need from the MLK continuity clinic each holiday season for whom to purchase holiday gifts. Usually each class plans a group shopping trip and socializes after.
Community Service: The residents in our program are incredibly dedicated to providing our underserved patients with the resources and opportunities they need to live a healthy life. In line with this value, we are currently working on establishing the Baylor Med-Peds Community Service Initiative, which allows medical students, residents, and faculty members to come together with a common purpose outside the clinical setting in order to help patients and build camaraderie with one another. We have volunteered at the Houston Food Bank (and helped prepare approximately 1000 meals in one shift!!) and with Friends of Down Syndrome. Many more activities coming up in the near future.