Master
Media Component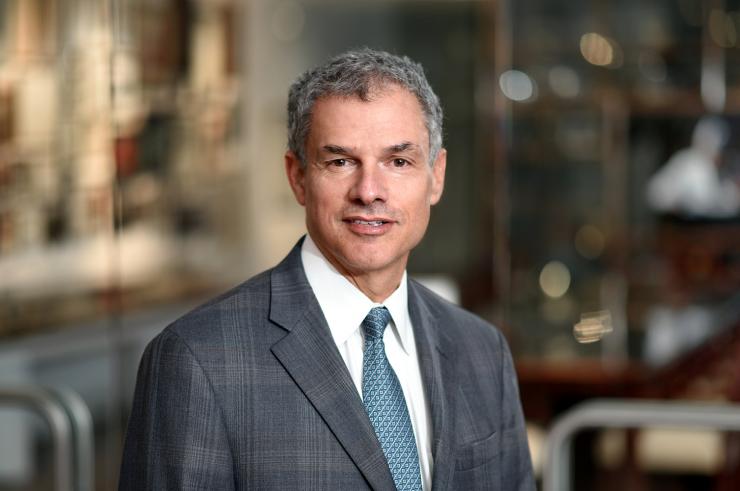 Content
It has been a great honor to serve since November 2012 as chair of the Michael E. DeBakey Department of Surgery, having been afforded the unique opportunity to continue the storied legacy that began with Dr. DeBakey assuming this role just over 70 years ago. The past eight years has seen the exciting growth of our department to include over 150 full-time faculty, 130 trainees, 50 advanced practice providers and 200 other staff members. Of our more than 130 faculty recruited over this time, we proudly note that 75 percent have been women or underrepresented minorities. The growth of our faculty and staff has fueled the advancement of all four of our core areas – Clinical, Research, Education and Community Service - and includes our creation of nearly one dozen new divisions, centers, sections and core offices for support.  Reflective of these efforts, we are proud to currently rank 13th in the U.S. News & World Report reputational scoring for departments of surgery.
Content
A cornerstone of the advance of our Clinical area has been our creation of highly specialized centers of excellence across the spectrum of surgical disciplines. These centers include our Division of General Thoracic Surgery founded by Dr. David Sugarbaker in 2014, our Transplant Institute founded by Dr. John Goss in 2018, and our Office-Based Endovascular Lab founded by Dr. Joseph Mills in 2019, and our Division of Metabolic and Bariatric Surgery, founded this year with the arrival of our inaugural bariatrics division chief Dr. Samer Mattar, past president of the American Society of Bariatric and Metabolic Surgery. These programs and other new sections, including breast surgery, endocrine surgery, colorectal surgery and acute care surgery, offer our faculty and trainees optimized platforms to teach, learn and discover while providing state-of-the-art care for our patients. 
In the tradition of Dr. DeBakey, our clinical services also strive to advance surgical care well beyond the state of the art. Our recent celebrations of the landmark 100th transoral thyroid/parathyroid procedure by Drs. Raymond Grogan and James Suliburk, the 100th robotic cardiac surgery procedure by Dr. Kenneth Liao, the 3500th thoracoabdominal aortic aneurysm repair by Dr. Joseph Coselli, the 2000th liver transplant by Dr. John Goss and our transplant team, and the nation-leading quality ranking of our Ben Taub trauma program, founded by Dr. Ken Mattox and led now by Dr. Chad Wilson, all reflect the historic accomplishments of our faculty.        
We have made similar strides in the growth of our Research area, led by vice chair for research Dr. Scott LeMaire and director of clinical research Dr. Barbara Trautner.  Since the founding of our Office of Surgical Research (OSR) in 2014 in support of our Research, our total extramural research funding has more than tripled from $3 million to over $10 million. This increase includes the doubling of our total federal funding from $2.5 million to over $5 million and the quadrupling of our NIH funding from $1 million to over $4 million. Our OSR has itself grown from less than one fully assigned staff member in 2014 to over 80 research coordinators, grants managers, medical writers, statisticians, and other staff supporting faculty and trainee researchers. The OSR manages over 130 clinical studies and grants, contributing to the more than 500 manuscripts, chapters, books and other works that we publish annually.
Our research programs also extend beyond the traditional. In partnership with the TMC Innovation Institute, our NIH-funded T32 Research Training Program in Cardiovascular Surgery provides unique opportunities to residents and postdoctoral fellows in biodesign as well as basic science and health services research. Our Surgical Health Services Academy for Research Excellence (SHARE) provides a home for our faculty and trainees at IQuESt – one of the leading health services research programs in the United States – to partner with national leaders in exploring best practices in health care outcomes and delivery. Our newly reconstituted Surgical Innovations program plans to continue its partnership with Rice University in providing department members with a platform to translate their innovative ideas into commercializable prototyping.
We are most excited by the advancement of a Just Culture in our department. Reflecting our horizontally oriented, "servant leadership" model, we strive to ensure that all voices are heard in our department, and the interests and concerns of all are respected.
Content
Our education area continues its own growth in our goal to train the general surgery and surgery specialist leaders of the future. Under the leadership of our education vice chair Dr. Bradford Scott along with a dedicated education administrative team, we have since 2014 added a ninth categorical position in our general surgery residency, integrated residencies in both vascular surgery and thoracic surgery, and a "thoracic track" to complement our thoracic surgery training program. In addition to an array of other new elective rotation training options, we have also added an extremely popular community-based general surgery rotation in Colorado Springs through our national hospital affiliate. This rotation has been so successful that two of our graduating residents have accepted medical staff positions in this program. While maintaining balance with the training needs of our general surgery residents, we have also expanded program development in our Texas Medical Board fellowships including aortic surgery, cardiac transplant, general thoracic, minimally invasive cardiac surgery, and cardiovascular surgery. 
Perhaps most dramatically, our Global Surgery Residency track, conceived and first developed in 2015 by Dr. Rachel Davis when she was a junior general surgery resident, now stands as the only such NRMP-listed track in the United States. This seven-year program within our general surgery residency has grown to include six residents who treat the underserved abroad and in rural domestic settings while also studying global health at the WHO and other international agencies. 
While we take great pride in these highlights of our growth, we are most excited by the advancement of a Just Culture in our department. Reflecting our horizontally oriented, "servant leadership" model, we strive to ensure that all voices are heard in our department, and the interests and concerns of all are respected. By example, our Social Equity Committee, led by Dr. Michele Loor, was formed in 2019 to bring faculty and trainees together with department leadership to explore issues of professional access and equity. Our Advanced Practice Provider (APP) Council, led by Holly Clayton, PA-C, Michelle Kelly, PA-C, and Charrika Williams, NP, works to advance the inclusion of our APPs as integral members of our faculty. Our newly constituted Resident Council likewise provides a "seat at the table" for our executive chief and resident class representatives. 
With the Baylor St. Luke's Medical Center, the Michael E. DeBakey VA Medical Center, the Ben Taub Hospital, and the Texas Children's Hospital standing as leading institutions in our health care community, we are confident and excited for the future of the Michael E. DeBakey Department of Surgery. We look forward to the great changes awaiting the future of surgery, and we plan and expect to help lead the journey to that future.   
Todd K. Rosengart, M.D.
Chair, Department of Surgery