Master
Media Component
Credit
Scott Holmes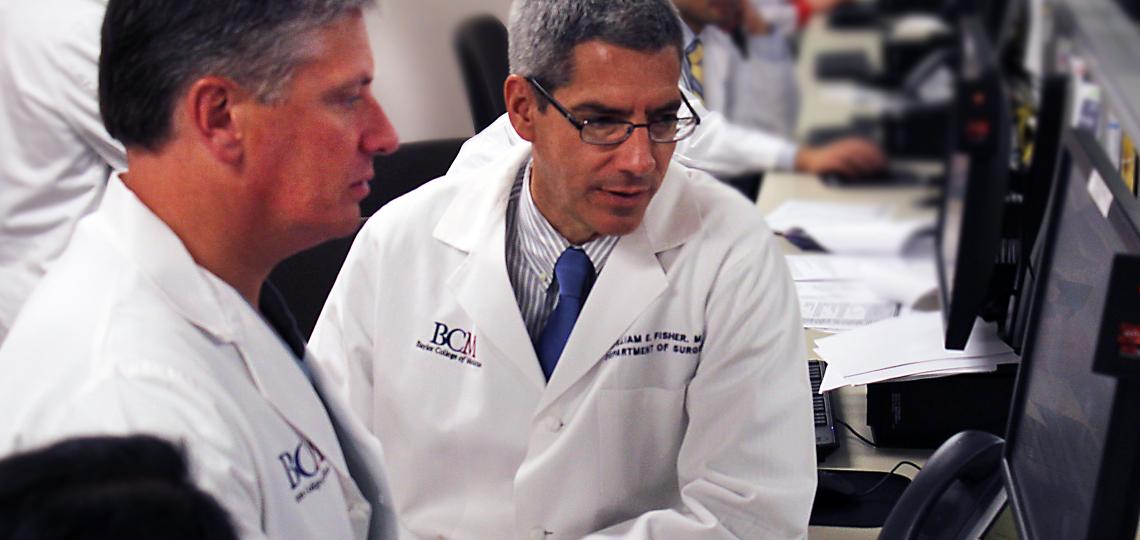 Content
Faculty hepatologists and transplant surgeons, and surgical oncologists provide training in consultative care of patients with hepatobiliary diseases.
Heading
Outpatient Clinics
Content
Baylor College of Medicine faculty hepatologists and transplant surgeons provide training in consultative care of patients with hepatobiliary diseases. The Baylor-St. Luke's Liver Center, a state-of-the-art outpatient facility, is the primary site for outpatient clinical care. In the Baylor-St. Luke's Liver Center, fellows participate in four half-day outpatient clinics devoted to hepatology and patients undergoing transplant evaluation. In addition, two half-day clinics are devoted to the management of chronic hepatitis B and C. One half-day clinic is devoted to UNOS-listed pre-OLT and care of post-OLT patients.
For veterans, the clinic facilities are located in the Michael E. DeBakey VA Medical Center. At the MEDVAMC, fellows participate in two half-day clinics devoted to hepatology and liver transplantation. The hepatology faculty provides supervision and teaching for transplant hepatology fellows for each patient. Educational emphases include: diagnosis and management of adult patients with acute and chronic liver diseases, inclusion and exclusion criteria for OLT, immunosuppression for autoimmune diseases and post-OLT patients, management of complications of post-OLT patients, and effective oral and written communication with patients, families, staff and referring healthcare providers. We advocate cost-effective and evidence-based use of diagnostic testing, implementation of published guidelines and evidence-based practices in all protocols.
Heading
Inpatient Services
Content
Baylor hepatologists and transplant surgeons provide consultative inpatient care. All non-veteran adult patients are admitted to St. Luke's by a hospitalist or other attending physician, who request our consultation. All veterans are hospitalized at MEDVAMC. Consultative inpatient training of medical students, housestaff, fellows and NP/PAs are directly supervised by full-time hepatology faculty on a daily basis. Each of our triple-certified hepatology faculty members rotates on the inpatient service for seven consecutive days. During this time, the faculty has no competing outpatient responsibilities and devotes their time to teaching and supervision.
Education is also provided to trainees by our team's designated consultants in cardiology, pulmonology, nephrology, oncology, infectious diseases, endocrinology, therapeutic endoscopy and invasive radiology. All of our consultants are board-certified in their specialties. Fellows perform comprehensive initial consultations under direct daily supervision of an attending faculty hepatologist. They conduct daily follow-up assessments of all inpatients and discuss each patient daily with the hepatology attending, who independently sees and examines each patient, reviews all data and provides bedside teaching.
Content
Fellows are taught the indications, contraindications, limitations, complications, and interpretation of percutaneous and transjugular liver biopsies, diagnostic and large volume paracentesis with albumin replacement, assessment of esophageal varices using EGD and PillCam ESO methods, therapeutic endoscopy for upper gastrointestinal bleeding, transjugular intrahepatic portosystemic shunts, 2D echocardiography with agitated saline to detect pulmonary vascular shunts and right heart catheterization to assess pulmonary hypertension and portal systemic venous pressure gradients. Fellows are trained to perform percutaneous liver biopsy. Training in diagnostic and therapeutic paracentesis, with and without US localization, is also provided. Faculty hepatologists supervise all procedures.
Heading
On-Call Schedules
Content
Fellows are on-call every third weekend. The call schedule includes major holidays. Fellows on the inpatient service rotations are not required to remain in the hospital overnight and do not take first or second night call. Only full-time hepatology and transplant surgical faculty members take calls after hours and on weekends to ensure timely decision making. Our policy ensures that our fellows have adequate time for educational, scholarly activities and needed rest.