Master
Content
The Laboratory of Immunoparasitology is a basic science and translational lab focused on understanding the complex relationship between parasites, specifically helminths, and the host immune response. The work done in the lab uses mouse models, sophisticated immunologic assays and physiologic monitoring to understand the innate and adaptive host immune responses during larval migration in order to discover novel interventional targets. These targets will be used for the design and development of preventative and therapeutic antihelminthic drugs and vaccines that are critically needed to improve the health of millions of children living in parasite endemic communities.
Current activities include the following research projects:
Heading
Larval migration induced lung disease
Content
Beyond the intestinal form of ascariasis, little is known about the impact of larval migration through lung tissue. Following oral ingestion of Ascaris eggs, ascariasis has been linked to a transient allergic airway disease termed Loeffler's Syndrome and some clinical studies have suggested larval stage ascariasis may represent a major environmental cause of allergic airway disease, or asthma, in resource-poor regions. Animal studies exploring how the host immune response is linked to larval migration and development of Ascaris-induced allergic airway disease are required for the isolation of novel interventional targets. Our lab has developed a working mouse model of Ascaris-induced allergic airway disease. The work in our lab shows that Ascaris exhibits all of the defining phenotypes of clinical asthma and establishes a mouse model in which the pathophysiology of Ascaris-induced allergic airway disease can be studied at a molecular level. We are further evaluating the long term impact of Ascaris larval migration through the lungs and the development of a chronic lung disease phenotype in a mouse model.
Heading
Host mucin production in response to larval migration
Content
Host mucin production and mucous secretion is essential for control and prevention of larval migration through the lungs. Using mucin deficient mouse strains in collaboration with the Burton Dickey, MD at MD Anderson, we are evaluating the role of mucin in the host lungs as a result of ascariasis.
Heading
Larval invasion of Intestinal Epithelium
Content
Ascaris larvae secrete Excretory-Secretory (ES) product that facilitates larval development, invasion and migration. Our lab has developed an in vitro system to evaluate the interaction between larval ES product and intestinal epithelium. By inhibiting components of larval ES product we are able to understand how these organisms communicate with the host epithelial cells and monitor translocation of larvae across the epithelial barrier.
Heading
Laboratory Facilities
Content
Our laboratory has dedicated research space in the Texas Children's Hospital Center for Vaccine Development on the fifth floor of the Feigin building and shared space in the Corry-Kheradmand Lab on the 9th floor of the Alkek building of Baylor College of Medicine. We have in house equipment for fluorescent microscopy, real-time PCR, gel imaging and documentation, ELISA, ELISpot, Luminex, flow cytometry, lung physiology (whole body plethysmograph and airway compliance), histopathology and two BSL-2 facilities.
Media Component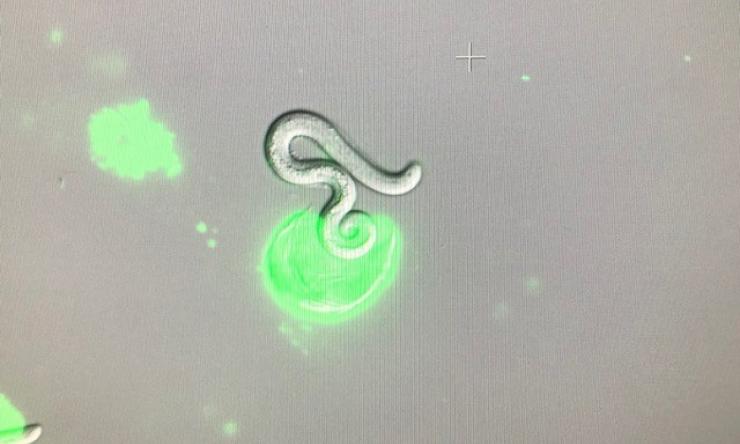 Content
Ascaris (roundworm) hatching from fluorescently stained egg
Media Component
Credit
Baylor College of Medicine
Heading
Ascaris (roundworm) larvae
Content
Fluorescently stained Ascaris Larvae in vitro