Master
Heading
About the Program
Content
The Dr. Kelly DeScioli Global Child Health Pediatrics Residency Program at Baylor College of Medicine is a fully accredited pediatric residency program. Residents will spend three years in Houston and an additional year at an international assignment primarily caring for children with HIV, malnutrition, tuberculosis, malaria, and other infectious diseases.
Partnered with Texas Children's Global Health Network, the program is an ideal platform to provide residents meaningful experiences in global child health. The network was created by Baylor International Pediatric AIDS Initiative (BIPAI) in 1999 to catalyze pediatric and family HIV care and treatment and health professional training. The network continues to be one of the largest providers of pediatric HIV care and treatment in the world. The scope of the network has expanded to include other maternal and child health services and provides care and treatment to more than 365,000 patients.
Our goals are to prepare residents to address the critical need for lifesaving pediatric health care, pediatric education and training, clinical research and child advocacy in resource-limited settings and to prepare residents for leadership roles in health care delivery for the underserved globally. Our Pediatric Board pass rate for the Dr. Kelly DeScioli Global Child Health Pediatric Residents is 100 percent, according to the American Board of Pediatrics.
Heading
Message from the Chief Resident
Media Component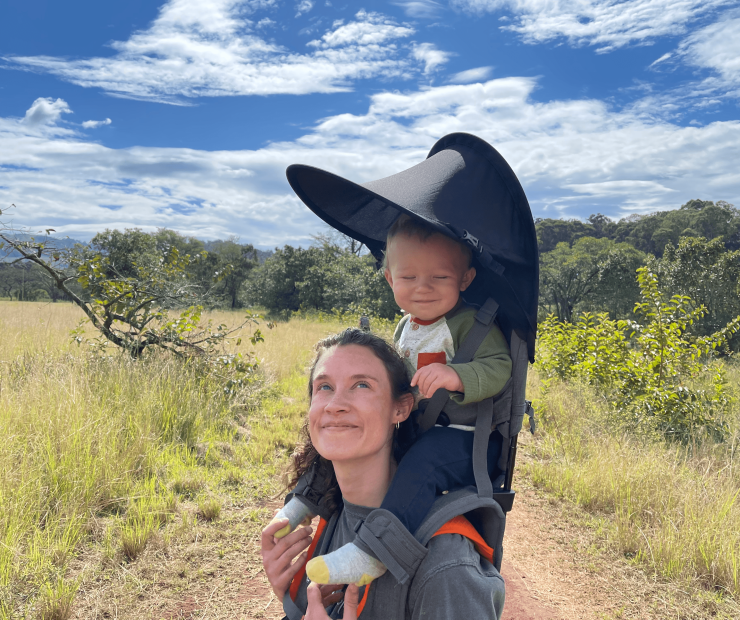 Content
Welcome future pediatricians and global health enthusiasts! I am excited to introduce you to the Dr. Kelly DeScioli Global Child Health Pediatrics Residency Program at Baylor College of Medicine. 
 
This unique four-year training program provides pediatric residents the opportunity to train for one year at one of the Texas Children's Global Health Network sites, which include Uganda, Malawi, Eswatini, Lesotho, and Botswana. During their international assignment, our residents work with local partners and clinicians to learn and provide quality care for children with HIV, malnutrition, malaria, tuberculosis, and other illnesses not as commonly encountered in the US. This experience allows our residents to not only learn about the challenges and intricacies of delivering care in resource-limited communities, but also helps them to develop a critical awareness of the local cultural, historical, and socioeconomic conditions affecting the lives of their patients. Our residents also have the opportunity to evaluate how best to build capacity while attempting to mitigate power imbalances that still complicate global partnerships. In addition to the standard three-year pediatric residency curriculum, our trainees can continue the connections they make in the Department and abroad by conducting research, engaging in advocacy, and working on initiatives to improve access to care on a broader scale.
 
I had the opportunity to learn and work in Eswatini during my third year of residency from 2022-2023. I worked at the Baylor College of Medicine Children's Foundation – Eswatini. This clinic is dedicated to those living with HIV and TB. Throughout the years this clinic has seen a shift from treating mostly young children to now serving mostly adults as rates of vertical transmission decrease and children live with HIV thrive into adulthood. This speaks to the successes of the Eswatini Ministry of Health and their partners truly making this a chronic diagnosis by decreasing mother-to-child transmission, preventing new infections, and expanding access to antiretroviral therapy. Not only was I able to learn more about practicing medicine in a new context, I was also able to form relationships with nurses, other doctors, and learn the wonderful and challenging aspects of Swazi culture. My time in Eswatini will have lasting impacts on my career trajectory and my practice. 
 
In the face of the COVID-19 pandemic, climate change, and other challenges disproportionately affecting vulnerable populations, it is important for pediatricians to have a global perspective so that we do not perpetuate existing inequities. Our graduates are in a unique position to spark meaningful change and have gone on to work a t various local and international institutions, such as Médecins Sans Frontières (MSF) and Centers for Disease Control (CDC).
 
My training in the Dr. Kelly DeScioli Global Child Health Pediatrics Residency Program has prepared me for a career as a pediatrician and an advocate for children everywhere. Not only will you meet amazing people from all over the world, but you will also have a core group of amazing, like-minded friends to grow with throughout your residency here in Houston. It is my pleasure to speak with incoming residents about our program. We can't wait to meet you. 
 
Megan Carey, M.D.
Global Child Health Residency Program Chief Resident, 2023-2024