Master
Content
The central focus of the Center for Translational Research on Inflammatory Diseases (CTRID) is to promote research by MEDVAMC-based BCM investigators, which represents a shared goal for MEDVAMC and BCM. Inflammatory diseases, defined broadly, provides a unifying theme for collaborative research.
Heading
High-Impact Manuscripts
Media Component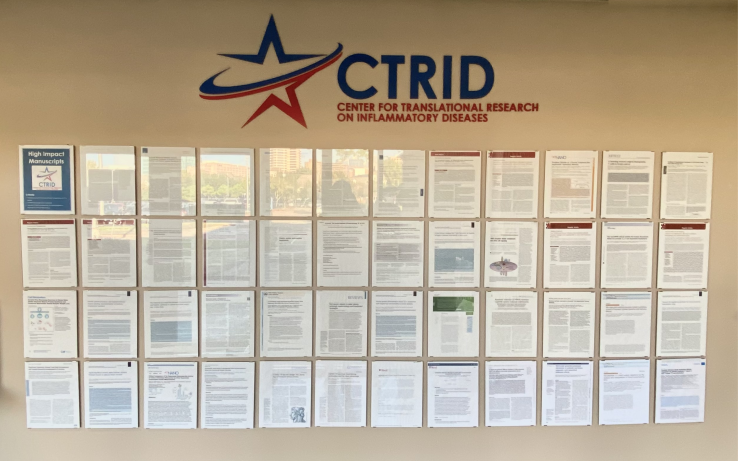 Content
The CTRID Wall of Recognition recognizes center members who published manuscripts in high-impact journals. To date, 48 manuscripts have been acknowledged in this manner.
Heading
Recent Extramural Awards
Content
The following are some of the recently awarded and currently active extramural grants by CTRID investigators to which CTRID contributed, shown in descending chronological order of start date. Since inception our Center has contributed to the generation of new funding of over $65.3 million in total costs from 101 awarded grants.
Trauma and Shock-Induced Microvascular Dysregulation and Coagulopathy, NIH/NIGMS, Grant # R01GM140983, 03/01/2022-01/31/2026, Cruz M
 
Mesothelin Moduclates Tumor Microenvironment and Mediates Resistance of Human Pancreatic Cancer to FOLFIRINOX Treatment, Roderick D. MacDonald Research Fund, 02/01/2022-01/31/2023, Yao C
 
Profiling Tobacco Exposure Effects on Oropharyngeal Cancer Immunity, American Cancer Society Research Scholar Grants, Grant # RSG-21-182-01-CDP, 01/01/2022-12/31/2025, Sandulache V
 
von Willebrand Factor Function in Thrombotic Microangiopathy, Mary Rhodes Gibson Foundation, 01/01/2022-12/31/2022, Sartain S
 
Pancreatic Cancer PDX Models Characterization/Pre-Clinical Studies, BCM Cancer Prevention and Research Institute of Texas (CPRIT) Core Facility Grant, 12/01/2021-08/31/2022, Yao C
 
Anatomic Microniches and Their Contribution to Vascular Remodeling in Pulmonary Hypertension, VA BLR&D, Grant # I01BX004954, 10/01/2021-09/30/2025, Pandit L
 
Laboratory Animal Major Equipment, VA BLR&D LAMb, 09/01/2021-09/30/2021, Rumbaut R
 
Measuring the Impact of Agent Orange Exposure on the Tumor Immune Microenvironment of Oropharyngeal Cancer in Veterans, NIH/NIEHS, Grant # P30ES030285, 09/01/2021-08/31/2022, Sandulache V
 
Uncovering the Log-Term Impact of Oropharyngeal Cancer and Dysphagia on Dietary Quality and Nutrition Among Veteran Cancer Survivors:  The U-DINE Study, Department of Defense CDMRP, 09/01/2021-08/31/2025, Sandulache V
 
Collaborative Pediatric Critical Care Research Network - Clinical Site*, NIH/NICHD, Grant # RL1HD107780, 08/18/2021-07/31/2026, Nguyen T
 
Molecular Studies of Hemolytic Thrombosis, NIH/NICHD, Grant # R01HL154688, 06/01/2021-04/30/2025, Cruz M & Yee A
 
You Are Where You Live: The Role of Neighborhood Disadvantage and Blood Metal Concentration on Inflammation in Children with Acute Chest Syndrome*, NIH/NIMHD, P50MD015496, 04/01/2021-03/31/2022, Gollamudi J
 
Neutrophil Exosomes: New Pathogenic Entities in COPD, VA CSR&D, Grant # I01CX001969, 04/01/2021-06/30/2024, Pandit L
 
Mechanisms of Microvascular Thrombosis in Inflammation, VA BLR&D, Grant # I01BX002551, 04/01/2021-03/31/2025, Rumbaut R
 
Lung Precision Oncology Program, VA CSP, Grant # I50CU000161, 04/01/2021-03/31/2026, Kheradmand F and Cornwell 
*Note: While CTRID directly contributed to this award, this research is not performed at MEDVAMC campus nor utilizes VA resources.