Master
Media Component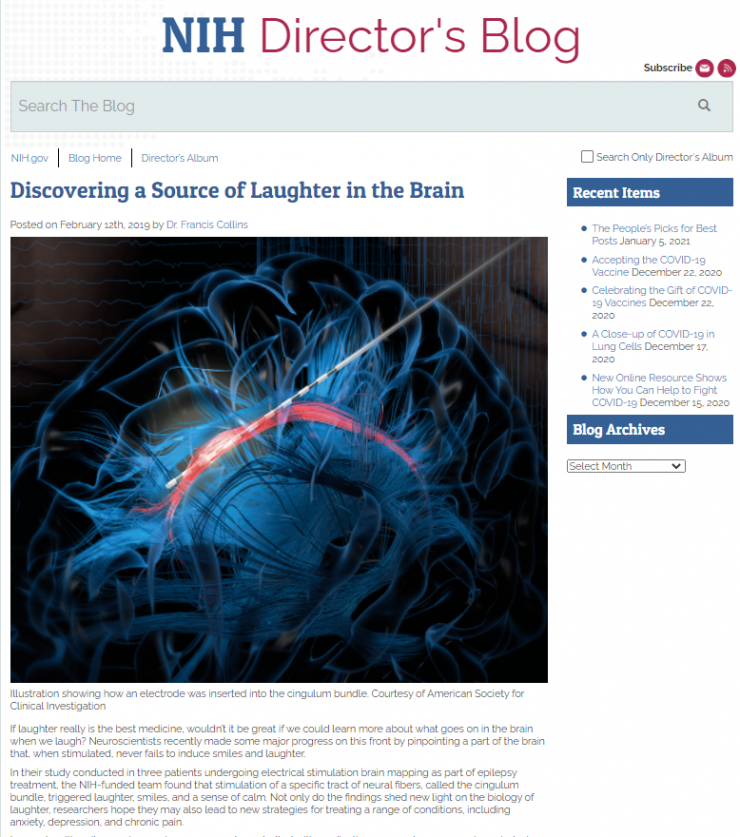 Content
Our new paper is out in Brain Stimulation, mapping the DBS effective networks via diffusion tensor imaging and corresponding single-pulse evoked potentials!
New research funding from National Institute of Mental Health: Kelly Bijanki was awarded an independent investigator research project grant (R01) to study the intracranial correlates of mood and social function. The project starts in August, 2021.
New article accepted at the Journal of Neurology, Neurosurgery, and Psychiatry.
The Bijanki Lab welcomes research assistant Sheraz Pasha! Sheraz focuses on intracranial electrophysiology and neuroimaging projects in the lab, where he started in May, 2021.
The Bijanki Lab welcomes graduate student Madaline Mocchi, of the Baylor Neuroscience Ph.D. program. Maddie will spend the next few years studying the intracranial correlates of autonomic arousal, focusing on the noradrenergic system response to neural stimulation and depressive symptoms. She started in April, 2021.
Congratulations to Camille Steger, who was accepted to the Masters of Public Health program at The Johns Hopkins University, starting in October, 2021.
Kelly Bijanki will be a featured plenary speaker at the upcoming North American Neuromodulation Society - Neural Interfaces Conference joint meeting June 25-27. She will be featured in a session with Alik Widge, M.D., Ph.D., and Dejan Markovic Ph.D., in which the three will speak on advanced intracranial electrophysiology for studying neuropsychiatric disorders. Kelly's talk will focus on the use of single pulse evoked potentials to characterize network structure and function in treatment-resistant depression.
Upcoming Podcast interview - "This is your Brain" podcast hosted by Dr. Phillip Stieg, Neurosurgeon in Chief of New York-Presbyterian/Weil Cornell Medical Center. January 2021.
Research featured in Brain Initiative 2020 image contest calendar.
New article accepted at Neurosurgery - Van Rooij, S.J.H., Bijanki, K.R., Willie, J.T. (2020). In Reply: Case Series: Unilateral Amygdala Ablation Ameliorates Post-Traumatic Stress Disorder Symptoms and Biomarkers. Neurosurgery, December 2020. 
Work featured in Psychology Today, Dec. 16, 2020.
Project selected for funding by the ARCO Foundation and the Caroline Weiss Law Foundation, July 1, 2020.
Work selected as cover article for Neurosurgery. View the October 2020 issue.
Featured article - NIH Directors' Blog, "Discovering a source of laughter in the brain." 
Radio interview – BBC 5 Live, ABC's Radio National in Australia, "The Naked Scientists" podcast. "Brain centre for laughter."
Psychology Today, "Have neuroscientists found a "happy place" in the brain? Electrical stimulation of the cingulum bundle can trigger immediate laughter."
Psychology Today, "Superfluidity and the synergy of your four brain hemispheres." 
Gizmodo - "Doctors zap the brains of awake brain surgery patients to make them laugh and have fun."
U.S. News and World Reports, Science Daily, Interesting Engineering - "Laughter may be the best medicine – for brain surgery"
Daily Mail  - "Scientists find the brain's 'funny bone' region: Tickling it can make patients happy during surgery - calming their nerves and keeping them still."
New Atlas - "Neuroscientists zap patient's brain to induce laughter … during surgery." 
Discover Magazine - "In a new experiment, scientists used jolts of electricity to spark actual joy." 
K01 and R21 Funded by NIMH and NINDS!! Bijanki (PI)- These grants provide critical training in electrophysiology, and to test the scientific premise that the amygdala is directly and causally involved in depression and social processing. In tandem, we week to gain a better understanding of the emotional correlates to limbic brain stimulation. We aim to use this information to help develop better methods to anticipate and prevent neuropsychiatric complications following brain surgery for epilepsy.    
Psychology Today - "Electrical stimulation of the amygdala boosts human memory."