Educational leaders recognized at Baylor College of Medicine
Content
Baylor College of Medicine's top educational leaders were honored at Faculty Awards Day, held earlier this month in the College's Cullen Auditorium.
"This is an important day at Baylor College of Medicine because it recognizes our greatest asset, our faculty, across our mission areas," said Dr. Paul Klotman, Baylor president, CEO and executive dean. "It's important to recognize our educational leaders for their role in developing the next generation of physicians and health sciences professionals."
Media Component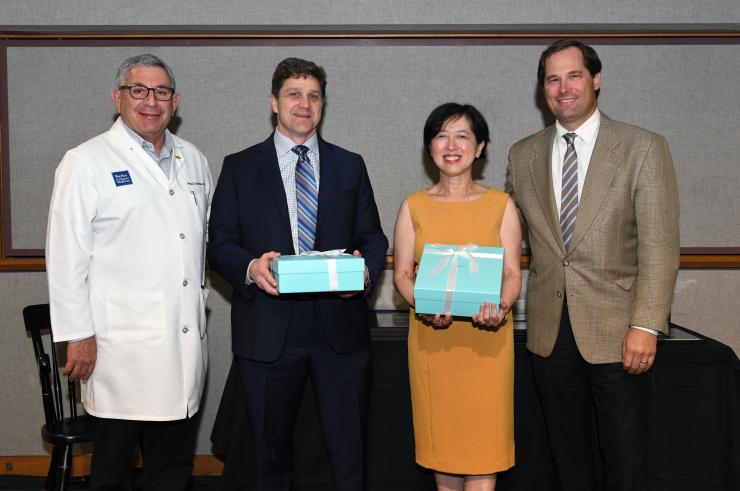 Content
Presidential Awards

Established in 1999, the Barbara and Corbin J. Robertson, Jr. Presidential Award for Excellence in Education recognizes faculty members who have long-standing, consistent and highly valued contributions to the educational mission of the College. Recipients become members of the Baylor Society of Presidential Educators and receive a crystal award and $10,000.
The 2023 recipients of the Robertson Presidential Award are Dr. Lee Bach Lu, professor of medicine, and Dr. Edward Lee Poythress, associate professor of medicine and associate dean in the School of Medicine Office of Student Affairs. Joining the presentation of these awards was William Robertson, son of Barbara and Corbin Robertson.
McGovern Awards

The John P. McGovern Outstanding Teaching Awards were established in 1986 and are determined by second-, third- and fourth-year medical students and based on outstanding teaching of preclinical, or foundational, and clinical medical school curriculum. The nominees are approved by the Faculty Awards Committee.
The 2023 recipients of the McGovern Teaching Awards are Dr. Elizabeth Hartwell, clinical associate professor of pathology, and Dr. Anjali Aggarwal, associate professor of family and community medicine.
Clark Faculty Service Award

Established in 2017, the award honors faculty members whose exemplary service with professionalism has not previously been recognized through an official award by the College. Recipients represent their professions and Baylor's mission, vision and values at the highest level and have made significant, enduring contributions to the College.
Recipients for 2023 are Dr. Marcus Hanfling, assistant professor of pediatrics, Dr. Maria Mejia, associate professor of family and community medicine, Dr. Fadel Ruiz, assistant professor of pediatrics, Dr. Lisa Wang, associate professor of pediatrics, and Dr. Sandesh Nagamani, professor of molecular and human genetics.
Norton Rose Fulbright Faculty Excellence Awards

The Norton Rose Fulbright Faculty Excellence Awards provide an opportunity for Baylor faculty who meet designated standards of quality, quantity and breadth to receive recognition for their sustained exemplary educational contributions across all areas of the College. They were presented this year in four categories: teaching and evaluation, educational leadership, educational research and development of enduring educational materials.
See the full list of Norton Rose Fulbright winners on the Faculty Awards webpage.
Also recognized were the faculty who were appointed to endowed chairs and professorships: Dr. Livia Eberlin, associate professor of surgery, Translational Research and Innovations Endowed Chair; Dr. Mark Herman, associate professor of medicine, E.L. Wagner, M.D., Chair of Internal Medicine; Dr. Timothy Lee, professor of surgery, William J. Pokorny, M.D., Professorship in Pediatric Surgery; Dr. Gabriel Loor, associate professor of surgery, George P. Noon, M.D., Endowed Chair in Surgery; Dr. Anthony Maresso, professor of molecular virology and microbiology, Joseph L. Melnick Chair of Virology; Dr. Aleksander Milosavljevic, professor of molecular and human genetics, Henry and Emma Meyer Chair in Molecular Genetics; Dr. Sankar Dass Navaneethan, professor of medicine, Garabed Eknoyan, M.D., Endowed Professorship in Nephrology; Dr. Francesca Polverino, senior faculty in the Department of Medicine, Lester and Sue Smith Endowed Professorship in Lung Health; Dr. Lara Shekerdemian, chair and professor of pediatrics, Ralph D. Feigin Chair for Physician-in-Chief; Dr. Damian Young, associate professor of pharmacology and chemical biology, The Robert A. Welch Chair in Science; Dr. Jeremy Wilusz, associate professor of biochemistry, Ruth McLean Bowman Bowers Professorship; and Dr. Ming Zhou, professor of biochemistry, Lodwick T. Bolin Chair in Biochemistry II.
Baylor also recognized its leaders in clinical excellence. Read more about these award winners here.